Taylor Swift Caused a Voter Registration Surge
So, does this mean she's more influential than the President? (Probably.)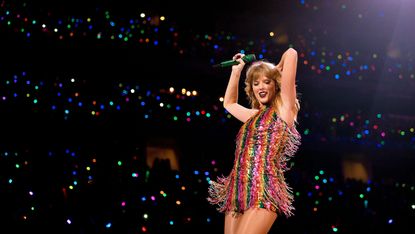 (Image credit: Getty Images)
We all know Taylor Swift is powerful, but after her Instagram post yesterday in which she (finally) spoke out about her politics, it emerges she may have even more clout than we thought. If you missed it, on Sunday night, Swift posted a political note to Instagram in which she endorsed Phil Bredesen for Tennessee Senator and Jim Cooper for Representative.
In the post, she talked to her 112 million Instagram followers and 83.6 million Twitter followers about Congresswoman Marsha Blackburn's congressional voting record, which Swift said "appalls and terrifies me." She went on:
"I always have and always will cast my vote based on which candidate will protect and fight for the human rights I believe we all deserve in this country. I believe in the fight for LGBTQ rights, and that any form of discrimination based on sexual orientation or gender is WRONG. I believe that the systemic racism we still see in this country towards people of color is terrifying, sickening and prevalent."
She then sent her followers to vote.org to register, and urged them to get educated on the candidates running in their areas.
You can read more about the post and who she endorsed here—but suffice to say, this was a pretty big reversal from Taylor, who's been notably mum on politics for a long time. Remember during the 2016 election when she told her followers to simply "vote" without endorsing any particular candidate? That was weak.
RELATED STORY
But better late than never for Swift, because she just made her voice really count. According to Vote.org's Director of Communications Kamari Guthrie, who was interviewed by Buzzfeed News, Taylor's endorsement created a massive uptick in voter registration since it was posted. "We are up to 65,000 registrations in a single 24-hour period since T. Swift's post," Guthrie told BuzzFeed, and added, "Thank God for Taylor Swift."
Not everyone was as thrilled about her sudden activist awakening. President Donald Trump told reporters he likes her "music about 25 percent less" since she endorsed Democratic candidates. Former Arkansas Governor and Republican TV host Mike Huckabee, who now presumably resides under a rock, tweeted that her endorsement "won't impact the election unless we allow 13 year old girls to vote."
Is it just me, or do those guys seem a little scared?
Here's the full post:
The Best Political Swag to Buy for 2020
Marie Claire email subscribers get intel on fashion and beauty trends, hot-off-the-press celebrity news, and more. Sign up here.
Cady Drell is a writer, editor, researcher and pet enthusiast from Brooklyn.