Taylor Swift Endorses Phil Bredesen and Jim Cooper, Two Democrats in Tennessee
"I cannot vote for someone who will not be willing to fight for dignity for ALL Americans," Swift wrote.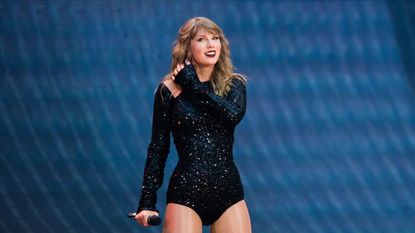 (Image credit: Getty Images)
Last night, Taylor Swift shook the world and basically shut down Instagram with a single post by breaking her notorious political silence. Swift endorsed two Democratic candidates, Phil Bredesen and Jim Cooper, both of whom are running for election in Tennessee. While this may feel like as no huge deal, Swift's political leanings have continually been called into question. She's the rare celebrity in this turbulent political climate to remain mum on where she falls—so a flat-out declaration from her regarding her political views is a big deal.
Swift declared that yes, she had been hesitant to come forward and state her political opinion, but after "several events in my life and in the world in the past two years," she had no choice but to stand up and speak out. "I always have and always will cast my vote based on which candidate will protect and fight for the human rights I believe we all deserve in this country."
This shouldn't be a dramatic or a groundbreaking statement, but for a woman who has basically been claimed by the alt-right movement as their Aryan Goddess From Above Or Whatever, this grandstanding can be world-shattering. And it is. We shouldn't live in a world where a white, female musician saying "I believe that the systemic racism we still see in this country towards people of color is terrifying, sickening and prevalent" is headline-worthy.

Taylor Swift saying these things is important, and who she endorsed in her post is even more important.
Swift's post was the most scathing song she has ever written, and it's not even a song. Swift is no fan of Marsha Blackburn, despite her wishes to support women in office. Simply on her Congressional voting record alone, Swift cannot see a reason to support Blackburn, who opposed the Reauthorization of the Violence Against Women Act; believes LGBTQ people should be denied the right to marry; and believes that LGBTQ individuals should be allowed to be banned by business owners as the owners see fit. Period. "Her voting record in Congress appalls and terrifies me," Swift said.
Swift makes no mention of this, but Blackburn is also anti-abortion (she's the one who led the smear campaign against Planned Parenthood), takes a ton of money from lobbies, rejects climate change and the theory of evolution, and IS A BIRTHER ENDORSED BY THAT GUY IN THE WHITE HOUSE DONALD TRUMP.
Now, let's talk about the people Swift chose to endorse –Phil Bredesen, who is competing in a tight Senate race against Blackburn, and Representative Jim Cooper, an incumbent representing the Nashville area.
Phil Bredesen
Who Is He?
Both a former two-term Mayor of Nashville and former 48th Governor of Tennessee from 2003 to 2011, Bredesen knows a thing or two about the state. He left Tennessee politics in 2011 and stayed away from the spotlight for six years until he announced his candidacy for Senate in 2017. The Democratic Party in Tennessee hasn't won an election since 1990 and haven't even come close to the office since 2006, so 73-year-old Bredesen is seen by the Democrats of Tennessee as their best choice against Blackburn.
He describes himself as a "moderate Democrat", according to The Tennessean, he is a "known for his middle-of-the-road, fiscally conservative politics" and has "occasionally irritated liberals in his party." I mean, the dude said he would support Brett Kavanaugh's confirmation, which says a lot about where he falls.
However, he does hold the endorsement from the incumbent Senator whose seat he is running for, Bob Corker (R-Tenn). The retiring Corker said about Bredesen, "I think he's got real appeal," and described him as "a friend of mine" and a productive partner for more than two decades.
He's already thanked Swift for her endorsement:
Thank you for the kind words @taylorswift13. I'm honored to have your support and that of so many Tennesseans who are ready to put aside the partisan shouting and get things done. We're ready for it. Last day to register to vote is October 9. https://t.co/6Xd6YyaJCG pic.twitter.com/CatUBkXPKeOctober 8, 2018
See more
He also loves the phrase "It's a mess, and it can be fixed"—it's clearly his campaign slogan and is also very much the campaign slogan of a 73-year old.
Where Does He Fall On The Issues?
Economy
From his website, "In the U.S. Senate, Phil will use his decades of experience in business and government to put forward economic solutions that help Tennessee and America prosper."
Education
"Working with teachers and local school systems, Phil and the State Board of Education raised the bar in the classroom to ensure that all students are ready for a career or college and life. On his watch, Tennessee's academic standards went from being among the lowest in America to among the highest — earning praise from national experts who noted the Volunteer State proved that 'states are capable of dramatic reform when the political leadership is committed to focusing public attention on the problem.'
'In the U.S. Senate, Phil will use his decades of experience in K-12 and higher education to push policies that support states and strengthen America's public schools."
Government Reform
"As a businessman, mayor, and governor, Phil was known for his bipartisan approach to problem solving and careful fiscal management. Meanwhile, Congress has lost its way to partisan squabbling — and as a result, too many Tennesseans are being left behind. Phil will take his experience to Washington, bring Congress back to basics, and help fix this partisan mess."
Healthcare
"In the U.S. Senate, Phil will use his decades of experience in health care to push for common-sense solutions that benefit all Tennesseans and Americans."
Jim Cooper
Who Is He?
Jim Cooper is the incumbent congressman, representing Tennessee's 5th Congressional District in U.S. House of Representatives, representing the Nashville area. He first served as the representative for the 4th district (comprised of the Tri-Cities (Kingsport, Johnson City, and Bristol), Knoxville, Chattanooga, Nashville and Huntsville, Alabama) for six terms from 1983-1995, and ran for the Senate seat vacated by Al Gore in 1994. After his loss, he moved t0 Nashville and taught at Vanderbilt University's Owen Graduate School of Management. Cooper won the primary for 5th District Congressman in 2002, in what is historically one of the most Democratic districts in the South, having been in Democratic power without interruption since 1875 and has won re-election every year since.
Much like Bredesen, he has a moderate voting record, and is a member of the Blue Dog Coalition, a caucus of Representatives from the Democratic Party who identify as conservative Democrats. He was the only Democrat in the House to vote against an emergency bill to provide disaster recovery and relief funds during Hurricane Sandy.
Where Does He Fall On The Issues?
Economy
From his website, We are fortunate to live in Nashville, which is brimming with creative people and opportunity. We need to keep our economy strong and continue to invest in projects that create opportunities for everyone. Infrastructure is key to Nashville – and America's -- future. While Congress has been unable to agree on a long-term solution to properly fund our bridges and highways – many of which are in dire need of repair – Jim supports and has voted for funding of our critical infrastructure.
Civil Rights
Jim believes that our cherished rights as Americans are for everyone. Voting rights, marriage equality, and the rights of women to make their own health decisions are among the issues that are key to progress in our state and our country.
Respected for his knowledge and objectivity, Jim is regarded as a "defense intellectual" in Congress. The only member of the Armed Services Committee from Tennessee, Jim works to support our troops in Iraq and Afghanistan. Now that our troops are coming home, we are obligated to give them the highest level of support in repayment for their service to our country. Jim helps veterans get the benefits they deserve. He was one of the first in Congress to call for an investigation of long waiting lists and rogue employees at veteran's hospitals.
Healthcare
Jim teaches health policy at Vanderbilt, and voted for President Obama's health care law. He believes that all Tennesseans should have the same access to health coverage that he and his family have. Governor Haslam has refused to implement a key part of the law that would further cover over 120,000 Tennesseans, and hospitals in Tennessee now face closure. The U.S Supreme court has upheld the health care law, and Jim continues to ask: "Morally, is it right to oppose Tennesseans having access to life-saving medical care?" He has also introduced the "Research for All Act", which would ensure that both sexes are included in basic medical research.
Regardless of your feelings about either candidate, or about Swift herself, the point remains the same: Vote, and Vote Often. Voting is super sexy and cool, and they're trying to make it harder for you to participate in it. Know who you're voting for and why, and make sure if you're "voting for a woman," that those women fall in line with what you believe. October 9 is the last day to make sure you're registered to vote. Honestly, you don't want to see what Taylor Swift might do if you don't vote. "Look What You Made Me Do" is secretly about you not voting, don't you know?
From explainers to essays, cheat sheets to candidate analysis, we're breaking down exactly what you need to know about this year's midterms. Visit Marie Claire's Midterms Guide for more.
RELATED STORY
Celebrity news, beauty, fashion advice, and fascinating features, delivered straight to your inbox!
Amanda Mitchell is a writer and podcaster with bylines at Marie Claire, OprahMag, Allure, Byrdie, Stylecaster, Bon Appetit, and more. Her work exists at the apex of beauty, pop culture, and absurdity. A human Funfetti cake, she watches too much television, and her favorite season is awards season. You can read more of her work at amandaelizabethmitchell.com or follow her on Instagram and Twitter @lochnessmanda.