Bruce Mann, Elizabeth Warren's Husband, Is Low-Key But Incredibly Supportive
A.k.a. America's possible First Gentleman.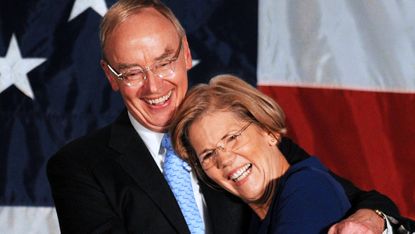 (Image credit: Darren McCollester)
Marie Claire Newsletter
Celebrity news, beauty, fashion advice, and fascinating features, delivered straight to your inbox!
Thank you for signing up to Marie Claire. You will receive a verification email shortly.
There was a problem. Please refresh the page and try again.
In December of 2018, Senator Elizabeth Warren became the first Democratic candidate to officially announce her intention to run for president. Since then, she's been working overtime to gain the support of the American voters. Warren's husband, Bruce H. Mann, is solidly by her side, and has been since long before she first entered the political arena in 1995. Mann, a law professor at Harvard, is regularly seen with Warren for campaign events and, of course, big moments like her Senate swearing-in. The New York Times reports that the two even go door-to-door on the campaign trail while holding hands.
Considering the fact that Warren has officially entered the tight 2020 presidential race (and is among the front runners), here's what you ought to know about her husband, besides the fact that he could possible be the first First Gentleman in American history.
He's a Harvard Law School professor.
A career academic, Mann has always been an Ivy League scholar; he earned his bachelor's degree at Brown University and then received his M.Phil, J.D., and Ph.D from Yale University. These days, he's teaching a course in American legal history, property, and trusts and estates law at Harvard, but Mann has also previously taught students at numerous other esteemed institutions such as the University of Texas, University of Michigan, and Princeton University. Additionally, Mann has won awards for his well-received book Republic of Debtors: Bankruptcy in the Age of American Independence, which covers debt in America in the 18th century.
Warren is also a Harvard Law School professor, but she doesn't do much teaching these days—her work as a senator as well as her current presidential bid are taking up most of her time as of late.
Mann first met Warren through work.
Mann and Warren met at a law conference in Florida, and for Mann, the attraction was instantaneous. "I saw this woman talking to someone, and I was just captivated," Mann told The Boston Globe. "I just walked right over. She barely noticed me. It took a couple of days."
In her 2014 memoir A Fighting Chance, Warren wrote of meeting her to-be husband: "A lot of people might think that two young law professors would be drawn together because they wanted to talk about law all the time. Nope: I fell in love with Bruce because he had great legs."
He certainly didn't expect to be in the public eye, though. When asked if this trajectory was something he expected, Mann said, "Oh, God no. Never. We have each had academic careers for roughly 35 years. This is not something we ever aimed for, ever thought about, ever expected."
Mann shares political views with his wife.
Warren's platform seeks to implement reform on the economy, on taxes, and on the environment. Many of her policies, often considered radical by both conservatives and liberals alike, call for total re-evaluation and even overhaul of different institutional systems. Mann feels that his wife is on to something: "The issues are important, what's at stake is important, and Elizabeth has a real contribution to make," Mann said to Mass Live. "These are the issues she has worked on, thought about deeply for decades."

A truly supportive spouse, Mann is prone to raving about his wife to anyone who will listen. "When I talk to [people], they seem pleased to see someone who's known Elizabeth a very long time, who knows her very well and can talk about her and give them a bit of a sense of what kind of person she is," he explained to Mass Live. So pure.
He's a thoughtful husband.
Even when their lives were on totally different tracks, Mann made a serious effort to be with his wife every step of the way (no, seriously—he even quit his job in Connecticut to be closer to her and her family in Cambridge), and the senator is more than thankful for his thoughtfulness. "I can't imagine anybody putting up with me over long periods," Warren reflected in an interview with The Boston Globe. "Bruce not ­only puts up with me, God bless him, he seems to enjoy me."
Warren talks about Mann a whole bunch on her Instagram, calling him "sweetie" a lot (aw!). And the feeling is obviously mutual. In a show of his devotion, Mann gave his wife the perfect anniversary present in 2017: A reorganized hall closet, which she absolutely adored.
According to Warren, every New Year's Eve she and Mann sit and watch Casablanca together (adorable). "Every time we watch it on New Year's, it gives me hope," she explained.
Warren proposed to him.
Never the conventional type, Warren was the one to pop the big question. "Back when I proposed to Bruce, I knew he was pretty special," she shared in the aforementioned Instagram post. "But through decades of ups and downs—kids, dogs, moves, living in separate cities, deaths in the family, and on and on—he's turned out to be even more special than I originally thought." *weeps*

Warren's also spoken about the less traditional relationship the two have. In her first marriage, the expectation was that she would be a stay-at-home mom, and she says she felt "restless." She married Mann in 1980 but they had a long-distance relationship while bought taught at different schools for...get this...15 years. "With each one of those steps, I built a more independent life," Warren said. "Not purposefully to take me away from the vision of marriage I'd grown up with, but because I needed to do more."
Mann is close with her kids.
Though the love of her life, Mann isn't Warren's first husband; the senator met him six months after her divorce from her late husband Jim Warren. (She's said she kept her first husband's surname so that she could share it with her kids.) However, Mann was a perfect fit for Warren's family, bonding instantly with her children Amelia Warren Tyagi and Alexander Warren. According to the Boston Globe, "[Mann] flew back and forth almost every weekend, coaching soccer and attending parent-teacher conferences. They called him Dad."
Being a stepfather couldn't have been easy, but Mann took it all in stride. He credits it to the fact that he's Warren's second husband. To him, being "H2" is actually a blessing. "You will look great in comparison," he joked.
He's been on the campaign trail—with their dog, Bailey.
The couple spoke to the St. Louis Post-Dispatch about how Warren and Mann discussed her presidential run:
"She saved me for last, and finally, she asked me for three reasons, pro and con. And I said, no, I'm not going to do it," Mann recalled. "I said, you're gonna run anyways. So just doesn't matter. Because if you don't run and Democrats lose, you'll feel guilty because then that means there'd be no one to fight for the people and the issues that you care about."
He is now regularly out on the trail with her. And in one of the smartest campaign moves I've ever seen, Mann and Warren have brought their golden retriever, Bailey, out on the campaign trail:
Including to the Iowa primary, where everyone was just delighted (that very handsome boy has clearly been trained and loves people as much as his mom):
Bailey, the dog of @ewarren, is led into her Waterloo office Wednesday morning by Bruce Mann and son Alex, to a chorus of aww's. pic.twitter.com/OszGxIhfZ2January 29, 2020
See more
Bailey is still just a pup (SO CUTE), and when Mann and Warren's son Alex arrived at their Iowa office, they knew exactly who people came to see:
"As you can see, it is all paws on deck," Mann said, as Bailey — the family's 1 1/2-year-old golden retriever — stood by his side, wearing a Go Pro camera on his harness. "While Elizabeth is doing her constitutional duty in Washington, she has a lot of people, and a couple of dogs, standing in for her."
I love the Go Pro detail! Seriously, people wanted more selfies with the cute pup than with anyone else:
Which, honestly, same. Warren even apparently thanked her dog post-caucus, so chances are we're about to see much more of him and Mann. I can't wait.

For more celebrity news, beauty and fashion advice, savvy political commentary, and fascinating features, sign up for the Marie Claire newsletter.
RELATED STORIES
Celebrity news, beauty, fashion advice, and fascinating features, delivered straight to your inbox!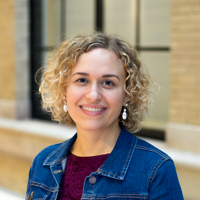 Katherine's a Boston-based contributor at Marie Claire who covers fashion, culture, and lifestyle—from "Clueless" to Everlane to news about Lizzo. She's been a freelancer for 11 years and has had roles with Cosmopolitan and Bustle, with bylines in Parents, Seventeen, and elsewhere. It's "I go to dinner," not "Her huge ego," but she responds to both.