Who Is Seth Moulton, the Newest 2020 Democratic Candidate?
He was named one of the '50 Most Beautiful' people in D.C.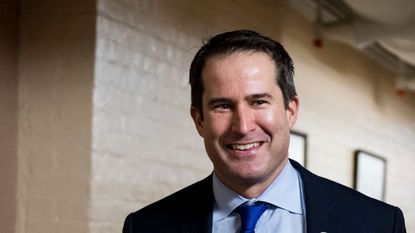 (Image credit: Getty Images)
On Monday morning, Massachusetts Rep. Seth Moulton threw his hat into the ring of Democratic candidates running for president in 2020. Moulton is the 19th person to announce he'll be competing in the Democratic primary. (To be honest, we're running out of fingers and toes to count on.)
But according to Moulton, he's different than the other candidates. In his interview with Good Morning America, the three-term congressman made sure to emphasize his differences. "I'm not a socialist. I'm a Democrat. And I want to make that clear. Maybe that's a differentiator in this race," he said.
That isn't the only way Moulton plans on standing out in a sea of blue. Here's everything we know about the newest presidential candidate.
He's a Harvard-educated Marine.
According to ABC News, Moulton earned dual master's degrees in business and public administration from Harvard University, the same university where he received a Bachelor of Arts in physics. In 2001, Moulton enlisted in the U.S. Marine Corps, where he served four tours in Iraq and, according to the Washington Post, was part of the first Marine company on the ground in Baghdad.
Moulton told viewers in his campaign video that while he was proud to serve, he didn't support the war then and still doesn't now. "While I agree the war was a mistake, I don't regret doing what I could to serve our country," Moulton said.
He's not a Nancy Pelosi fan.
In 2018, Moulton attempted to oust the current Speaker of the House Nancy Pelosi after the November midterm elections. "The American people sent a very clear message in the election last week, that they want new approaches to politics and new leaders in Washington," Moulton said, according to ABC News. The representative defended his decision to speak out via Twitter.
Which was followed by this:
Last week, the American people sent a clear message that we need a new approach and new leaders in Congress. It's time for us to listen.November 14, 2018
See more
Moulton eventually voted for Pelosi after the speaker vowed she'd only serve two terms.
He's taking a different approach to healthcare.
"I think I'm the only candidate who actually gets single-payer health care," Moulton told Good Morning America on Monday. Unlike several of his candidates, including Bernie Sanders, Kirsten Gillibrand, Cory Booker, and Kamala Harris, Moulton isn't sold on the "Medicare for All" policy. He emphasized in his GMA interview that he does believe that every American should have healthcare but the single-payer system isn't perfect. "If I'm elected, I'm not going to force you off your private health care plan."
He believes in stronger gun control laws
Despite having served in the armed forces, this Marine doesn't believe guns are for everyone. "There's simply no reason for a civilian to own a military-style assault weapon," Moulton wrote in the New York Daily News in 2016. "It's no different than why we outlaw civilian ownership of rockets and landmines."
He's already hired some heavy hitters to manage his campaign.
According to CNN, Moulton's campaign is a force to be reckoned with when it comes to veterans' affairs. Scott Eshom, a Green Beret will serve as the campaign's veterans organizer. Meanwhile, David Vorland, an advisor in President Obama's Office of the Secretary of Defense, will be senior policy adviser.

He wants to eliminate the electoral college.
You know that antiquated system made hundreds and hundred of years ago that was largely responsible for Trump's election?. It's called the electoral college, and Moulton would like to get rid of it. "Everyone should be able to vote, and every vote should matter. But the uncomfortable truth is, those rights have never truly been guaranteed here in the United States. It's time to fix what's broken," he wrote in the Washington Post.
He does not intend to shut down the border.
Moulton wrote a first-person account of his visit to the border on Medium, detailing the experiences of mothers, those in detention facilities, activists, and deportees, including veterans. He knows the system is broken, but said shutting down the border does not solve our problems.
Shutting down the border won't fix anything. I know, because I've seen it first-hand. https://t.co/vmBY7qayYE pic.twitter.com/6obehy1JBwApril 6, 2019
See more
He was named one of the '50 Most Beautiful' people in D.C.
In 2016, back when he was single, Moulton was named one of the most beautiful people in D.C by The Hill. The article reads like a dating profile; the representative humblebrags about his signature seafood dish. "I make it from scratch," Moulton said. "I go down to the dock in Marblehead, buy a lobster off the dock. It's a crowd pleaser, and a good date move."
At just 40, he'd also be the youngest president in history.
For more stories like this, including celebrity news, beauty and fashion advice, savvy political commentary, and fascinating features, sign up for the Marie Claire newsletter.
RELATED STORIES
Celebrity news, beauty, fashion advice, and fascinating features, delivered straight to your inbox!
Alexis Jones is an assistant editor at Women's Health where she writes across several verticals on WomensHealthmag.com, including life, health, sex and love, relationships and fitness, while also contributing to the print magazine. She has a master's degree in journalism from Syracuse University, lives in Brooklyn, and proudly detests avocados.