The President Makers
From bus stops to private jets, the power players behind the 2020 campaigns for president give us an inside look at their nonstop lives on the trail.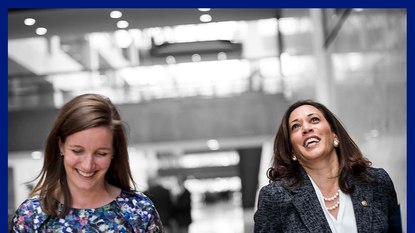 (Image credit: Washington Post)
Days after Pete Buttigieg officially launched his presidential campaign in mid-April, his senior adviser on communications, Lis Smith, found herself in the bathroom of her Manhattan apartment staring into the mirror at patches of white hair that had sprouted in her sleek, dark bob seemingly overnight. "I looked like a haggard witch," she recalls, sipping a Negroni and wearing oversize sunglasses and a chic Reformation sundress at the Crosby Street Hotel in SoHo.
Smith, a hard-nosed political operative who infamously dated disgraced former New York governor Eliot Spitzer for two years beginning in 2013, is something of a legend in Democratic politics after having worked on roughly 20 campaigns, including Barack Obama's reelection. David Axelrod, Obama's former senior adviser, has called her the "quiet hero" of Buttigieg's meteoric rise to fame from relative obscurity in the span of a month. But Smith says she ran herself ragged trying to turn the little-known Indiana politician with a hard-to-pronounce name into "Mayor Pete," a top-tier presidential contender.
The month the campaign rolled out, Smith says, she slept three hours a night, often with her cell phone under her pillow. Most mornings on the road with Buttigieg, she would roll out of her hotel room at 6 a.m., slide into the back seat of a car next to him with a full head of Velcro rollers, and put on an entire face of makeup on the drive while briefing him on his first event of the day. "There's no part of my makeup routine he hasn't seen," says Smith, 37.
Presidential campaigns used to be a boys' club, but now they're filled with women like Smith. An August survey by Politico found that women, for the first time, make up more than half of the senior staff on the campaigns of all the top-polling candidates. Beto O'Rourke and Julián Castro both tapped women to run their campaigns—a job that has historically gone to men. "It feels very empowering to have a seat at the table that I didn't even know existed when I started working in politics," Smith says. When she was growing up, "the people you saw were James Carville and George Stephanopoulos. You didn't see women in these positions. When you read profiles—even of the Obama campaign—it was always about the quirky, rakish men around him."

Castro's campaign manager, Maya Rupert, is only the third black woman in history to run a presidential campaign. Rupert says she's often underestimated because she doesn't fit the mold of the typical campaign manager. She's been stopped from going into events alongside Castro because security guards assume she's not part of his campaign. Once, a man delivering water to the campaign office in San Antonio asked her if anyone was around who could sign for it. She said, "I can," and he hesitated before saying, "Well, I guess anyone can do it."
"I was like, 'No, I am literally the person who makes that decision,'" says Rupert, 38. "It was so bizarre. We had just gotten off a call where I was clearly in charge and treated as such, and then someone looked at me and thought I may not be authorized to sign for a water delivery."
Rupert also faced a torrent of harassment in early August after Castro's twin, Joaquin, a Democratic member of the U.S. House of Representatives from Texas, published a list of President Trump's top donors from his hometown of San Antonio (which was already public information). A few right-wing Internet trolls got ahold of Rupert's personal cell phone number and started inundating her with hateful messages. "They called me with incredibly racist and misogynistic and disgusting fat-phobic comments," Rupert says. "They made racial slurs, comments about my weight—exactly what you would expect people like them to say to someone who looks like me."
She eventually changed her phone number, but the incident didn't remotely deter her from wanting to do her job. "We have to draw on the part of us in those moments that will not let us stop, because there's a reason they're trying to stop us," Rupert says.
Nothing about campaign life is easy. The staffers have to uproot their lives and move to wherever a candidate sets up headquarters. They spend much of their time on the road, getting very little sleep and eating irregular meals. One day on the campaign trail, Rebecca Pearcey, the national political director and senior adviser to Elizabeth Warren, inadvertently ate three breakfasts before 3 p.m. because the campaign bus kept making stops at Waffle House and Starbucks. "I have since realized it's not a sustainable life choice to always eat when the candidate eats," says Pearcey, 40.
Bernie Sanders's deputy campaign manager, Arianna Jones, bought an Apple watch to wear as a backup to her phone alarm. "I'm not a morning person, but there's no sleeping past 7 a.m. at this point," says Jones, 31. "The joke among many other folks on the trail is that you always have to consider the potential for waking up to Trump having tweeted about your candidate. There were several mornings where the day started without me."
As political staffers in the social-media era, the women have to constantly be on their phones, scanning for any kind of negative tweet or press about their candidates. During the debates, each campaign gathers in a side room and nervously watches on a screen, hoping for a breakout moment.
In June, after Kamala Harris attacked Joe Biden on the debate stage in Miami about his past opposition to mandatory busing to integrate schools, Symone Sanders, the former vice president's senior adviser, and two other top-ranking women on his campaign, Kate Bedingfield and Anita Dunn, took a deep breath and walked out to face the press onslaught together. "They were swarming us. There were 30 reporters with four or five cameras shouting the questions. We decided to go in there as a unit, our little band of ladies together, to answer the questions," says Sanders, 29. "I can't think of anyone else I'd rather be in the foxhole with."
Smith has had to weather several crises on the Buttigieg campaign. When a white policeman shot and killed a black man in South Bend while Buttigieg was on the trail, the incident infuriated many of the mayor's constituents, some of whom accused him of trying to woo voters of color in other states while ignoring racial tensions in his own town. "Pete got a two-by-four to the face," Smith says. "A lot of people were predicting his demise as a candidate."
He chose to deal with it by canceling his campaign events, returning home to face angry South Bend residents in a televised town hall. "I don't think you would see a lot of candidates willing to be screamed at by constituents live on national TV," Smith says. "It was a novel approach. The fact that he got through that is a testament to his abilities as a candidate and also our campaign's ability to muddle through it."
As the first openly gay presidential candidate in U.S. history, Buttigieg has also had to face off against anti-LGBT protesters. At an event in rural Iowa in April, a group of evangelical activists showed up outside with a sound system to yell at him about his sexuality and his support for abortion rights. Among the group were a protester dressed as the devil and another dressed as Jesus.
Smith made a split-second decision to delay the event until she could find Buttigieg a microphone and his own sound system so that his speech wouldn't be drowned out by protests. "All right, we gotta pause," she told him as he waited to greet his supporters. "Here's the good news: You managed to bring Jesus Christ and Satan together. The bad news is that they're both heckling you." Buttigieg laughed and followed Smith's plan, and the event went off without a hitch.
These women could opt for more stable jobs on Capitol Hill, where it's a bit easier to have a social life and a full night's sleep. But most of them say that the adrenaline rush of the campaign trail—in addition to the aspiration to help change the country—keeps them coming back.
Sanders calls herself Biden's "hype woman." After a day of events and interviews in Dearborn, Michigan, that went especially well for the former vice president, Sanders got into the car with him and started cheering. "I was like, 'You fucking killed it, sir! Excuse my language, but you fucking killed it! Yes, sir, yes! This is what the people want! Yasss!'" Biden laughed and high-fived her.
Sabrina Singh, the national press secretary for Cory Booker, remembers cramming into the back of an SUV with the New Jersey senator and a handful of other staffers to return to their hotel in Detroit at 1 a.m. after the second primary debate in July. After the long day and grueling post-debate interviews, she expected Booker to want some quiet reflection time, but he was so excited about his debate performance that he couldn't turn the energy off. "He rolls down the windows and just starts blasting Chance the Rapper and singing all the words," recalls Singh, 32. "All the staff eventually started clapping and singing along. It was one of the best moments."
Sometimes women from different campaigns bond over shared experiences and help one another out. Singh said a staffer on Amy Klobuchar's campaign lent her a charger at the Detroit debate when her laptop ran out of battery. At a campaign stop in Philadelphia, Warren's staff invited Castro's and Gillibrand's staffs to a happy hour. Many of the women have worked together on previous campaigns and are still on group text chains, where they vent about the insanity of their lives on the trail. "There's a good camaraderie for Democratic staff working in this primary, particularly among women," says Lily Adams, communications director for Kamala Harris (and daughter of former Planned Parenthood president Cecile Richards). "You trade stories, commiserate on things, complain about when's the last time you were home, give packing tips to each other."
Kate Bedingfield, Biden's deputy campaign manager and communications director, likes competing with like-minded and similarly accomplished women. "It's fun to go up against people you know to be smart and great and capable," says Bedingfield, 37. "You have a sense of how they think and operate because you've worked with them before."
A particularly poignant moment among the campaigns unfolded in the wake of the August 3 mass shooting in El Paso, where Beto O'Rourke's campaign is headquartered. After the shooting, nearly every campaign sent care packages to O'Rourke's campaign staff. "It was touching and powerful, especially for the younger staff, to see that support, the virtual hugs, food showing up from Klobuchar and Harris and Mayor Pete," says Jen O'Malley Dillon, 43, O'Rourke's campaign manager.
Rupert from Castro's campaign personally reached out to O'Malley Dillon to offer sympathy and support, even though Castro and O'Rourke are rivals, having fought about immigration policy during the first debate. "I thought that was really gracious and thoughtful of her, and I responded in kind," O'Malley Dillon says. "Look, it can be tough to separate that stuff. My allegiance and loyalty are to Beto. I will do whatever it takes to support him, and sometimes it's hard when you feel like your candidate was personally attacked. But we're all professionals, and I have huge respect for Maya."
Some of the women admit things can get a bit tense across campaigns at times because they're working on a very competitive and crowded primary race. "We do talk a lot of smack," Smith says. Jones characterizes the smack-talking more as a "good-natured back-and-forth about policies."
Overall the women are generally able to detach the political from the personal and just grab a drink together when they find themselves in the same city. "We're all working to elect Democrats. You should be able to turn off work mode and do shots together," says Smith. "I don't have time for the drama. It's not Real Housewives of Des Moines."
At the end of the day, none of these women would trade their hectic, unpredictable jobs for normal ones. If their candidate wins in 2020, they will likely snag a coveted job in the White House as a reward for their service. Some, like Smith, may want to stay on the campaign trail forever, betting on candidates they believe in and helping them win. "Maybe I'm leaving money on the table. Maybe I'm leaving a more stable lifestyle on the table. But I'm having the most exciting and fun time, and I happen to be really good at it," says Smith.
When she looked in the mirror and saw her hair literally turning white, she briefly started to reconsider her priorities. "I was like, 'This is untenable. I want to win this campaign, but I don't want to die,'" she says. But, a minute later, she reconsidered: "Whatever, it's better than being bored and having perfect brown hair. This job isn't for everyone, but I wouldn't have it any other way."
This story appears in the November 2019 issue of Marie Claire.
RELATED STORIES