Who Is Joe Biden's Youngest Daughter, Ashley Biden?
The business owner and activist is fiercely supportive of her father.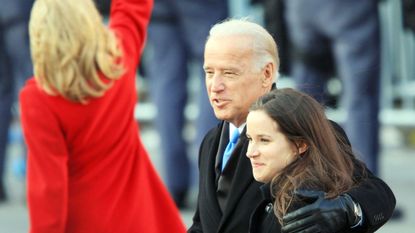 (Image credit: Getty Images)
President-elect Joe Biden is close with his entire family, which includes his youngest daughter Ashley Biden. You've probably heard less about Ashley than Joe's other children; she lives a quieter, less public life than her older brothers, Hunter and Beau (the latter, who served as Delaware's attorney general, sadly died in 2015). Married in 2012 to Dr. Howard Krein, the social worker/career development and education liaison has evolved into a business owner and passionate advocate for social justice. So what else do we know about the soon-to-be First Daughter, who is by far the most low-key of the president-elect's children?
Ashley is very close with Joe.
Ashley is Joe's second daughter. Her older sister Naomi and Joe's first wife Neilia were tragically killed in a car accident in 1972 (Naomi, nickname "Amy," was only 15 months old). Joe married Jill Biden in 1977, and Ashley was born in 1981.
Ashley accompanied her father on the campaign trail, and the experience inspired her to a career as an activist. "My dad always taught me that silence is complicity, and that I must stand up for anyone who was being treated unfairly. That has stayed with me through adulthood, and is the guiding principle in my professional life," she has explained.
She went to a private high school in Bloomington, Delaware, and later majored in cultural anthropology at Tulane University. Unsure what her next steps would be, Ashley took shifts at a local pizza shop in her hometown until deciding to pursue her passion for activism. In 2010, she earned her master's degree in social work through from the University of Pennsylvania's School of Social Policy and Practice.
She was named executive director of the Delaware Center for Justice in 2014, which focuses on criminal justice reform. Her work was impacted by tragedy in 2015: Her older brother Beau passed away of brain cancer. "It was very important to Ashley," her mom explained at the time, "to carry on Beau's legacy—the reforms in criminal justice, his work with children. Hunter, too, set an example with the work he was doing. She always had a reason to be engaged with them and she found a way to follow her own lead."
She has spoken about knowing that Beau will be part of his dad's inauguration: "He was 46 when he passed. Dad will be the 46th president," she told NBC.
Though she often stays out of the limelight, Ashley and her brother Hunter introduced Joe at the (virtual) Democratic National Convention. "He'll be rock steady...he'll treat everyone with respect no matter who you are," she explained. "He'll love you with all of his heart." Ashley was one of several family members who joined together to support Joe, including several of his grandchildren.
She was born for public service.
Ashley explained to Glamour in 2017 why she's devoted her life to causes that are important to her. "The passion started at a very young age...My dad is a lifelong public servant; my mom was a public-school teacher—it's in my DNA."
She eventually focused on social justice in education, but according to her, she had a real passion for causes since she was very young:

"When I was a kid, I always really loved animals, and I found out that Bonne Bell lip gloss was testing on animals, so I organized my school to start writing letters to [the company]," she says. "Then I became obsessed with the plight of dolphins getting stuck in tuna nets. My dad connected me with Congressman Barbara Boxer, who I nicknamed the 'dolphin lady,' and she got me onto the floor to help lobby Republican congressman for The Dolphin Protection Consumer Information Act."
She values keeping a low profile.
Because she grew up in the public eye, Ashley likes to keep certain aspects of her life private when she can. Her Instagram account is closed to the public and most of her attendance at events are low-profile.
At a keynote speech at the Women Rule 2014 Summit in Washington, D.C., Ashley got candid about her feelings on speaking at such large events. "It's an honor to be here amongst a room full of women who rule," she said during one of her rare public events. There is actually a really good energy, and I actually feel comfortable, and in these type of things, I normally don't."
She owns her own company, Livelihood.
Ashley founded the organization Livelihood after Beau died. It designs and sells American-made clothing, with a goal of donating proceeds to sales to community organizations in D.C. and Delaware. The intention of the organization is "supporting criminal justice reform, improving childhood education and ameliorating economic disparities."
In an interview with Delaware Today, Ashley spoke on why she got into the business. She said, "It doesn't matter if it's overcoming incarceration and poor choices—I've made plenty, too—or grappling with a sibling's death, you can move forward and be better," she says. "Getting people out of the justice system, or simply getting them the services they need, is about hope and possibilities. I am in my job because our system is malfunctioning. Mass incarceration isn't the answer."
Here, she speaks about Livelihood at the University of Delaware:
She's married to Philadelphia surgeon Howard Krein.
On June 2, 2012, Ashley married Krein at the church in Delaware where she was baptized; the reception was held at the Biden home. "This is the right guy," Biden said at the time. "And he's getting a helluva woman." Ashley met Krein through her late brother Beau in 2010, and the couple planned to live less than an hour away from Beau in Philadelphia.
According to his LinkedIn, Krein holds a few positions: He's Chief Medical Officer at StartUp Health, which helps "entrepreneurs to build sustainable health and wellness companies," senior director of health policy and innovation at Thomas Jefferson University Hospital, and associate professor of otolaryngology: head and neck surgery at Jefferson as well. He also has an unofficial role on the Covid-19 pandemic response team. He's on Instagram, apparently, but doesn't post very much.
She has her own fans.
Joe's notoriously private daughter gained some new fans at the celebration rally of her father winning the election. From the minute she got on the stage with other family members to rejoice in the results, she could not stop dancing—and supporters everywhere could tell how important this win for her father was to her.
Fans tweeted clips of her dancing, writing, "Ashley Biden dancing her way across the stage is a vibe" to " At my next admin meeting, I am wearing a leopard print face mask and bringing Ashley Biden-level energy."
Ashley Biden dancing her way across the stage is a vibe. 😎 pic.twitter.com/cmk5qvzYRTNovember 8, 2020
See more
Ashley did her first network interview on the eve of her dad's inauguration, saying of the Trumps' plan on inauguration day: "I don't think they're doing the traditional protocol, which is unfortunate, but I think we're all OK with it." She said she plans to use her platform to "to advocate for social justice, for mental health, to be involved in community development and revitalization."
Marie Claire email subscribers get intel on fashion and beauty trends, hot-off-the-press celebrity news, and more. Sign up here.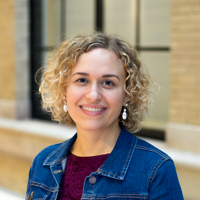 Katherine's a Boston-based contributor at Marie Claire who covers fashion, culture, and lifestyle—from "Clueless" to Everlane to news about Lizzo. She's been a freelancer for 11 years and has had roles with Cosmopolitan and Bustle, with bylines in Parents, Seventeen, and elsewhere. It's "I go to dinner," not "Her huge ego," but she responds to both.