Who Are Joe Biden's Grandchildren, Who Range from Seven Months Old to 26?
He has seven!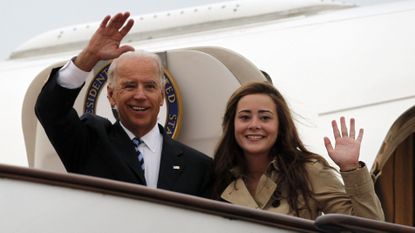 (Image credit: Getty Images)
As President-elect Joe Biden Jr. heads to the White House, he's as close with his family as ever, especially his grandchildren. Even during the pandemic, Joe has said, he makes the effort to speak with his family all the time, especially his grandkids Naomi, Finnegan, Maisy, Natalie, and Robert: "Every day I'm in contact with every one of my grandkids, my son and my daughter, but by distance," he explained. "As a matter of fact, my son Beau's children live a mile away as the crow flies...They walk over through the woods and through a neighborhood, and they sit out in the backyard in two chairs, and I sit up in the porch, and we have our conversations, because I'm not allowed to go hug them. I miss it."
This closeness hasn't changed since Joe won the White House. Maisy has said: "He calls me, then calls Naomi, then he calls Finn, then he calls Natalie, then he calls Ashley, and then he calls little Hunter." His older grandchildren, in particular, have recently made appearances for him and spoken about how close they are with the incoming president. So who are they, and what do we know about them so far?
Naomi Biden
Naomi is the oldest daughter of Joe's younger son, Hunter Biden. Named after Joe's young daughter who tragically died alongside his first wife in a car crash, she's passionate about politics. When Joe was vice president, she joined him on international trips including to New Zealand and China. She's a vocal supporter of her grandfather, both on Twitter and Instagram, and it's thanks to her that we get peeks into her life and the lives of Biden's other grandkids (like here, with sister Finnegan):
She's dating another law student, Peter Neal (Naomi graduated from Columbia Law in May), and the two recently collaborated on a quiz to help people understand if they qualified for aid under the CARES Act. It's so far helped more than 10,000 people get assistance from the $2.2 trillion stimulus package.
The pair told MTV News it took a total of almost 48 hours to read through all 335 pages of the stimulus package, create the quiz, and code the website. The only time they took a break? To grab a causal three hours of sleep, "It was either that or watch Curb Your Enthusiasm for the third time in a row," Naomi told MTV News.
During the DNC, she tweeted about how proud she was to be Joe's granddaughter, and proud to be an American:
I am proud to be your granddaughter every single day @JoeBiden. But tonight, I am just as proud to be an American. pic.twitter.com/nimWHpAFP9August 19, 2020
See more
Back in 2018, Tiffany Trump posted a photo of the two of them during a weekend trip in the Hamptons on her Instagram story. If you're wondering how they crossed paths, both of them attended the University of Pennsylvania together at the same time.
Finnegan Biden
Finnegan's Instagram is private, and she's not as vocal as her older sister, but she also traveled with Joe internationally while he was VP and even joined him onstage during the Nevada caucus. She's named after Joe's mother, Jean Finnegan, and is a student at the University of Pennsylvania. She, too, is the daughter of Hunter Biden.
She appeared during an Iowa rally in February, and Joe mentioned her specifically:
"I would like to introduce you to my granddaughter Finnegan Biden. The reason I asked Finnegan—grandfathers are always allowed to embarrass their granddaughters—that goes along with the territory...But granddaughters not only love their grandpops but they like them. And that's the great thing. Thank you, baby."
In an interview on the day of her grandfather's inauguration, Finnegan mentioned how grateful she was to Sasha and Malia Obama for their friendship and support. "Maisy and I and Natalie and Naomi have had the privilege of being able to see two of our friends navigate eight (years) of what was really difficult, and they did so, so beautifully...And they came out so grounded and humble, and they're so smart and driven, so I think we can only take advice from them."
Maisy Biden
The youngest of Hunter's daughters, Maisy also traveled with Joe as he worked, including abroad in Bogota, Columbia.
She's particularly close with Sasha Obama. When the two graduated high school together, the two families celebrated, according to Biden: "Her best friend is Sasha Obama. Barack and Jill and the whole family, we had a whole get-together." The two apparently played on the same basketball team together, and none other than President Obama has praised her skills, predicting that she may one day play for the WNBA. Maisy and Sasha apparently joined Joe at the FIFA Women's World Cup Canada in 2015.
Maisy says her grandfather prioritizes her games, even when he was serving as vice president. "He came to, like, every single one of my soccer games, lacrosse games, basketball games. And it was always funny seeing him show up when I was like, 'I think I just saw you on TV about 30 minutes ago, how did you just end up here?' And he was like, 'Don't worry, I knew it was a big game today.'"
The whole (extended) family got together when Maisy graduated in 2019, commemorated (of course) by Naomi:
In order for the family to get together, Joe had to skip the June 2019 Iowa Democrats Hall of Fame Dinner, which received some backlash from some politicians. He responded to the comments, saying:
"My granddaughter was graduating. It was my daughter's birthday. I would skip inauguration for that...I guess some folks were surprised I made that choice, but I don't know why. There are some things more important than running for president—and my daughter and granddaughter are two of them. So I'll make the same decision every time."
More recently, Maisy has taken to TikTok to share ingenious animations, lip syncs, and inspired (non-alcoholic) drink recipes.
Natalie Biden
Natalie is the older child of the late Beau Biden—Joe's older son who passed away from brain cancer in 2015. She's younger and more private, but she's been more visible lately in support of her grandfather.
Natalie recently spoke about her grandmother Jill Biden during the DNC, saying, "I would say she's not your average grandmother," and adding, "She's a prankster, she's very mischievous."
"When she goes on a run, sometimes she'll find, like, a dead snake and she'll pick it up and put it in a bag and she'll use it to scare someone," she said, laughing.

Back in October, Natalie and Naomi teamed up with model Kaia Gerber to encourage young and first time voters for an election Q&A on Instagram. Although Naomi is too young to vote, she noted that our social media platforms have the power to "inform people, and, like, tell people what we stand for."
Robert "Hunter" Biden
Robert is the younger child of Beau, and is known as "Hunter" in a nod to his uncle. Robert has traveled with his grandfather (like the above at the 2008 DNC when Hunter was just a kid). He's now older, and occasionally appears on Naomi's feed:
And he also appeared in a 2020 DNC video of the grandchildren reciting the pledge of allegiance:
His Other Grandchildren
Joe has two other grandchildren, too. In 2018, Lunden Alexis Roberts gave birth to a child, and in 2020 it was proven that Joe's son Hunter was the father; He agreed to pay child support.
Hunter also married Melissa Cohen, a filmmaker, in 2019—and their son was born in March 2020, a "beautiful and healthy baby boy" who came just at the start of the pandemic. It's not clear if Joe has met either child yet (the pandemic may have made in-person visits challenging), and for obvious reasons there's privacy around both.
All Joe's grandchildren are supportive of "Pop-Pop."
Naomi, Finnegan, Maisy, and Natalie Biden spoke at the DNC. From left to right: Maisy, Finnegan, Naomi, and Natalie. In the video, they talk about how Joe was worried about their wellbeing and media scrutiny if he ran for president in 2020, and how they gave their full support.
After Joe officially declared he was running for president, Naomi shared that the grandkids bought him a pint of one of his favorite flavors of ice cream, vanilla, to celebrate:
When Biden's granddaughters were interviewed in August for the DNC, they said this about their grandfather: "He's always eating ice cream. Usually, it's vanilla...the Breyer's that have half chocolate, half vanilla. He likes ice cream in hidden ways." Natalie chimed in, "Eating it in the freezer so that my grandma doesn't see."
Post-election, Naomi tweeted this cute throwback image of her grandparents before the results were called, writing, "They've come a long, long, way together."
They've come a long, long, way together. https://t.co/BKX9pdzQ9S pic.twitter.com/HPtBhuZD4WNovember 7, 2020
See more
And of course, when the results came forward that their grandfather had won Pennsylvania and officially became the president-elect, a group hug commenced. According to NBC's Mike Memoli, the family was "enjoying the warm fall weather on their backyard patio Saturday morning when from inside their home, a chorus of applause erupted."
Naomi then shared this heartwarming photo of all of them in a group hug with their smiling grandfather. She captioned it "11.07.20", signifying the historic day.
Marie Claire email subscribers get intel on fashion and beauty trends, hot-off-the-press celebrity news, and more. Sign up here.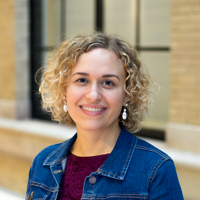 Katherine's a Boston-based contributor at Marie Claire who covers fashion, culture, and lifestyle—from "Clueless" to Everlane to news about Lizzo. She's been a freelancer for 11 years and has had roles with Cosmopolitan and Bustle, with bylines in Parents, Seventeen, and elsewhere. It's "I go to dinner," not "Her huge ego," but she responds to both.