The Dignity of LGBTQ+ Americans Hangs in the Balance This Election
Sen. Tammy Baldwin explains why electing the Biden-Harris ticket is the only option for protecting and progressing LGBTQ+ rights.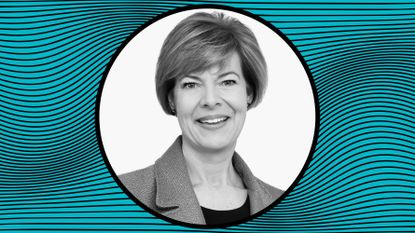 (Image credit: Courtesy of the office of Senator Tammy Baldwin)
One of the most joyful moments of this campaign was watching my friend, Senator Kamala Harris, accept the nomination for vice president at the Democratic National Convention, as the first woman of color to be nominated to a major party ticket. It took me back to July of 1984, when I was fresh out of college with my whole future ahead of me, watching Geraldine Ferraro accept the nomination for vice president. I thought at the time, not knowing what paths might be unavailable to me as a woman and an out lesbian, Wow, I can aspire to anything! And years prior, I had the same thought as I learned about Kathy Kozachenko, who was the first openly LGBTQ+ person to win political office in America.
Watching Kamala on that night in August made me so proud. This time, I thought of all of the young people in America, watching and thinking, Wow, I can aspire to anything! You see, historic firsts—like the first Black and South Asian woman being nominated to serve as Vice President, or, in my case, the first openly gay person being elected to the United States Senate—matter.
Having leaders who look like the people they represent matters. It matters to the next generation, who can and must be able to see people like them in public service. And, it matters to Americans who have historically been unseen, undervalued, or downright oppressed in our democracy.
From Mayor Pete Buttigieg and Senator Kyrsten Sinema to Virginia Delegate Danica Roem and Minneapolis Councilwoman Andrea Jenkins, we are seeing LGBTQ+ politicians proudly and openly serve, and advance more just and equitable policies as they do. And, we've had allies fighting alongside us, like Kamala and my friend Joe Biden.
During the Obama Administration, Joe declared his support for marriage equality well before the Supreme Court made it the law of the land. The discriminatory Don't Ask, Don't Tell policy was repealed, and laws including the Affordable Care Act were passed that included specific provisions to protect the LGBTQ+ community's access to health services. That's the kind of progress that speaks volumes about Joe's commitment to this fight.
But instead of moving us toward further inclusion and equality, Donald Trump and Mike Pence have worked over the last four years to turn back the clock on much of that hard-won progress. They've rolled back critical protections. They've blocked transgender individuals from serving in the military, denied them access to health care, and failed to address the epidemic of violence against transgender women of color. Worst of all, they've given hate and discrimination safe harbor. Quite simply, LGBTQ+ Americans cannot afford four more years of this administration.
But, it doesn't have to be that way, and it's not too late to make sure that Donald Trump is a one-term president. That's why I'm focused on making sure that Joe Biden and Kamala Harris win on Tuesday.
Every person wants to be treated with dignity and respect, and that's what Joe Biden is all about. He knows us, and his vision for the country is grounded in his deeply held belief that every person should be free to live and love without fear.
Today in America, LGBTQ+ Americans experience discrimination in every facet of their lives, and that's not right. Joe is going to make enactment of the Equality Act a priority in his first 100 days, ensuring discrimination is illegal once and for all. And he'll treat our LGBTQ+ service members and veterans with the respect and dignity and gratitude that they deserve.
Joe Biden has a track record of support for LGBTQ+ youth, demonstrating a deep appreciation for their unique challenges. His LGBTQ+ plan includes concrete actions to ensure young people's needs are met—from ending bullying in schools to stopping discrimination against homeless youth to ensuring their gender identity is respected. And he will take action to end the disproportionate rate of suicide among LGBTQ+ youth.
Health care is personal, and Joe knows that. He will aggressively tackle and effectively contain COVID-19, ending this public health crisis, and work to ensure that every American can access the health care they need. He'll build on the Affordable Care Act, and protect the provisions that stop insurance companies from raising premiums due to gender, sexual orientation, gender identity, or HIV status.
And Joe is committed to ensuring that LGBTQ+ Americans have a seat at the table. Because, again, representation matters, and we cannot advance full equality and inclusion if LGBTQ+ Americans aren't part of the policy making process. There's a saying that if you aren't at the table, you're probably on the menu. Well, we won't be on the menu in a Biden-Harris Administration.
Under a Biden-Harris Administration, I have so much hope for our country. After four years of chaos and darkness, we have a chance to choose a brighter future for us and for the next generation. A future where so many young people can look to their leaders and think, Wow, I can aspire to anything!
That's the future that Joe and Kamala envision for all of us: where each one of us can live our lives with dignity and respect, with the opportunity to achieve our dreams, and do so without fear. And that's what I'm fighting for. And, that's why we need to vote and why you need to make sure everyone you know has a plan to vote early or on Election Day. So, please visit iwillvote.com today and make your plan.
Tammy Baldwin is a United States Senator from Wisconsin.
Related Stories