Is Barack Obama the First Female President?
A new Washington Post article calls his "lack of leadership" womanly.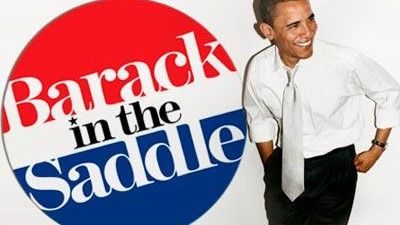 (Image credit: Terry Richardson)
Pulitzer Prize-winning columnist Kathleen Parker — who recently signed on to co-host a news program on CNN with disgraced New York governor Eliot Spitzer — has a questionable-skidding-dangerously-toward-offensive piece in today's Washington Post (opens in new tab).
Her claim: President Barack Obama's leadership style is very feminine, and this is very bad for the country.
"He may be suffering a rhetorical-testosterone deficit when it comes to dealing with crises," she says.
Okay, let us get this straight. Because he waited 56 days to address the nation on the oil crisis, it's this "lack of leadership" that makes him womanly? So does that mean women can't be effective leaders? I certainly hope not. Parker doesn't "think that doing things a woman's way is evidence of deficiency but, rather, suggests an evolutionary achievement," but her examples only seem to knock Obama, saying he'll pay "a political price for acting too much like a woman." Aren't we past all this? (Somewhere Hillary Clinton must be rolling her eyes right about now.) Whatever point Parker is trying to make in this article gets so muddled down in tired gender stereotypes that she completely loses us.
Tell Marie Claire: What's your take? Share your thoughts in the Comments section below!