Here's How Hillary Clinton Reacted to the GOP Debate
According to Twitter.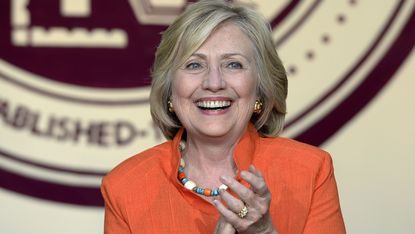 (Image credit: Getty Images)
Hillary Clinton was reportedly in transit—and possibly taking a selfie with Kim Kardashian (?)—during both Republican debates, but her presence was very much felt as each candidate took repeated swipes at the Democratic frontrunner.
WATCH: Seven of the 2016 Republican presidential candidates describe @HillaryClinton in two words. #GOPDebatehttps://t.co/54t3MNf3y0August 7, 2015
See more
Donald Trump, in one of his many "charming" non sequiturs, spoke pseudo-warmly of Clinton as one of the many people that he literally pays to be his friend. "I'll tell you what, with Hillary Clinton, I said, 'Be at my wedding,' and she came to my wedding," Trump said. "You know why? She had no choice, because I gave [$$$]."
"Hillary being the Democratic nominee would be a dream come true," Ben
Carson said of what he thinks would make for an easier competition.
And Scott Walker threw an email-related zinger (it was bound to happen): "Probably the Russian and Chinese government know more about Hillary Clinton's email server than do the members of the United States Congress."
Hillary herself did not respond to any of these comments, of course, but that didn't stop the Internet from colorfully imagining what her reaction would be.
In one word? Smug.
Hillary Clinton right now. #GOPDebate pic.twitter.com/RFqoPQbzGkAugust 7, 2015
See more
Hillary right now. #GOPDebate #GOPFusterCluck pic.twitter.com/dbIQz4nV5jAugust 7, 2015
See more
Hillary right now#GOPdebate pic.twitter.com/3zoTR2NKWJAugust 7, 2015
See more
Hillary Clinton feels like Drake right now #GOPDebate pic.twitter.com/FQP75cW9qwAugust 7, 2015
See more
LIVE reaction from @HillaryClinton's #GOPDebate watch party. pic.twitter.com/jbR13qfKZ7August 7, 2015
See more
Hillary right now. #GOPDebate pic.twitter.com/xKTW9BqQxVAugust 7, 2015
See more
Yep, pretty much.
Watching the #GOPdebate? Bet you feel like joining a Democrat's campaign right about now. https://t.co/2No2qbOIMUAugust 6, 2015
See more
Celebrity news, beauty, fashion advice, and fascinating features, delivered straight to your inbox!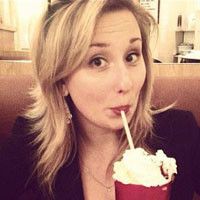 My writing has regularly appeared in The New York Times, The Paris Review, Salon, VICE, Guernica, The New York Observer, BuzzFeed, Cosmopolitan, Seventeen, Esquire, Elle, Harper's Bazaar, and many more publications.

I was previously the Senior News Editor at Best Life Online and the Viral Content Editor in the Newsroom of Hearst Digital Media. My portfolio consists of a vast and diverse body of work that includes personal essays, lifestyle articles, breaking news posts, and viral content. My areas of expertise, however, are Russia, sex and relationships, and mental wellness.