Porn in the U.S.A.
Who's Nailin' Paylin?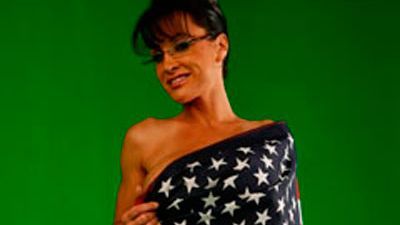 (Image credit: Archives)
A Q&A with Lisa Ann, star of Hustler's forthcoming, sensation-causing triple-X movie Who's Nailin' Paylin, and dead-ringer for the vice presidential nominee.
Marie Claire: Your fans know you from your dozens of porn films, but you've been shot into the mainstream with news of this movie. Did you see it coming? Knowing that you look like Sarah Palin, did you know that you'd get this gig?
Lisa Ann:
[Fellow porn star] Nina Hartley called me one day and said, "You know someone's going to ask you to do Sarah Palin. And you're going to have do it. You have the glasses. You throw your hair up. You've gotta do it." And I said, "Well I want to learn more about her first." Because it was very new, and I knew nothing about her. When I started to learn about her I remember calling Nina and saying, "There would be so many ways we could spoof off of stuff she actually says!"
MC: Is it strange the way the news of the movie has been received by the mainstream press?
LA:
I think it's awesome. We went on CBS Studios the other day and did a show for Entertainment Tonight's Insider. It's not even about the fact that it's an adult movie, it's about the fact that it's a spoof. And, it's comical how well received it's been. I did a radio show the other night for some Canadian Sirius station and they were laughing because they said in other countries we don't make fun of our politicians this way, and that's what they love about Americans.
MC: Do you worry that when this comes out there's going to be a backlash? Have you seen any moral outrage yet?
LA:
I have. Fox News had a debate about it-one lawyer was explaining the fact that Larry Flynt does have parody protection under his First Amendment rights. The other was saying it's unfair to depict this woman this way. And it was interesting and yes, I was fully aware of what I signed up for and any negative things that could follow it. Maybe some crazy right-wing activist will try and burn my house down-they burn down abortion clinics! But I put myself in that target spot and it is what it is.
MC: And it's worth it to you.
LA:
It is. It's worth it to me to say thank you to Larry Flynt for paving the way for us. It's worth it to me because finally there's a role out there for someone who could actually come off somewhat intelligent. I get to say some lines that are so ridiculous-and they're what she actually says!
MC: Just like Tina Fey did.
LA:
Tina Fey is so priceless when she does her. I had only four days to prepare, so I didn't get the accent down. I was too busy ordering all my suits on Macys.com, for rush delivery. I had to get them home and alter them myself because I was afraid to drop them somewhere and have them not be ready at 7 AM that Saturday morning, when shooting began.
MC: How long did it take to shoot the movie? Is it done?
LA:
Two days, we did it in two days.
WATCH A CLIP OF THE VIDEO HERE (OKAY FOR WORK)
MC: Do you know if this was Larry Flynt's idea initially?
LA:
I don't know for sure. I know it was someone at Hustler.
MC: So four days to prepare. The accent is tricky.
LA:
I didn't worry about it too much. There was enough going on in the dialogue and the banter about her hunting and all the things she says and does. I just love that she says you can see Russia from Alaska. That's just beautiful. I can barely see Catalina because of the smog and that's only 30 miles off the coast.
MC: Did you ever consider that maybe the choice of Palin would be good for women and you shouldn't do a porno about it?
LA:
Yes. I like to do my homework, so first I learn that she is not pro-choice. She even said that if her daughter was raped she wouldn't let her have an abortion. And I think, come on now. We shouldn't even be talking about that anymore. We resolved the issue and we need to move on to other things. And then there's the fact that her daughter is pregnant. That's a big red flag to me. You can't run your home and you want to assist in running our country? Because that's part of running your home-talking to your child about safe sex.
MC: But do you think there is anything of two-steps-back to the idea that she's the subject of a porn movie?
LA:
No, because she carries herself in a certain way. She's attractive and she puts her sexiness out there. She wore false eyelashes for the V.P. debate!
MC: Did she?
LA:
Yes, I was standing in front of my television talking to my girlfriend who's a makeup artist and I said "please tell me that she's not wearing fake eyelashes." And she said, "Oh yes she is!" So, I mean, she puts herself out there that way. She could have toned it down a notch. She doesn't have to try so hard to look cute. So, of course she's going to get objectified. And, she's said some ridiculous things that are enough to enrage people and fuel us to do something ridiculous as a backlash. And, so you know we're supposed to not talk about it, but I'm sorry we are allowed to judge you on your actions. Athletes deal with it. Actors and actresses deal with it. That's just how America works.
MC: She definitely goes for heels and skirts. And it's winning points with her young male constituency.
LA:
She had on that shiny, silky tight suit for the V.P. debate. Fitted around the waste. You wouldn't wear that to your college reunion if you were trying to be conservative. And, of course all men in America are going to wonder what kind of lingerie she's wearing. That's how they think. For the film, I was surveying all my friends asking them, "So what do you think she wears?" I wanted to nail this.
MC: What did you go with?
LA:
A fuller bottom, but still really cool sexy panty with a nice matching bra. I think her stuff matches. She's very detail oriented. And I think she probably feels in power by having something sexy on underneath.
MC: So, obviously you're a Democrat.
LA:
I'm not, actually. I choose not to pick a gang. I go by the topics and issues that are covered by both parties, see what each candidate has to say. I will though say in this election that I'm voting for Obama.
MC: What are the issues that have led you to want to support Obama?
LA:
There are definitely some tax issues, but more than anything my pro-Obama position comes from being anti-Sarah Palin. And anti-McCain because he picked Sarah Palin as an easy way to win over all of the women who wanted to vote for a woman. The fact that he thought that we would all jump on like some kind of club was silly and insulting.
MC: Were you a Hillary supporter?
LA:
I was a Hillary supporter, yes.
MC: Do you take extra pleasure in being able to parody someone whom you don't respect?
LA:
For sure. They asked me the day of the V.P. debates. And I was just watching her and thinking, this is so ridiculous. So the timing was absolutely perfect. And, you know what? If anyone else would have asked me to do it I wouldn't have. But I said 'yes' because it's Hustler and it's [CEO] Larry Flynt and he did so much to pave the way for everyone in this industry to be able to have a future, a respectable future. Remember we're tax paying citizens, it's considered a legal job. He fought for that. He fought for our first amendment rights.
MC: You mentioned taxes. You have your own talent agency, which is a small business. Do you worry about what Obama's plan would mean for you?
LA:
I don't know if I would be taxed more or less. But when he says he wants to help the smallest business owners, I hear him. It's sad that there are so many people out there who run businesses and are just getting by. We all suffer without that neighborhood Ma and Pa restaurant or auto shop, where you can get to know someone and your whole family can go to them instead of having to go to every franchise that just hires horrible employees cause they're a franchise. Places where people care.
MC: Joe the Plumber-hot or not?
LA:
Not.
MC: Not your type?
LA:
No. Because he looks like Joe the Plumber.
MC: Have people come out supporting the movie?
LA:
Yes! I see people at the gym who never talk to me and they are like, "You are so shrewd. That is so funny, that movie." And they're not in any way making fun of what I'm doing.
MC: Do you think that people are going to buy this who wouldn't usually buy porn?
LA:
You know, its funny, most of my friends aren't in the industry. We call them "civilians." So, when I talk to my civilian friends they all said to me its just like when the Paris Hilton tape came out. They say they're not really porn buyers, but when that Paris Hilton tape came out you had to buy it. I think it's going to be a gag gift. I think its going to be a big thing that people purchase just to say that they have it because it's kind of history. I think it's going to be a much broader range of buyers than the X-rated film. I'm planning on giving it to all of my pro-McCain friends for Christmas.