Who Is Brigitte Trogneux? 5 Things to Know About the New First Lady of France
She was President Emmanuel Macron's high school teacher.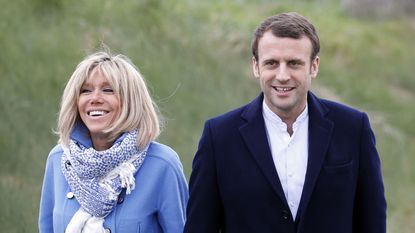 (Image credit: Chesnot)
French President-elect Emmanuel Macron has spoken in glowing terms about his wife of nearly 10 years, Brigitte Trogneux. "Without her, I wouldn't be me," the 39-year-old former banker has said. But make no mistake, they have an unusual relationship. Trogneux is 24 years older than Macron—the same age difference as Donald and Melania Trump—and she taught him in high school, where the future president of France fell deeply in love with her.
The relationship scandalized the town where they both lived, according to The Telegraph, but a recent CNN report showed that French voters think it's hardly a scandal. In fact, some French people seem delighted over a young man marrying an older woman.
"We do not have a classic family, it's undeniable," Macron said during the campaign. "But do we have less love in this family? I do not think so. Maybe there's even more than conventional families."
Here's what you need to know about Trogneux and her relationship with Macron.

1. She was his drama teacher.
Both Trogneaux and Macron are from the northern French town of Amiens, where she taught literature, Latin, and drama at a private Jesuit school that he attended. When Macron was 15, she directed him in his first play, according to the BBC. He "had a relationship of equals with other adults," Trogneaux has said. "I was totally overcome by the intelligence of this boy."
2. It's unclear when they became lovers.
The couple won't say when their relationship began, but Macron has said he loved her almost from the start—when he was just 17 he confessed his love to her, according to CNN. According to his biographer, Anne Fulda, Macron's parents thought their smitten son had a crush on one of his classmates—Laurence Auzière. Instead, Macron had fallen in love with Auzière's mom, his drama teacher.
[pullquote align='C']"When he was just 17 he confessed his love to her."[/pullquote]
When Macron's parents found out, they asked Trogneaux to stay away from their son until he was 18. "I can't promise anything," she said. His parents sent him away to study, the BBC reported.
As he left Amiens, Macron told Trogneaux: "Whatever you do, I will marry you."
3. Trogneux eventually left her husband for Macron.
Born to a family of chocolate makers, Trogneaux married a banker named Andre Louis Auzière, with whom she had three children. (Today, she has seven grandchildren.) In 2006, Trogneux divorced Auzière and a year later, on October 20, 2007, married Macron.
"Love took everything in its path and led me to divorce," she told Paris Match magazine in 2016. "It was impossible to resist him."
Trogneux moved to Paris and continued to teach but in 2015 gave up her job to focus on her husband's career, who was then France's economy minister.
Macron's mother, by the way, has said she considers Trogneux "more of a friend" than a daughter-in-law, according to the BBC.
4. She coached Macron through his presidential campaign.
Trogneux played an active role in her husband's campaign for president and is considered his "intellectual soulmate and confidante," according to The Telegraph.
"Every night we debrief together and we repeat what we have heard about each other," Trogneux told Paris Match. "I have to pay attention to everything, do the maximum to protect him," she continued.
The Telegraph said Macron has been compared to former First Lady Michelle Obama because of the counsel she provides her husband. And now Macron plans to expand the role of France's first lady. In France, first lady is not an official job but Macron has said he wants to formalize it.
"She will have an existence, she will have a voice there, a view on things," he said. "She will be at my side, as she has always been, but she will also have a public role."
Macron has described himself as a convert to feminism thanks to Trogneux's influence and has promised to defend equal pay and maternity leave, according to The Telegraph. He also pledged that half of the candidates running for his party, En Marche (On The Move), in this June's National Assembly elections will be women, the BBC reported.
5. Her children helped campaign for Macron.
Before marrying Trogneux, Macron made sure to get the blessing of her three children, Sebastien, Laurence, and Tiphaine. "It was a powerful act because not everyone would have taken that precaution, to come and ask us for her hand in marriage. I mean, it wasn't quite like that, but he did want to know if this was something we could accept," Tiphaine Auziere told BFMTV, according to CNN.
The three adult children reportedly have a good relationship with Macron. They appeared at his campaign rallies wearing En Marche shirts, CNN said. Tiphaine has even worked as a lawyer on his campaign, according to the BBC.
Follow Marie Claire on Facebook for the latest celeb news, beauty tips, fascinating reads, livestream video, and more.
Celebrity news, beauty, fashion advice, and fascinating features, delivered straight to your inbox!