An Exclusive Look at Chelsea Clinton's New Book 'She Persisted'
In honor of women like her (and her mom) everywhere.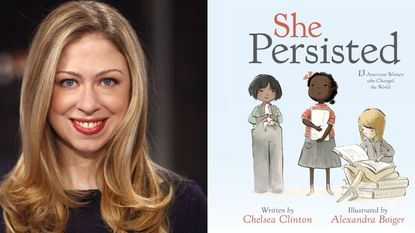 (Image credit: Courtesy Chelsea Clinton / Penguin Young Reader)
Chelsea Clinton may seem inextricable from the massive legacies of both of her parents, but the former First Daughter has made a name for herself in her own right as an NBC News special correspondent, vice chair of The Clinton Foundation, and mother of two (her daughter Charlotte is 2, and her son Aiden is 11 months). We're guessing it's that last role that spurred Clinton to tackle her latest endeavor: writing new children's book She Persisted.
The book features descriptions of 13 American women who made a difference in the world—whether through politics, civil rights, sports, or science—plus adorable illustrations by artist Alexandra Boiger. The title is a nod to the Elizabeth Warren-Mitch McConnell controversy on the Senate floor during Jeff Session's confirmation hearings, and the book even features a special homage to Clinton's mom, one of the country's most famous ceiling-breaking women.
Clinton shared this exclusive sneak peak with MarieClaire.com, a first look at one of the spreads, highlighting astronaut Sally Ride:
"When I was little, I was fascinated by the night sky (and still am). I loved learning about constellations, planets, our moon, and the people who came closer to the stars than I could ever imagine," Clinton says of why she included Ride. "[Sally Ride] achieved her dream of being the first American woman in space, and never stopped working to help young people—especially girls—excel in science, technology, engineering and math. I love her quote, 'you can't be what you can't see,' and hope that one day soon all children will be able to see role models who look like them in every field imaginable."
It's an important cause for Clinton to champion: According to the National Girls Collaborative Project, women comprise just 29 percent of the science and engineering workforce. Perhaps if enough little girls read She Persisted, those numbers will look vastly different in a generation.
She Persisted hits bookshelves on May 30, and is available for pre-order here.
Danielle McNally is a National Magazine Award–winning journalist. She is the executive editor of Marie Claire, overseeing features across every topic of importance to the MC reader: beauty, fashion, politics, culture, career, women's health, and more. She has previously written for Cosmopolitan, DETAILS, SHAPE, and Food Network Magazine.