The White House Said Donald Trump Was "Entirely Correct" When Referring to "Both Sides" Acting Inappropriately
Allies were expected to say: "He has been a voice for unity and calm."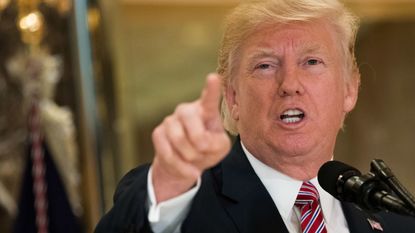 (Image credit: Getty Images)
After President Donald Trump's inflammatory press conference Tuesday, the administration made sure all of their surrogates got in line to support his stance that "both sides" were to blame for the deadly white supremacist rally in Charlottesville, Virginia. An email reportedly containing talking points was obtained by The Atlantic, and spells out how surrogates and allies were expected to give glowing reviews of his comments.
It begins: "The President was entirely correct—both sides of the violence in Charlottesville acted inappropriately," echoing Trump's message that both the Unite the Right (and white nationalist) protesters as well as the counter-protestors were to blame.
A few points reiterated Trump's constant criticism of the press. "The media reacted with hysteria to the notion that counter-protesters showed up with clubs spoiling for a fight, a fact that reporters on the ground have repeatedly stated," a talking point read. "We should not overlook the facts just because the media finds them inconvenient."
However, they ended a call to action for a more harmonious relationship between media and the administration: "Leaders and the media in our country should join the president in trying to unite and heal our country rather than incite more division."
Of course, most people listening to Trump Tuesday had a very different take-away. Everyone from celebrities to Republican politicians heavily criticized POTUS on Twitter for walking back his condemnation of white supremacists.
There's no moral equivalency between racists & Americans standing up to defy hate& bigotry. The President of the United States should say soAugust 16, 2017
See more
One good thing about that abomination of a speech: it's now impossible for any Trump supporter to pretend they don't know what he is.August 15, 2017
See more
We must be clear. White supremacy is repulsive. This bigotry is counter to all this country stands for. There can be no moral ambiguity.August 15, 2017
See more
And people were shocked at the administration's apparent demand for unanimous support spelled out in the talking points.
One of the chief arguments Hitler made was he was standing up to "violent leftists." Behold tonight's talking points from the White House. pic.twitter.com/CkOo0IKsKfAugust 16, 2017
See more
If you're a regular @SeanHannity viewer, you know exactly where Trump's "alt left" talking points came from.August 15, 2017
See more
Just—😤.
Follow Marie Claire on Facebook for the latest celeb news, beauty tips, fascinating reads, livestream video, and more.
Celebrity news, beauty, fashion advice, and fascinating features, delivered straight to your inbox!
I'm Eileen, the digital news reporter at Hearst Digital Media. As a member of the newsroom, I report on a wide range of news, including entertainment, politics and lifestyle. I also cover red carpet events for over 20 of Hearst's magazine brands. I previously held positions at CNN, Facebook and MTV, where I worked as a digital producer, writer and on-camera host. Fun facts: I'm fluent in Spanish, a BU alum, and love fashion and travel.