Selena Gomez and Miley Cyrus Crush Those Feud Rumors Once and For All
They're sharing the love.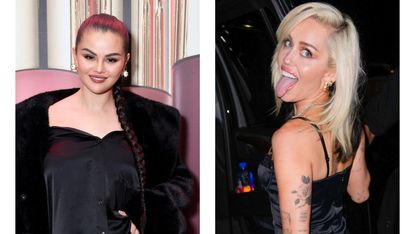 (Image credit: Getty Images)
Marie Claire Newsletter
Celebrity news, beauty, fashion advice, and fascinating features, delivered straight to your inbox!
Thank you for signing up to Marie Claire. You will receive a verification email shortly.
There was a problem. Please refresh the page and try again.
Despite living in a post-Barbie era, Hollywood positively lives to pit women against each other, even when there's no truth to the rumors. Case in point: Selena Gomez and Miley Cyrus.
The two former Disney stars have both turned childhood fame into multifaceted, fascinating careers. Selena has a singing career, a beloved makeup line, and the Hulu hit Only Murders in the Building. Miley is a household pop name, and her musical pivot to a more rock and roll sound has been applauded by fans and critics alike. There is certainly room to celebrate both of these women for their amazing accomplishments, yet the narrative tends to jump right to their supposed "feud."
Now, however, Selena and Miley are crushing the rumors once and for all in a genuinely supportive way. It started when Cyrus announced her upcoming single, "Used to Be Young," would be released on August 25th. About an hour later, Gomez announced her own return to music, with a single called "Single Soon," that would also be dropping August 25th.
Rather than let the rumor mill start turning, however, the stars took the opportunity to turn their announcements into a love fest: Selena posted a note to her Instagram stories, complete with shoutouts to both song titles and a photo from her Disney show Wizards of Waverly Place, that read, "@mileycyrus and I both have a SINGLE SOON and we are releasing on the same day. We have been friends since we USED TO BE YOUNG. Excited for August 25th!"
Cyrus also posted to Instagram, hers with a Hannah Montana meme: "@selenagomez and I are both dropping our new SINGLEs SOON. I say we USED TO BE YOUNG." Both stars even shared the others' posts, to hammer home their mutual support.
So where did the rumors come from? As far as we can tell, tabloids first started speculating about a potential feud when Miley was seen hanging out with Justin Bieber (in a seemingly just-friends way) shortly after his breakup with Selena Gomez in 2012, and even collaborating on a few songs with him. In 2014, Miley was performing her song "FU" from the album Bangerz onstage when she threw a cardboard cutout of Selena, further fueling the flames despite the distinct possibility that the cutout was possibly just put onstage at an extremely poor time.
To be clear: Selena never said an ill word about Miley as a result of these rumors, nor did Miley say anything negative about Selena. In fact, both stars repeatedly spoke out about how they were childhood friends and were supportive of each other: In 2019, Miley said during a radio interview that she "grew up" collaborating with Demi and Selena, and that "there was never any competition" between the stars, while Selena did a lovingly hilarious Miley impression while hosting Saturday Night Live in 2022, during which she called Miley "one of my oldest friends."
Here's hoping that their mutual support during this album cycle squashes these rumors for good.
Celebrity news, beauty, fashion advice, and fascinating features, delivered straight to your inbox!