This New Topical Gel Birth Control For Men Could Change Everything
The National Institutes of Health just approved funding for a new topical gel, N/EST, that could prevent pregnancy and serve as a form of male birth control.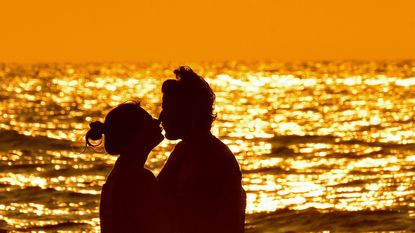 (Image credit: Getty Images)
Even though women are fertile for just a few days each month and men are fertile for almost all their lives, we haven't seen much in the way of male birth control since the invention of the condom. (Which was almost two hundred years ago, if you wondered.) This could all change if a new topical gel birth control for men makes it through clinical trials, sponsored by the National Institutes of Health and announced this week.
In the years since the invention of the humble condom, women have been provided with a wide array of birth control options, from IUDs to implants, sponges, patches, injections, and so on. This reproductive freedom is critical (and constantly under attack), but women should not have to bear the onus of responsibility when it comes to family planning. Other than a full vasectomy, men have no real birth control options beside the condom.
I called Julia Bunting, president of the Population Council, which is the nonprofit responsible for the development of the topical gel. Bunting told me this gel is putting the issue of male contraception on the agenda in a way that it hasn't before. "What's exciting about this product, and this field, is the ability to really start accelerating progress toward gender equality," said Bunting.
What To Know About The Gel
Believe me, I know a gel birth control sounds sketchy. And if a guy told me he was "taking" birth control and then proceeded to rub a gel-like substance on his shoulders, I would give him a heavy side-eye. But the technology behind the gel is actually pretty cool.
The gel is called NES/T. It includes the hormone Nestorone in combination with testosterone. Translation: When rubbed on the shoulders and lower back, Nestorone will block the naturally produced testosterone in the testes, reducing sperm to low or non-existent levels. Meanwhile, the testosterone in the gel will serve as a replacement testosterone—eliminating the side effects in previous male birth control studies, such as erectile dysfunction and low libido.
Researchers are planning to test 420 couples. The male volunteers will use the gel for four to 12 weeks to ensure they can tolerate the formula. Then, they'll move into a 52-week trial phase with their partners to test out the gel's ability to prevent pregnancy.
What A Doctor Thinks
I wanted to get a doctor's unbiased opinion, so I contacted Dr. Adrian Dobs, who specializes in male sex hormones. She's also the director of Johns Hopkins Clinical Research Network. In previous trials of male contraceptions, Dobs explains, the testosterone replacement idea just hasn't worked.
"People thought "Oh, lets just give high-dose testosterone, that'll shut down the testes,'" Dobs says. But it didn't reduce sperm to zero. High-dose testosterone reduced sperm counts, but not enough for you to call it a birth control agent. Still, Dobs is hopeful that by combining with progesterone, the NES/T gel could be effective.
"I can be optimistic about it," Dobs says. "Maybe they have just the right mix this time around."
The Potential Problems
One thing that Dobs brought up as a possible issue: The gel is intended to be applied to the shoulders and lower back area, which can be tricky to reach.
ABC News spoke with Dr. Jennifer Ashton, who was concerned about the women who may help their boyfriends or husbands apply the gel. "If the woman applies this to the man, she may absorb those hormones, which would and could impact her gynecological functioning," Ashton says.
Dobs isn't worried about women as much as she is children. For the first two hours after application, gels like these are still measurable on the skin's surface—which is why it's recommended not to shower for two hours after application. So, she explains, it's critical that the man doesn't hold his child near those application areas within the two hour window. Other than that, Dobs says that the rate of transference is pretty low.
"Men want to be in control, just as much as a woman want to be in control," Dobs says. Ultimately, should it get through clinical trials and a host of other FDA requirements, a contraceptive gel like thiscould do just that. Control, responsibility, whatever we decided to call it—it needs to be equal.
For more celebrity news, beauty and fashion advice, savvy political commentary, and fascinating features, sign up for the Marie Claire newsletter.
RELATED STORIES
Celebrity news, beauty, fashion advice, and fascinating features, delivered straight to your inbox!
Alexis Jones is an assistant editor at Women's Health where she writes across several verticals on WomensHealthmag.com, including life, health, sex and love, relationships and fitness, while also contributing to the print magazine. She has a master's degree in journalism from Syracuse University, lives in Brooklyn, and proudly detests avocados.