What I Wish I Said to the Guy Who Mansplained My Own Emotions to Me
And who said "f*ck you" when I told him I wasn't interested in a date.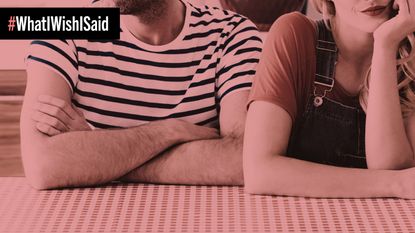 (Image credit: getty image)
Marie Claire Newsletter
Celebrity news, beauty, fashion advice, and fascinating features, delivered straight to your inbox!
Thank you for signing up to Marie Claire. You will receive a verification email shortly.
There was a problem. Please refresh the page and try again.
Sexism happens every day in ways both large and small. Today, in honor of International Women's Day, we're standing up and calling it out. Here and in the linked stories below, four women share powerful essays about the moments they wish they could go back and rewrite—join in on Twitter and share your own. #WhatIWishISaid.
This is the text I sent the guy I was seeing once I realized there wasn't a spark:
Hi there! So I think I'm actually gonna pass on tomorrow. Just not sure if we're really vibing. Sorry about that–but thanks for the offer :)
We met in total New York City meet-cute style: On the subway, when he struck up conversation with me after I gave some tampons to a homeless woman. We chatted brightly about mean city dwellers and the difference between broke writers from Brooklyn (me) and corporate sellouts in FiDi (him). When we got to his stop, he shyly asked for my number. We only had a few seconds before the door closed, so in a moment of romantic spontaneity, I punched it into his phone. He leaped off the car and I rode on, trying to suppress the big grin creeping onto my face. Passengers around me smiled, too.
Despite the charming first encounter and an initial evening of playful back-and-forth texts, over the next few days I started to lose interest. He sent one too many awkward selfies, and if I'm being honest, something about his language gave me the impression that he was no stranger to those creepy pick-up artist videos.
We had set aside a Wednesday evening to get drinks, and, generally speaking, I'm usually down to grab a beer with a stranger and feel out the chemistry. But by Tuesday, I really didn't want to meet this guy alone at night anymore. So I politely canceled our date.
Here's the conversation that followed:
I'm not surprised by a man lashing out against a woman for expressing a lack of sexual interest in him—I don't imagine he'd have gotten this angry over another guy turning down an offer to grab a beer with him—but I was at first dumbstruck as to how to respond.
I kept my final message muted, despite all the thoughts racing through my mind. I didn't want to further engage with him; I met him on my daily subway ride home from work, after all. What if I ran into him again?
But I do wish I had called him out on his gendered hate. I wish I said, "Dude, you can't mansplain my own feelings to me."
RELATED STORIES
"We definitely were vibing. Read our texts from before if you forgot," he wrote.
I lived through the conversation, too. You know, me—a fellow living, breathing, thinking human being. I don't need to reread it. I was there.
Listen, guy-who-I-once-thought-was-cute-but-don't-any-longer, my emotions can't be "disputed" by you or anyone. You enjoyed talking to me, and you interpreted my behavior as reciprocating your interest. But once I communicate what I'm actually thinking, my word trumps your interpretations. I am the only person who knows exactly how I feel.
Why do men try to invalidate the experiences of women? From something small like calling every ex-girlfriend "crazy" to something more grave like exaggerating the extent to which women "falsely" accuse men of rape. (Especially when we know, more often than not, women aren't reporting their rape at all.) Perhaps it scares men that our emotions are the only part of us that they can't control.
To all the jilted guys out there: Stop trying to tell women they don't understand their own emotions. It may seem insignificant, but demean women enough in small ways, and the big ways don't seem so bad either. To claim that how you think a woman feels overrides how she says she feels is a form of dehumanization. It's something misogynists do.
If I tell you I'm not feeling it, I'm not feeling it. If I say no, that means no. And I won't be talked out of it.
Follow Marie Claire on Facebook for the latest celeb news, beauty tips, fascinating reads, livestream video, and more.
Celebrity news, beauty, fashion advice, and fascinating features, delivered straight to your inbox!