A Decade 'Til "I Do"
Darlena Cunha had been married for 10 years when she decided it was finally time to have a wedding.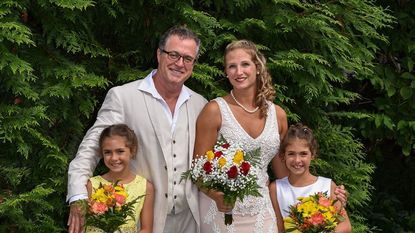 (Image credit: Courtesy)
Marie Claire Newsletter
Celebrity news, beauty, fashion advice, and fascinating features, delivered straight to your inbox!
Thank you for signing up to Marie Claire. You will receive a verification email shortly.
There was a problem. Please refresh the page and try again.
On the morning of August 4, 2018, the rain poured down in sheets, flooding the yard and muddying the ground underneath a huge plastic tent we'd rented and erected at my parents' Connecticut lake house. As I made my way to a window to survey the damage, I tripped over piles of satin and lace flowers strewn about the floor. My brother's large dog, feeling lonely in the kitchen and perhaps anxious about the storm, had destroyed the carefully made decorations, scattering the debris around the room. It was not an auspicious start to my wedding day, but I didn't care. I'd been married for 10 years.
In 2008, my now-husband, Carlos, and I were preparing for the birth of our twin girls. We bought a house and set a date to get married well before the babies were due to arrive. It was a shotgun romance: We'd been dating for 18 months before we were surprised with a pregnancy. We loved each other and decided to give parenting a shot; getting married was more of an afterthought, a business decision to simplify insurance and give our family the same last name for paperwork purposes.
Even still, I'd expected a small ceremony with a few close friends and relatives to mark the occasion. But the economy cratered, and Carlos lost his well-paying job. The house we'd bought just two months earlier went underwater in value. Then our daughters came six weeks early and the hospital became our new home for several weeks.
The twins were still in the hospital when our wedding date arrived. We left our three-pound, six-day-old girls in their incubators in the hospital nursery. "Could you just watch them for a few minutes?" I pleaded with the kind nurses as I threw on my nicest white maternity tank top and a stretchy skirt. My abdomen was still sore from the cesarean section. And off we went to get hitched.

The justice of the peace opened the door to her shabby condo wearing pink bunny slippers. "You're late," she said. I raised my arm to show her the hospital bracelet. "Yeah, I kind of gave birth, so the timeline is a little stressed," I deadpanned. She ushered us into her living room, where dozens of creepy porcelain dolls stared down at us from makeshift shelves near the ceiling. Witnesses, perhaps? I stood facing my boyfriend, next to a coffee table, and in a five-minute ceremony that basically consisted of "Do you? … And do you?" we said yes and were bound together as husband and wife.

We grabbed a quick espresso to celebrate the moment, and in my new-mom tiredness, I spilled it all over the white tank top. Some honeymoon. "Someday, we'll have a wedding," Carlos said on the drive back to the hospital. "You deserve a real wedding."
The next weeks, months, and then years went by in a blur. My husband stayed at home, changing diapers and feeding the babies. Their mouths were so small, they couldn't latch, so he fed them through a little tube attached to his finger. He played Baby Beethoven and rocked them in their bouncy chairs while I went off to work as a local television news producer, earning the small amount of cash I could for us. As they grew into toddlers, he sang them songs while feeding them mashed peas and carrots, then looked for work during their naptimes. I missed them every day.
As newlyweds, we were learning not only who we were as a couple but who we were as parents. On top of that, we had to navigate the choppy waters of financial instability. We learned how to keep loving each other even as we hemorrhaged mortgage payments into our now-worthless house and struggled to afford formula and wipes. Money breaks up many couples, but we never had enough to fight about losing it. We worked to get back to where we were when we first got together, when he had a job and our house had value. It was a slow road.
Eventually, Carlos found a job in Florida, uprooting us from our home in Connecticut and moving us a thousand miles away from everything we knew. Our first night in our new state, one of our then-two-year-olds, in an act of defiance or toddlerhood, threw herself out of her crib, hitting the floor headfirst. We had no health insurance (mine had ended when I quit my job to move, and Carlos's hadn't kicked in yet), so we walked into an emergency room uncovered, just to be told she'd be fine. The $800 price tag was not a great way to kick off what was supposed to be our new beginning.
I struggled as a stay-at-home mother, unable to find work that would cover the cost of childcare. We were a one-car family, so sometimes I would drop Carlos off at work and drag the girls on errands. Other days, we'd be housebound, and I'd walk the girls in a double stroller in 90 degree heat to the library two miles away. Carlos worked 10-hour days, but we got by, and our relationship only became stronger as we learned how to master domestic life together. We were slowly able to save enough for a second car, and I went back to school. We watched our daughters start elementary school, and we scrimped and saved to give them the life they deserved.

Five years after we'd said "I do," Carlos asked me what I wanted for Christmas. I knew exactly what to ask for: a wedding ring. Still pushing our way back up from the devastating financial crash, we couldn't afford anything too fancy, let alone a wedding.
Another five years passed, and something about 10 years seemed special—like, if we didn't have a ceremony now, we probably never would. Plus, with a decade under our belts, we had managed to claw our way back from financial distress and could now afford to throw a party.

When the day arrived, our then-10-year-old girls proudly put on their white and yellow dresses and prepared to be the flower girl and ring bearer. They were the cause of our union in the first place, and now they got to be a part of it in a way most children never do.

Right before I was to walk down the aisle in front of the 100 friends and family who had trekked to the lake to celebrate with us, I suddenly felt self-conscious, almost embarrassed. Who was I to orchestrate this entire big deal so long after the fact? But as I approached the aisle, I didn't see smirks or scorn, just people happy to be there and, most important, my husband waiting for me at the end.

This time, when I heard the words "Do you …" my eyes welled up, even as my heels sunk into the damp earth below. I didn't have to promise I would stand by him in the future because each day for the past decade, we'd lived those promises. We knew what sickness and health and better and worse looked like firsthand. In that moment, I was overcome with the love for my husband I've held in my heart for so many years. It was a different love from what I felt the first time we married—a deeper, more knowing, and fuller love. We'd raised our babies into toddlers, then little girls, then preteens. We'd fought and made up, dedicated to our little family. We'd made it work, and a decade later, we're still in love.
Weddings are meant to be filled with hope for the future, an exciting embarkment on a new adventure together. For us, it became a marking of a past and present worth fighting for. We have had a wondrous, important journey already. Our 10-years-late wedding was a culmination of all that has brought us here, celebrating not what we could be but what we have become together.
This story appears in the November 2019 issue of Marie Claire.
RELATED STORY
Celebrity news, beauty, fashion advice, and fascinating features, delivered straight to your inbox!