My Big Fake Wedding
We're used to the season's white dresses and decor—but some engaged couples are trying a slightly darker test run first.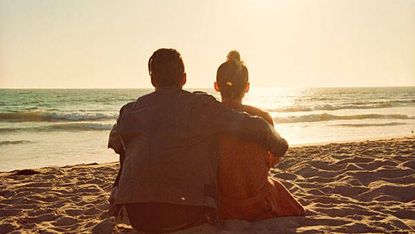 (Image credit: Graham Dunn/TheLicsensingProject.com)
In August 2011, Joui Turandot and her fiancé, Andrew Hinman, invited five of their closest friends to a campfire commitment ceremony in the woods of northern California. No marriage certificate was present; no cake; no flowers; no bridesmaids. That would all come two weeks later, at their 120-person, vaudeville-themed wedding, where Hinman would watch Turandot walk down an aisle decorated with yellow rose petals.
This particular exchange of vows didn't call for the traditional white dress and fancy table settings. Wearing purposefully messy makeup, purple spandex leggings, and a sweater, her short hair held back with a headband, Turandot faced her husband-to-be next to the fire. "I promise to never live up to my full potential in my career and to blame you for holding me back," the 32-year-old fashion stylist pledged her future husband, a 36-year-old organic chemist. Hinman then made a vow of his own: "I vow to cheat on you and not tell you about it."
These issues had surfaced during their five-year relationship, as Turandot struggled to settle on a career path and Hinman's wandering eye caused jealousy-fueled arguments. Now they were calling themselves out—and in front of their friends, no less—at their "shadow wedding," a little-known ritual starting to catch on among the therapy-going set. For Turandot and Hinman, this 45-minute ceremony was a way to enter matrimony with all of their personal demons on the table. Neither actually expected Hinman to cheat, or for Turandot's career to flame out. But while their official wedding would celebrate the high notes of marriage, this intimate ceremony was meant to acknowledge the flip side. "It was very liberating to put our faults out there," Turandot says. "Having him still say yes to marrying me was like healing those parts of me that feel unlovable."
Four years ago, couple Jessica and Jim Benson, both marriage counselors, performed a shadow wedding to complement their official ceremony. They found the experience cathartic: "Saying 'I accept you,' with all the warts, freed us from any lingering doubts," Jim Benson says. Before long, they'd launched a side consultation business for other couples who wanted to try it. "People think it's this mudslinging event where partners attack each other," Jessica Benson says. "But what we're creating is playful."
If this all sounds a little New Agey—well, it is. (The Bensons are based in the Bay Area, after all.) Couples take an initial survey, addressing issues like "When we argue, we find a way to repair what has been ruptured and bounce back without major repercussions," before meeting with the Bensons in person or via Skype to create their own ceremonies. (The price ranges from $2,500 to $7,500, depending on how often you meet.) And a ceremony doesn't have to involve spandex: The Bensons wore sweats at theirs; another man wore a giant chicken hat during his, ostensibly to poke fun at his lack of humor.
As crazy and counterintuitive as it sounds, couples actually vow to engage in the behaviors that concern them. But why not pledge to work on your problem areas instead, like you do with your trainer at the gym? "Within the ceremony, you acknowledge that getting rid of shadows is a lifelong process," Jessica Benson says. "It's 'I see you as a human being in process; I know you can't just make your faults go away.' "
Stephanie Sellars, a 37-year-old filmmaker in New York, and her actor fiancé, Peter Straus, 44, created a shadow-wedding movie to play for guests at their real ceremony. "I didn't have any illusions about marriage being a fairy tale," Sellars says. "I wanted our friends and family to know we were going into this aware of our 'shadows.' " In the black-and-white film, Sellars and Straus fall in love, move in together, and then find each other's greedy and rude "shadows"—played by goth versions of Sellars and Straus in all-black costumes and heavy eye makeup—in the bathroom. The last shot is the four of them snuggling together. "Making the movie allowed us both to face our issues of being too controlling, of each of us thinking we're perfect," Sellars says.
"Their movie was so strange because as the sun went down, they didn't turn on the lights," says guest Michelle Cohen. "It was literally dark—certainly an alternative approach to a wedding."
Still, if you're about to commit for, you know, life, you already know each other's quirks and foibles, right? Hopefully. Hinman and Turandot had lived together for years; each was well aware of the other's baggage. So do you really need to announce it all in front of your nearest and dearest? That's why some experts are dubious about the ritual. "If a couple needs a shadow wedding to get things out in the open—well, they're not ready for any kind of wedding," says Harriet Lerner, a psychologist and author of The Dance of Anger. (In fact, after guests at the shadow wedding of Oakland, California, dancer Marielle Amrhein, 33, and her fiancé, Karim Bishay, 35, listened to the couple's 12 pages of vows, "They asked, 'Are you guys sure you still want to do this?' " Amrhein recalls. "But the process just made it clearer to us why we were choosing each other.")
Hard times can't be avoided. "If you're thinking, 'Let's confess everything now and address all future troubles,' then three years from now, when your partner says, 'You have these problems,' you're going to say, 'Yeah, but I told you that,' " says relationship expert Susan Piver, author of The Hard Questions: 100 Questions to Ask Before You Say "I Do." "Faults are not the reason a relationship didn't work out; it's about life decisions."
Performing a shadow wedding can't guarantee a problem-free marriage, says Jessica Benson, but "larger problems arise when couples try to hide their faults." In the three years since their ceremony, Turandot and Hinman have already grappled with their vows. When Turandot started working such long hours that she stopped sleeping, she found herself living out one of hers: to "run myself ragged and have a nervous breakdown." "But saying it out loud then made me more aware of it, so I was able to let it go," she says. "When something happens, it's not the end of the world. It's just part of our journey together."

Marie Claire email subscribers get intel on fashion and beauty trends, hot-off-the-press celebrity news, and more. Sign up here.
Claire Trageser is a journalist in San Diego, where she works for the NPR affiliate KPBS. She also contributes to a variety of outlets, including Marie Claire, Runner's World, and Parents Magazine.