7 Reasons to Date During the Holidays
Why it's nice to have someone to join you when you hit up all those Christmas cocktail parties.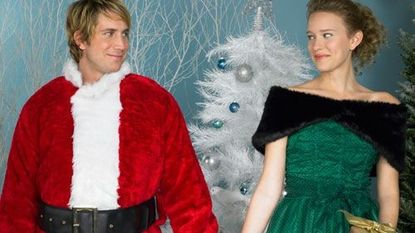 (Image credit: Marie Claire)
Marie Claire Newsletter
Celebrity news, beauty, fashion advice, and fascinating features, delivered straight to your inbox!
Thank you for signing up to Marie Claire. You will receive a verification email shortly.
There was a problem. Please refresh the page and try again.
I celebrated Thanksgiving early this past weekend with my family, and I was once again reminded of how I enjoy dating during the holidays. Of course, I'm single,so it was a more acute reminder of the fun it could be to date during the holidays.
My family's traditions formed a base for my love of the holidays. Every year there was something fun to look forward to.
I put together a list that may inspire you (and me!) to go on a few holiday dates.
Here are my reasons:

My "First Love" Blossomed During the Holidays

When I was 17, my first "official girlfriend" and I started "officially dating" on December 1. She lived in a beautiful old house in Baltimore near Johns Hopkins University.
The one visual I remember clearly is the huge Christmas tree they had in the front of the house in a bay window. Because the ceilings were so high, the tree was gigantic-maybe ten feet.
She and I were sitting in the room with the Christmas tree, chatting. She was wearing a khaki skirt and a white sweater, and I remember her sitting there with her legs crossed by the Christmas tree. At that exact point, it dawned on me how much I liked her.
It stands to reason that the holidays would dredge up romantic feelings, considering my first rush of romantic emotional overload happened during the holidays by a Christmas tree.

It's Cold

Tis the season to cuddle and stay warm by the fire.It's so much easier and fun to stay in and hibernate with someone special than it is to go out in the cold and try to meet people.
Fireplaces are romantic. It's nice to warm up with someone while watching the embers. Unfortunately, I have to find a bar or a rich person in NYC with a fireplace — they are like dishwashers and laundry machines in this town...a luxury in any apartment.

It's Not Spring or Summer

If I'm in the mood to date during the holidays, I'm in the mood to play the field in the warmer months. Unfortunately, when it gets warm out, some weird primal switch in my head is activated and I suddenly want to date lots of girls and party more.
The first autumn leaves get me into that cozy mood, but the first sunny day — and first skirts — of the season make me crazy.

The Lights

Holiday lighting creates a romantic backdrop. There's something about the lighting of a Christmas tree, or lights on a house buried in the snow that put me in the dating mood.
What's more romantic than a giant lit-up plastic Santa, anyway?

The Parties

My friend, Karen, and I were lamenting attending holiday parties alone. They are great date parties because you get to dress up, and it's fun to arrive in couples (even I can admit that).
I've always wanted to have an established date for these functions, but I usually show up stag...and hit the egg nog too hard. It's embarrassing to be caught under the mistletoe alone.

The Music & The Shows

Holiday songs and shows capture everything on this list because of their content and settings. Their evil twist is that they encourage us to date.
My favorite is that random Claymation Rudolph. I'm always rooting for Rudolph to win over that Clarice chick, despite his red nose. That scene where they say "hello" and introduce themselves gets me every time.

Everybody Else

It's never good to compare yourself to others, but it's tough not to get caught up in the mood when everyone is running around in the city for the holidays. It's one of the few times I enjoy a crowd. And it seems everyone else has somebody during the holidays.
Romance is all about mood and surroundings. Its essence is composed of visual, auditory, and even olfactory elements. The holidays pull all this together. It's actually a good template to create moods in other situations: pay attention to lighting, music, mood, timing to create a romantic setting. You have to cover all the bases to do it right.
The plastic Santa is a actually a good metaphor. You shouldn't over do romance in a "plastic Santa" way. You have to do it eloquently for it to be just right.
Do you agree that the holidays put you in the mood to date? What elements of the holidays make you want to date? Do you get lonely when you're not dating during the holidays? I admit I do.
Celebrity news, beauty, fashion advice, and fascinating features, delivered straight to your inbox!