Has Prince William Been Too Scarred by His Parents' Split?
Considering all the "invisible support" he's giving Kate Middleton, maybe not.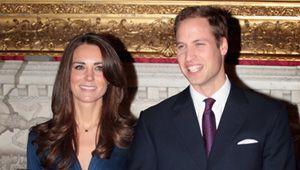 (Image credit: Chris Jackson/Getty Images)
Since I think I should be concerned with more important things — like what's going on in Japan and Libya — I didn't want to click on this story about whether or not Prince William is psychologically scarred from his parents' messy divorce and the tragic death of his mother, Princess Diana.
But I did ... and there I found Dr. Carole Lieberman, a psychiatrist, saying, "Even though he's a prince, he is not immune to the scars of divorce," in reference to how his relationship with his fiancee, Kate Middleton, will fare after they marry on April 29.
The Associated Press story went on to say:
"Lieberman said [his parents' break-up] could explain why it took William eight years to propose to Middleton after they met as freshmen at the University of St. Andrews in Scotland, although he was just 19 when they met.
'William saw his mother, Princess Diana, heartbroken by his father's ongoing love for Camilla Parker Bowles and Charles' blatant cheating, so even though he sees Kate is very different, there is still that nagging fear that if you give your heart to somebody, they can break it,' Lieberman said.
Some British tabloids made fun of Middleton's seemingly endless patience, dubbing her 'Waity Katie,' but she may have understood that William's family history could make him a bit skittish about marriage and meant he would move slowly toward the altar. Still, despite the private challenges William had to face while growing up, the young man who has emerged since announcing his engagement in November shows no obvious signs of trauma.
It is entirely possible that William, 28, has recovered from the family turbulence of his youth and is well-equipped to deal with the demands of married life and, eventually, the pressures of being king."
University of Minnesota relationships researcher Maryhope Howland also thinks William is going to do just fine, particularly after watching this Sky News interview of the couple. Howland wrote in The Science of Relationships, a blog she contributes to, that she "noticed Prince William engaging in the very behavior I study — invisible support. … The basic idea behind invisible support is that it's … very subtle and flies under the radar — so much so, that the person receiving it may not even realize that they're being supported. It doesn't look or feel like one person providing support to another person. It's more like the supporter makes supportive information available to the supportee on the sly."
Case in point, according to Howland is that during the interview (at 12:40, if you want to skip ahead), the interviewer asks Kate how she feels about filling Princess Diana's shoes.
"After Kate does her best with the stressful question, Will steps in and first attributes an eloquent response to Kate and then assures the interviewer that she will do a great job in her role," Howland notes.
So, there you have it.
Do you guys think this will be a great and enduring marriage? My guess is that it's going to go pretty well, after nine years together — and after seeing how sweet, confident, and reassuring William was in the interview.
Celebrity news, beauty, fashion advice, and fascinating features, delivered straight to your inbox!