The Hottest Royal Wedding Guests
Prince William has some cute friends who are invited to the big day.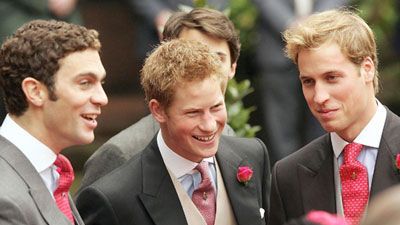 (Image credit: Gareth Cattermole/Getty Images)
Marie Claire Newsletter
Celebrity news, beauty, fashion advice, and fascinating features, delivered straight to your inbox!
Thank you for signing up to Marie Claire. You will receive a verification email shortly.
There was a problem. Please refresh the page and try again.
I'm a little aggravated that I've allowed myself to get sucked into the royal wedding insanity. (I mean, really: What do I really care that two wealthy and well-connected strangers in Europe are getting hitched, even if one of them does happen to be a prince of England?) But it was all downhill for me after I saw The King's Speech a few months ago. I spent half the night after I came home from the theater reading about them, and after writing that post about divorcee Wallis Simpson and Prince Edward VIII — who became the Duke of Windsor — I've spent far too much time reading up on other royal-wedding-related stuff.
Lucky for you, however, I came across a CBS roundup of some of the more interesting guests who will attend the big ceremony on Friday. Madonna's ex, the movie director Guy Ritchie, will be there, for instance, and reportedly so will four of Prince William's "former flames" — including the actress and socialite Isabella Anstruther-Gough-Calthorpe.
But of course, I had more fun looking at all the cute boys William had invited — most of them long-time friends from university or childhood. Like Thomas van Straubenzee, who looks like Zach Braff. William's old pal Guy Pelly, a nightclub entrepreneur (who owns a place called Public in Chelsea, which is supposed to be a favorite hangout spot of young royals), looks appealingly mischievous.
And maybe it's the way his cheeks are always so pink, but doesn't Prince Harry also always seem like he's been up to no good? Which makes me think he'd be fun to hang out with! I wish we had a better picture of Sergeant Keith Best, a colleague of Prince William's from the Royal Air Force, but I think even from this small photo, we can safely assume he's hot. And travel writer and adventurer Ben Fogle, a newer friend of William's is kinda cute in a goofy way. Isn't he?
The hottest of all are the van Cutsem brothers, William and Hugh, who have known the two princes since they were little boys. But I think my favorite of all of William's favorites might be this Luke Tomlinson bloke, who plays polo with the princes.
Unfortunately, ladies, by Friday, Prince William will be a married man — so now is the time to arrange for your crushes on some of the other aforementioned hoity-toity Brits. I'm just trying to help you out!
Celebrity news, beauty, fashion advice, and fascinating features, delivered straight to your inbox!