The New Mile-High Club: Married Couples Who Live Apart
When Jessica Coen got engaged to her long-distance boyfriend in Chicago, she planned to keep working at her New York office job and become one of 3.5 million Americans living apart from a spouse. But how long could she sustain the 733-mile commute?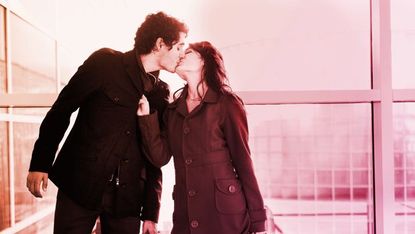 (Image credit: Chris Mueller)
My alarm goes off at 4:30 a.m. I sleep for eight more minutes, which gives me just enough time to grab my bag and run out the door of my Chicago apartment. My husband, Ben, drives me to the airport for my 6 a.m. flight to New York. After the plane lands, I race for a cab, stop by my East Village one-bedroom to drop off my suitcase, and head to the office. Then my day really begins. Does this schedule sound overly regimented? Maybe a little insane? Ben is in Chicago, and my job is in New York. Anally retentive precision is the only way to survive the ritual punishment of flying the friendly skies. Welcome to my marriage.
Ben and I met as bleary-eyed college sophomores. We laughed easily, talked honestly, and shared our innermost thoughts without hesitation. Over time, we became a team without even realizing it; being together brought out the best possible versions of ourselves. One catch: When we got engaged at age 32, I was the editor of a major online women's news site in New York, while Ben was settled in Chicago with a promising career at his family's bank. After the outpouring of affection and joy at our decision, I felt a sense of impending doom. Who would move? My career was more portable than Ben's; I didn't have to be in New York.
So at dinner one night, we came to our great compromise. I would live with him, taking the first flight to New York on Tuesday morning and the last to Chicago on Thursday night, and every week we'd hit the pause button on building our lives together. I'd be lying if I said I was happy to leave New York, but in doing so, Manhattan became like a woman cave. At home, I had to answer to Ben, but during the week, I could leave dishes in the sink, stay up too late watching Netflix, or have a third glass of wine without affecting anyone else.
After all, learning to live together wasn't always pretty. I carelessly tossed wet towels on the bed; Ben carelessly dumped his stuff all over the apartment. I hated his old green rug; he hated the countless bags I crammed into our tiny closet. And whenever we disagreed on how to chop tomatoes, we ended up shouting, the stars of our own Kitchen Nightmares. Being in love wasn't enough; we had to be skilled communicators, and we weren't together enough to learn the ropes.
So we agreed to set aside time to wade into the ugly stuff, like hurt feelings or anxieties, while the practical stuff—finances or family obligations—landed on the back burner. My time in Chicago felt precious; we were loathe to do anything that felt like a chore. Laundry piled up and mail went unopened. It was well over a year before we got around to hanging a picture on the walls. And thinking about having kids? Forget it. We couldn't even get around to buying new throw pillows. We were always too tired from our extreme hours to go out, so our social lives revolved around pizza and Malbec.
After a year and a half of this schedule, things came to a head one Tuesday night last winter, when, after taking a cold remedy, I was suddenly overcome with the most awful abdominal cramping I'd ever experienced. One second I was sitting on the couch alone, holding the DVR remote; the next I was sweating and shaking. I dragged myself to the bathroom. My face was a bright-red balloon; my lips looked like sausages; my tongue was so swollen that I could barely speak.
I somehow made my way to the hospital, where I was told I was going into anaphylactic shock. The next 12 hours were a medicated blur. Every time a new nurse looked at my paperwork, she'd ask, "Where's your husband?" At one point, I took a look around: I was the only patient without a companion. I felt a deep loneliness. I was crazy to be so far from my family, my partner, my person.
Over the next month, other ailments sent me back to the doctor, who declared me strung out. I had to stop flying all the time, she said. I headed back to Chicago the day after and sat down at the kitchen island. "I can't do this commute anymore," I practically whispered to Ben, terrified to say it out loud. He looked at me. "You sure?"
"Yes," I said, realizing that this moment was the very definition of bittersweet. "It's not worth feeling sick all the time." Ben wrapped his arms around me. "When you went to the hospital, I was scared to death," he confessed. "That was as traumatic for me as it was for you." I realized then that while my situation wasn't life-and-death, I was jeopardizing our mutual promise of a happy life together. No matter how rewarding your job may be, it cannot actually love you back. Your partner, however, is another story.
I stepped down as editor of the women's news site (but stayed with the company), and my job stress has lessened dramatically. It feels uncomfortably retro-wifey to see Ben off to work before heading into my home office; I have to remind myself that I lightened my workload for my health, not him. But we can finally check out movies, concerts, and restaurants. Best of all, we share a bed seven nights in a row, week after week—just like a married couple.
Related:
We Had Sex for 10 Days Straight

The 12 Unspoken Rules About Sex

Photo via Chris Mueller
Celebrity news, beauty, fashion advice, and fascinating features, delivered straight to your inbox!
Jessica is a contributing editor at Marie Claire and the Editor-at-Large at Jezebel. She loves naps, restaurants and travel—she gets antsy if she doesn't fly somewhere at least once a month. She lives in Chicago with her husband.