I Was Seduced—and Abused—by a Porn Star
Dawn Schiller recounts her dark, scary affair with legendary adult film star John Holmes.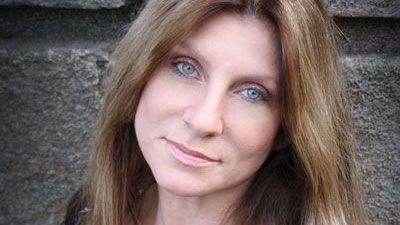 (Image credit: Courtesy of Dawn Schiller)
Marie Claire Newsletter
Celebrity news, beauty, fashion advice, and fascinating features, delivered straight to your inbox!
Thank you for signing up to Marie Claire. You will receive a verification email shortly.
There was a problem. Please refresh the page and try again.
It was a match made in hell: Dawn Schiller was a 15-year-old high school student; John Holmes was a married porn star twice her age. Known as "Johnny Wadd," Holmes met Schiller in 1976 at the L.A. apartment complex where they lived. He then lured her into an affair so dark, it would eventually end with the couple being hunted by contract killers. In her new book, The Road Through Wonderland, Schiller describes her surreal life with the famously well-endowed porn king—who inspired the films Boogie Nights and Wonderland—and how she escaped.
What did you think of Holmes at first?
"He was the charismatic nice guy in the courtyard. He would tell the elderly ladies, 'You look cute today,' and they would just flutter and blush. People were charmed by him. They treated him like a star. I was very ignorant about the porn industry."
How did your affair with him begin?
"He inched his way in, gained my dad's trust. I call it the grooming process. He brought me gifts—diamond rings, teddy bears, clothes. When you're seduced like that as a kid, you think you're in love. He built the whole scene: He took me to a nude beach to introduce me to him being naked. Then he took me to a porn movie to introduce what he did for a living. I ended up laughing at the movie because it was so ridiculous—he was a horrible actor!"
About six months in, you had sex in his van. How did you feel afterward?
"I remember being worried that the spotlight he'd put on me with all that care and attention would be dulled somehow after we'd had sex. I was afraid of his rejection."
Where were your parents all this time?
"They were divorced. I was living with my dad in L.A., and my mom was in Florida, living in a rough neighborhood. My dad had just had a tumor removed from his face. Our family was very poor."
Things went downhill fast with Holmes when he started using cocaine—and got you hooked, too.
"Yes, he had violent tendencies; he would throw things or smash them in front of me all the time. Then he started acting violently toward me, beating me and making accusations that I was cheating on him."
Holmes was married, and you and he even lived with his wife for a while. She knew of your relationship. Why didn't she intervene?
"I had bonded with her and John. She was one of many adults around me who did nothing. She had these walls around her and this idea that you take bad things and put them in a box. You put them away and don't think about them."
Eventually, Holmes was involved in the drug-related murders of several people on Wonderland Avenue, and you two hit the road.
"Yes, he dyed his hair and we got in the car and took off to Florida. We knew the FBI was after us, so we went underground. We checked in to a motel, but eventually I got away and called my family. My brother convinced me to talk to the police, and they told me John would be safer with them than on the streets—there were at least eight contracts out on our lives. So I told them where to find him, and he was arrested. He was never convicted of a crime, though. He died in 1988 of AIDS. Around the time of his death, I had this very strange feeling that he was unwell. One day, I thought I heard him say to me from afar, 'I'm sorry.'"
What are you up to today?
"I've started a nonprofit called E.S.T.E.A.M. for the kids I call throwaways—kids who no one wants. We develop outreach and mentoring programs for community centers. I felt like I was a throwaway myself, even though I had parents. I'm also getting a degree in gender studies at Eastern Oregon University."
Holmes's wife, Sharon, is back in your life now. How did that happen?
"I found out she was homeless in L.A., so I went there in 2006 and got her. She lives in a facility a few blocks away from me here in Oregon. I'm her legal guardian. She apologized the best she could. I've accepted that, and we've moved on."
From the print edition of Marie Claire. For more on Dawn Schiller's work with teens through her group E.S.T.E.A.M. (Empowering Successful Teens Through Education, Awareness and Mentoring), visit the nonprofit's official site: empowerteens.com.
Celebrity news, beauty, fashion advice, and fascinating features, delivered straight to your inbox!
Abigail Pesta is an award-winning investigative journalist who writes for major publications around the world. She is the author of The Girls: An All-American Town, a Predatory Doctor, and the Untold Story of the Gymnasts Who Brought Him Down.