Is Your Boyfriend Secretly Gay?
Kiri Blakeley thought she knew everything about her fiancé. Then he let her in on his big secret.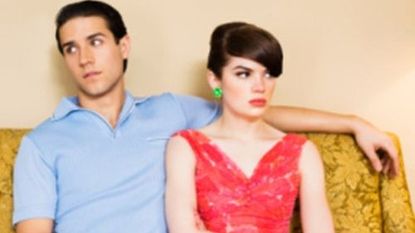 (Image credit: Is Your Boyfriend Secretly Gay?)
Before journalist Kiri Blakeley's fiancé uttered these words, she had no idea he was a closeted gay man—who had been having sex with other guys for two years. On the release of her new memoir, Can't Think Straight, Blakeley talks about the night that changed her life.
MC: Describe the moment your then-fiancé, Aaron, confessed he was gay.
KB: It was 11 p.m., and I was getting ready for bed and Aaron was watching television. It was business as usual. Suddenly he called out, "Kiri, we need to talk." He sounded formal and strange, so I came into the living room. He said, "I'm having issues with my sexuality—I'm fantasizing about going down on men." I laughed. I thought he was joking. Then he burst into wracking sobs, and my whole body went cold. This was a man who never even let me touch his butt! We had a nice, normal, vanilla sex life. It just didn't make sense. I opened a bottle of wine and started chain smoking and firing angry and tearful questions at him in disbelief until we were both exhausted and the sun came up. A few days later I kicked him out and cried my eyes out before settling into a catatonic state. And for the first time ever, I looked at the world as an evil place because nothing—and no one—was what I thought.
MC: Why did he pretend to be straight for a decade?
KB: Aaron's sexuality was morphing. Because he wasn't sure he was gay (he was in denial), he didn't confess earlier for fear of losing me. After he confessed, I broke into his e-mail and found not only gay porn but messages to one of his lovers. It was clear that these men were compartmentalizing their lives. Their e-mails were part of a fantasy, they were not reality. When I read that he was developing real-life feelings for his lover, I realized why he chose to tell me when he did. Also, we had been engaged for nine years—being a child of divorce, I've always been wary of marriage—and had finally decided to get married. I think the pressure of a wedding was too much to bear.
MC: In retrospect, were there red flags that he was gay and cheating?
KB: There were symptoms of a problem, but only in hindsight were they indicators that he was gay. For example, our sex life had slowed down. But we had been together for so long, I figured the spark had just diminished. The confusing part is, when we did have sex, he had no problem getting it up. There are gay men who get nauseous thinking about a woman sexually—Aaron isn't one of them. He also grew a beard and refused to shave it. Only later did I find out he had developed a fetish for hairy men. The weird thing is, Aaron is a very masculine guy with a deep voice. He plays soccer, wears loose clothing, doesn't use loads of hair gel, and never reeks of Axe body spray.
There were also no conventional signs of infidelity: emotional distance, disappearing acts, strange phone calls in the middle of the night. In fact, we spoke before he left the office every day. On his way home, he'd stop at some random guy's house whom he'd met online, unzip, get a blow job, then pick up milk before he came home, always at the same time. Gay sex is easier to hide. Whereas an affair with a woman might get messy—she could get emotionally attached and call his home—sex with a guy is simple. There's no postcoital chatting. Gay men get right to the point. When Aaron began dating men, he said he actually stopped seeing someone because the guy couldn't get it up. He said, "With gay men, sex is the easiest part. If you can't get that right, there's a problem."
MC: How did friends and family react?
KB: To cope, I blabbed to everyone that Aaron was gay. I actually wasn't humiliated because everyone else was shocked, too. If other people were fooled, I guess I could forgive myself for being fooled as well. But my parents were in denial. My mom said he'd "come to his senses" and "regret it." And although his family was bewildered, they supported him—especially his friends and his gay sister. His mother cried, "Not another one!"
MC: What are you angriest about?
KB: The fact that I had wasted my fertile years with a gay man didn't bother me too much because having kids wasn't really a priority for me. I was most pissed that he had been cheating and lying for years, and putting my sexual health at risk. He also allowed us to buy an apartment and tell my grandma we were getting married—all the while screwing men.
MC: How did you function day to day?
KB: At the time, I was a reporter, and I had to tell my boss what was going on because I lost a lot of weight and always had red, swollen eyes. For a while I was a zombie. I'd walk onto the street in a daze and almost get hit by taxis.
MC: Freshly single, you say you "self-medicated with sex." Can you explain?
KB: I became addicted to sex. It gave me a dopamine rush in the same way that drugs and alcohol affect your brain. Soon, I couldn't just sit home on a Sunday night and read. I would claw my skin in physical withdrawal. The only solution was to get dressed and go to a bar to find a guy.
MC: How does Aaron feel about your book—no pun intended—coming out?
KB: He's OK with it. Strangely, the person who helped me through the breakup was Aaron. He let me call him and scream, and he got me through it. Ultimately, I respected his honesty—but it could have come a lot sooner.
Anna Maltby is an award-winning journalist and editor and was most recently the executive editor of Elemental, Medium's in-house health and wellness publication. She was previously the deputy editor at Real Simple magazine and a deputy editor at Refinery29, and also held staff positions at Men's Health, Marie Claire, SELF, Fit Pregnancy, Natural Health and Condé Nast Traveler. Her writing has appeared in such outlets as The Wall Street Journal, Cosmopolitan, Glamour, O, Family Circle, Fitness, Redbook, Vogue.com, TeenVogue.com, MensJournal.com, CondeNastTraveler.com, FastCompany.com_ _and Brides.com. She received her BSJ and MSJ from the Medill School of Journalism at Northwestern University. Anna is also an American Council on Exercise–certified personal trainer and functional training specialist, a certified prenatal and postnatal exercise specialist, and a certified mat Pilates teacher. She lives in Brooklyn with her husband, two children, and two tuxedo cats.