The Secret Sex Tip You Need to Know
Do You Know When It's a Good Day for: (A) Your SKIN? (B) Your CREATIVITY? (C) Your ORGASM?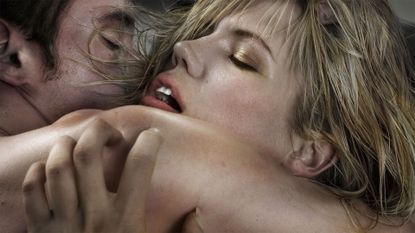 (Image credit: Getty Images)
Monthly hormone fluctuations can make you feel blue or blissful, pooped or energized, indifferent to sex or voraciously horny. But if you anticipate these changes, you can max out the good times. Here, your cycle from day 1 to 28. Plus, strategies that keep you — not your hormones — in the driver's seat.
Days 1 Through 7
It's a BAD WEEK for YOUR BODY

Your menstrual period kicks off on day one, bringing with it some temporary glitches, like diarrhea (brought on by increased levels of prostaglandin, a chemical that stimulates the intestines). You may also notice worsened asthma, and migraines may be exacerbated.
It's a GOOD WEEK for YOUR BRAIN

As you near day six, you will be entering the follicular phase. It's a peaceful time as an egg matures and gets ready to be released by an ovary. It's a fab moment for tasks that will require creative concentration, like working up a killer proposal or giving a presentation.
SEX-LIFE SNAG

Low estrogen levels now mean less natural lubrication. Ask your partner for some extra foreplay or keep a bottle of lubricant (like K-Y Ultragel) handy, at your bedside.
Days 8 Through 14
It's a GOOD WEEK for MAKING BABIES

Levels of estrogen are rising slowly and steadily as your body preps for ovulation on day 14. Possible signs that ovulation has occurred and your fertility is at its max: Vaginal discharge morphs from a yellow-white hue to clear, and it becomes stretchable, like egg whites. Some women also notice a bit of bleeding and cramping, called "mittelschmerz."
It's also a GOOD WEEK for YOUR MOOD

Estrogen first rises steadily, then surges rapidly. By day 14 (ovulation) things even out and you feel level. Organize your closets, straighten out your 401(k), rekindle a soured but greatly missed friendship.
SEX-LIFE BONUS

You may have sex on the brain 24/7. Other quirks of ovulation may include better orgasms — and men galore (research shows that men are drawn to ovulating women by their slightly different odor).
Days 15 Through 21
It's a BAD WEEK for YOUR SKIN

Your uterine lining is building up, and you might notice acne worsening at this time as you head closer to the PMS zone. If so, speak with a dermatologist. He or she may prescribe a one-week-a-month oral-antibiotic regimen that can end cyclical breakouts.
It's a GREAT WEEK for YOUR CONFIDENCE

By midweek, progesterone levels are rising, which may give you a sudden surge of happiness and optimism. Purchase a lottery ticket or throw some cash into a mutual fund, and maybe ask your boss for that well-deserved raise. This is the calm before the storm, so enjoy.
Taking an 800 to 1500 mg calcium supplement with 400-800 units of Vitamin D daily may ease moodiness associated with PMS.
Days 22 Through 28
It's a BAD WEEK for PMS

Progesterone reaches its peak, a sign that you've officially entered the premenstrual phase. You may have no PMS symptoms or all of them (everything from crying to breast tenderness to headaches). A slight increase of the "male" hormone testosterone around this time can contribute to sudden body oddities, like rapidly growing facial hair, increased body odor and an oilier scalp.
It's also a BAD WEEK for YOUR SPIRITS

Being sensitive to progesterone can make you blue and hungry. Lunch on a turkey burger and baked potato to lift your spirits — both contain amino acids that boost levels of feel-good chemicals in your brain. Feeling bloated? High-protein, low-carb, low-salt foods will help you feel less fleshy, which in turn can help your mood. And don't worry if you overdo it: Due to a slightly higher body temperature, you may burn extra calories during PMS.
SEX-LIFE BONUS

Extra exposure to testosterone has a perk: Your voice can get lower and huskier (and sexier) right before your period.
DAY 28

Possible signs that your period is on the way tomorrow: a swollen stomach, insomnia and headache.
Sources: Geoffrey Redmond, M.D., an endocrinologist specializing in female hormone problems at the Hormone Center of New York; Leslie Miller, M.D., Asst. Professor of Obstetrics and Gynecology, University of Washington in Seattle; Melissa Yih, M.D., a reproductive endocrinologist at IVF New Jersey in Princeton; James V. Kohl, author of The Scent of Eros: Mysteries of Odor in Human Sexuality (iUniverse, July 2002).
Celebrity news, beauty, fashion advice, and fascinating features, delivered straight to your inbox!