Happily Ever Engaged
What altar? These days, more couples are finding long-term bliss in the prenuptial zone.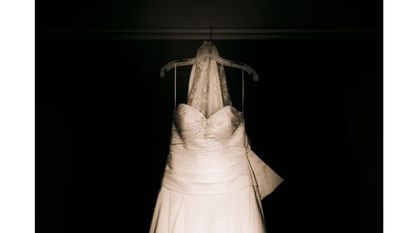 (Image credit: Archives)
JASON PROPOSED TO ME on a park bench overlooking the Hudson River. He'd prepared a speech but couldn't utter the words, so he let the square box speak for itself. I cried, then croaked yes. After, I speed-dialed my friends. "Have you set a date?" they asked. "Soon," I said. "We just need to save money for the wedding."
A year passed. By then, we had savings, but our jobs as magazine editors were so hectic we didn't have time to fuss over flower arrangements, so we waited for the workflow to ebb. Two years passed. People went from asking when we'd marry to whether we'd marry. "We live together," we shrugged. "So we basically feel married."
Five years passed. We bought a house, gave birth to a daughter. Still, no wedding. By then, even I was wondering: What was our problem?
In the latest Nicholas Stoller film, The Five-Year Engagement, Jason Segal and Emily Blunt delay their nuptials when Blunt gets an out-of-state job, then a promotion. They insist they don't have cold feet. Nonetheless, people all but place bets on whether they'll ever get hitched. OK, it's just a movie, but the plot also reflects many real couples' situations.
"Back in the '60s, engagements often lasted three to six months," says Terri Orbuch, Ph.D., a social research professor at the University of Michigan. "Today, an average woman may be engaged for two, three, even five years."
It's a far cry from the stereotype of the marriage-obsessed woman who launches into a wedding-planning frenzy as soon as she sports a diamond. A growing number of women are lingering in the engagement phase, a phenomenon that aligns with data hinting that young adults are growing more indifferent about marriage. According to 2010 census figures, only 30 percent of people ages 18 and 34 are hitched.
"We know that being unmarried no longer carries a stigma and that women don't need marriage to boost their social or economic status anymore," says Ramani Durvasula, Ph.D., a psychology professor at California State University, Los Angeles. "Still, getting engaged is a distinct, exciting new chapter in life, a romantic milestone that can feel like a triumph for some women." And a marathon engagement is the perfect way to bask in the prenuptial glow and avoid getting bogged down in marital drudgery. "It's a state I call 'marriage lite,'" Durvasula says.
For some women, the perks of engagement are too seductive to part with. The attention from friends and family, showing off the ring, and recounting the proposal to a rapt audience—why not prolong the fun? In a world of Facebook and Twitter, where news drops and disappears in an endless stack of updates, many women want to shine in the "OMG, I'm engaged!" limelight.
Cristina Padilla, 22, a college student in San Francisco who has been engaged for 19 months, is an "engagement junkie" addicted to the rush of living on the brink of wedded bliss. "When I changed my Facebook status to 'Engaged,' everyone wrote on my wall and called," she recalls. "I wanted to extend this breezy, happy period."
And Mar Yvette, 35, a writer in Los Angeles, has been engaged for 11 years. Even now, "I'm still excited. It's a state of mind. And for now we're committed without the hassle of marriage."
Other long-engaged couples would happily move toward marriage faster—if only they had the cash to cover the expenses a traditional wedding includes. According to theknot.com's 2011 "Real Weddings Survey," nuptials held in costlier areas of the country, like New York City, cost an average of $70,000, while weddings in suburbia typically cost almost $30,000. No wonder 20 percent of young adults are delaying marriage due to financial woes, says a Pew Research Center study.
"In this economy, a fairy-tale wedding may no longer be affordable, yet the dream is hard to release," says Kailen Rosenberg, a relationship coach in Wayzata, Minnesota. Some couples, rather than downsizing their big day, save until they can splurge. And that can take a long time.
"I've been engaged for five years," says June Dzialo, 28, a marketing manager in Whitesboro, New York. "We haven't gotten married because I want a traditional wedding and we can't afford it yet. We could cut costs, but I don't want to compromise on what I want." Meanwhile, Dzialo and her fiancé prioritized more pressing matters, like the mortgage for a house they bought two years ago.
Natalie Zehr, 33, a social-media marketing manager in Huntertown, Indiana, aims to pay off her student loans before splurging on a wedding—which means she'll be engaged for 17 years. "My fiancé proposed seven years ago, and our wedding is in nine years—April 10, 2021," she says. Yet Zehr is so content with their status that she has a term her fiancé. "He's my 'boyancé,'" she says, "a boyfriend-fiancé." While long engagements don't always mean that a relationship is rocky—especially if it's just about saving money—some couples are paralyzed by ambivalence about the future or anxiety about their compatibility, or they fear divorce, says Elizabeth Lombardo, Ph.D., a clinical psychologist in Chicago.
"My mother has been married four times," says Sasha Graham, 41, a New York City writer who was engaged for seven years before she wed. "I delayed marriage because I didn't want what my parents had. But once I realized I wasn't making choices intrinsic to myself, I got married."
Experts warn that over the long haul, staying in engagement limbo can undermine a relationship. "One member may interpret lack of marriage as a sign the other person isn't really committed," says Lombardo. And it can even prevent couples from marrying at all. "There's no data on how many couples break up due to long engagements, but I have patients who fight with their fiancés and say, 'Why deal with this? We're not married. I can just leave.'"
I can relate. During the low points of my own engagement, Jason and I had almost huffily called the whole thing off. And with five divorces between our parents, we were also worried that marriage would destroy our bond. "Are we 100 percent sure?" I'd ask. He'd shrug and say, "Are we ever 100 percent sure about anything?"
Five years after Jason proposed and six months after the birth of our daughter in 2010, we buried our doubts. We headed to City Hall—me in a red silk dress, him in a suit. After a 20-second ceremony, we celebrated at a Chinese restaurant. And while our wedding didn't have traditional trimmings, I felt elated—even foolish for waiting. Because while I'd always thought that a marathon engagement would help us seamlessly slide into marriage, what my stomach butterflies said that day was, there is no easy way in. I just had to make the leap.
Marie Claire email subscribers get intel on fashion and beauty trends, hot-off-the-press celebrity news, and more. Sign up here.