What Type of Guy Dates Smart, Sexy, Confident Women?
You're the complete package—don't settle for less in love your life.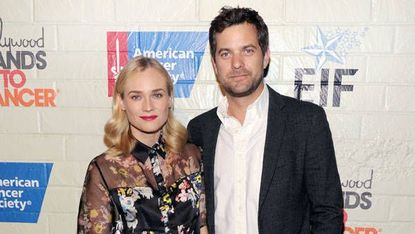 (Image credit: Kevin Mazur/Getty Images)
Marie Claire Newsletter
Celebrity news, beauty, fashion advice, and fascinating features, delivered straight to your inbox!
Thank you for signing up to Marie Claire. You will receive a verification email shortly.
There was a problem. Please refresh the page and try again.
You finally have your act together. You have a good job, a nice living situation, you're dressing well and look great, and you have made the Sunday New York Times crossword your bitch. Yet a new problem has arisen: there are guys out there that now seem to find you intimidating. So what type of guy can handle the smart, sexy, confident woman? The short answer to this question is "the smart, sexy, confident man." Unfortunately for you, those men are few and far between. So look to a mature man, now that you're a mature lady.
It's a well-known fact that women mature faster than men. Want proof? Look to your early twenties relationship with a twenty-two year-old man and contemplate what his apartment looked like or the time he got so drunk he forgot you at that party. I can't blame women for dating slightly older men; you're looking to date someone at your level of maturity (and that's okay).
There is no area that highlights a man's immaturity more than the dating scene. If you are telling a story that includes an ex-boyfriend and you notice your date visibly bristle at the mention of a past lover? He's immature. If he makes a big deal out of how much he dropped on your dinner together? He's immature. And here's an unfortunate but obvious one: it's clear to you both that you make more money/ have a better job/nicer apartment/anything that makes him feel like he's not top dog. And he reacts by getting defensive? He's immature.
My advice for the woman who is at the top of her game is to not feel like you need to settle. There are a million frogs out there, but the princes hide among them. The trick for you is to become more discerning about who you allow a second date. If you have hesitations around a guy's maturity level, don't expect that he will automatically grow three emotional inches overnight. Don't think you can change him. Just let him go, despite how good looking, charming, or amazing in bed he may be.
You know what the key to a good joke is?
Timing. (That lands better in-person). But do you know what makes for a good relationship? The same thing. It doesn't matter that a guy seems really nice. If he's not at a point in his personal development where he thinks that a woman with a high-powered job is sexy then he's not going to get you on a variety of other levels. The timing of you being at your best and him being at a point where he can see and appreciate that is going to be the deciding factor as to whether your romance will work out. For the single men I know, the fact that a woman knows what she's doing professionally and is confident in who she is may be the most appealing aspect about her. But I know good guys and we're a bit older than that twenty-two year-old drunken slob you dated last. After a period of time, guys grow to dislike dating women who are still figuring themselves out. We want to date fully-formed human beings. Those are the guys to look for because they will cherish you and all of your kick-assery.
Celebrity news, beauty, fashion advice, and fascinating features, delivered straight to your inbox!