Girls on Wheels
Fueled by their love of the open road, two friends convened a now-annual biker rally in the California desert—no boys allowed.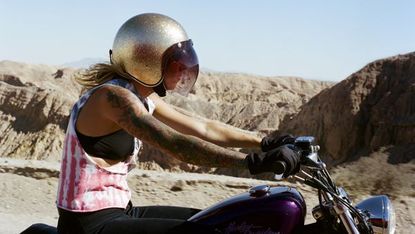 (Image credit: Archives)
It all started as a text message exchange between motorcyclists and friends Ashmore Ellis, 32, and Anya Violet, 29, in summer 2013: "Hey, wanna go moto-camping?" Neither remembers who started the conversation, but that one text launched a revolutionary sisterhood of all-female biking.
The two women, who had known each other for a few years through Southern California's motorcycle world, reconnected that June at Born-Free, a massive annual bike show. "Motorcycles bring people together," says Ellis, a digital community manager in Temecula. While both loved the built-in family the sport offers, they noticed there weren't many women around. "There are a lot of guys at events, and it can feel intimidating," continues Ellis. "I'd never ridden with girls before—just my husband and his friends."
So they decided to open up their weekend-long camping trip to the public and make it ladies-only. They dubbed the free event Babes Ride Out and launched a website and a social media campaign. Participants started signing up right away. "Girls sent in photos of themselves and why they ride," recalls Long Beach–based fashion design director Violet. "It was so inspiring to read their backstories. We all share a passion for motorcycles—something that's not popular for women to be interested in." They scoped out a secret location in the heart of Borrego Springs in Southern California for the early-October 2013 ride. "We didn't tell anyone the final spot," she adds. "We didn't want any dudes showing up."
When it came time to meet the other riders, on a Friday afternoon at 3 p.m., the duo waited at the designated spot, a gas station off the highway. "I was honestly going to be stoked if 15 women came," recalls Ellis. "But all of these motorcycles started pulling up, and we were like 'Holy shit!'"
All told, 75 women gathered for the inaugural Babes Ride Out. "Everyone blasted out to the campsite," says Violet. "Girls were ripping at 90 mph back and forth around a dry lake bed, just letting loose. There were women from all walks of life and age ranges. We had girls from New York, Portland, Arizona. It was so fun and welcoming and magical."
Ellis and Violet took it up a notch for the 2014 Babes Ride Out, held this October in Joshua Tree. Almost 400 women arrived on Friday afternoon—one rode more than 2,400 miles from North Calgary, Canada—to find multiple sponsors and food vendors set up around the campsite. (This year, the registration fee was $35.) After Saturday's main event—a group ride 180 miles up into the San Jacinto Mountains and back down to the 104-degree desert—the happy carousers were treated to moonshine, a tattoo artist, and performances by the mostly female SoCal psych bands L.A. Witch and Death Valley Girls. Even with the relative luxury—a pizza truck! Porta-potties! Real showers!—it was still a radical gathering for many of the women, says Violet, especially new riders eager to learn more. "Here, if someone dumps their bike, 10 girls are going to drop their kickstands and help them," she says. "The female environment is just more welcoming to women riders."
"A lot of girls had never ridden that far before," adds Ellis. "They'd never motorcycle-camped. They learned how to check their tire pressure, make sure their bike is running properly, change the oil. They were about taking control and doing things for themselves." While Babes Ride Out technically ended that Sunday, "some girls are still going," says Ellis. "They're in Yosemite by now."