Weekend Trip Guide: Where to Stay, Eat, and Drink in Sedona, Arizona
Get ready to ask, "Wait, did they film Westworld here?" all weekend long.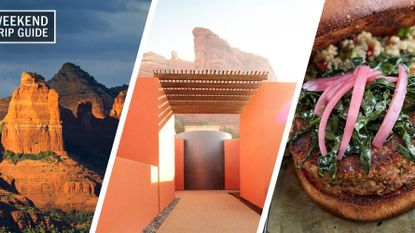 (Image credit: @mii_amo_spa/@mariposa_sedona)
Where to StayWhat to DoWhere to EatHelpful Tips

Welcome to MarieClaire.com's series on weekend travel—a smart girl's guide to making the most of those glorious two days off.
I was lucky enough to visit Sedona, Arizona when it was really hot, but not crazy hot. It *does* get crazy hot there in the summer, so fall (and spring) are the ideal seasons to visit. You might be drawn to Sedona because you love hiking and picturesque Instagram opps, or maybe it's because you're on the hunt for the perfect piece of turquoise jewelry. But that's the thing about Sedona—there's something for everyone, whether you're the type to sign up for a jeep tour of the red rocks or you want to scope out the local art scene.
Getting to Sedona isn't the easiest, especially if you're coming from the east coast. When I visited as a guest of Columbia Sportswear, we flew from New York City early Friday morning into Phoenix, Arizona, and then had to drive a couple hours to get to Sedona. But guys, if you can take a three-day weekend, it is so worth it—soul-restoring vortexes await you. (More on that later.)
There are a *ton* of places to stay in Sedona—it's basically a town exclusively for tourists and wealthy retirees—so you have your pick of accommodations depending on how much money you want to spend and how New Age-y you want your trip to be. There's a slew of charming Airbnb rentals if that's your style, as well as your classic chain hotels, like Best Western and Hyatt.
If you're looking for a more one-of-a-kind experience, Mii Amo, which markets itself as a "destination spa" where your stay is considered a "journey" (not a joke), is glorious. Or spend the weekend at the Kimpton Amara Resort and Spa to increase the likelihood that you'll never go home again.
I stayed at the lovely L'Auberge de Sedona, alongside a literal babbling brook—which I later learned is called Oak Creek—just a few steps from the main drag of shops and restaurants. I never wanted to leave. The grounds are beautiful, and there are countless places to hang out and relax in a hammock in the shade. I highly recommend spending some time in your outdoor shower:
No matter if you've never hiked a day in your life or you consider yourself an expert traverser of stones, there's a trail for you in Sedona. I'd recommend using this handy website to pick your hike. I did the hangover trail, which sounds very intimidating. In reality, it only took a couple hours and we were rewarded with this nearly 360-degree view:
If you'd rather, I don't know, channel the earth's energy than hike, congratulations because you are in the right place! All of Sedona is considered a "vortex," which simply means it's a place where you can feel energy entering or leaving the earth's plane. This sounds very spiritual, I know, and that's because it is. "Native Americans believe that spiritual transformation can occur more quickly and easily in Sedona because the veils to other dimensions are thinner here," explains the Sedona Visitor Information Center. All this is to say that there are certain spots throughout Sedona where you should go to meditate, practice yoga, or simply relax. Admittedly, I was very skeptical of even the concept of an energy vortex, but I have to say—and I don't know if it was the gorgeous backdrop of the red rocks or how the light glows gold all day long—there is something special and soothing about the city.
And the art scene? In a word—awesome. Many of the galleries are within walking distance from one another (bookmark this map for your trip) and there's an entire arts and craft village called Tlaquepaque that could easily fill up an entire afternoon. Be sure to bring some turquoise jewelry home for yourself friends.
You need to go to Mariposa Latin Grill. I repeat: Go there. The view is unbelievably spectacular, I kept on twirling around in a circle like a little kid so I could take it all in. Time your dinner reservation so you can arrive right around sunset, and get ready to see this with your own eyes:
You can't go wrong with any of the tapas (highlights include the chorizo and the ceviche) or steak, literally any cut. Cocktails made with prickly pear—which is part of the cactus family—are the thing to drink in Sedona, so wash your meal down with a Smokey Pear or a Mariposa cocktail.
The Hudson also has fabulous views and a lovely outdoor deck. If you like cuisine with a southwestern vibe, you really can't go wrong in Sedona. Check out Saltrock Kitchen if you're in the mood for some creamy guacamole—oh, and they have a mouthwatering burger, too.
Bring so much sunscreen and so many water bottles. Seriously. I was downing water like it was my job, and I still felt dehydrated at the end of each day. To that point, it's really hot in Sedona (oh, did I mention that already?) and sunny and dusty, so you'll want to bring light layers to protect your skin. And, assuming you want to see the glorious views for yourself, I'd suggest you bring a solid pair of hiking shoes. Here are some items I was happy to wear throughout the weekend:
1. Women's Plaid Long Sleeve Shirt, $55BUY IT
2. Caprizee Sandal Nubuck, $44 BUY IT
3. Freezer Zero III Bandana, $30 BUY IT
4. Caldorado II Outdry Extreme Trail Running Shoe, $155 BUY IT
5. Coolhead Ballcap III, $18.90 BUY IT
Celebrity news, beauty, fashion advice, and fascinating features, delivered straight to your inbox!
As Cosmopolitan's deputy editor, Rosa Heyman oversees a team of whip-smart editors and hilarious writers who bring you some of the best investigations on the internet, from dissecting the latest Kardashian drama to uncovering the link between white supremacy and misogyny. She currently manages the news and social teams and develops the strategy for how the brand best distributes content. You can usually find Rosa glued to her phone workshopping a cheeky caption for Cosmo's Instagram account.