Meghan Markle's Guide to London: All the Places She Eats, Shops, and Hangs
File under: Meghan went to Soho House, so I went to Soho House.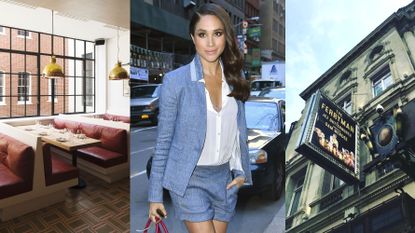 (Image credit: Getty/Instagram)
Some tourists are happy to come to London and spend their time wandering around Hyde Park or snapping selfies in front of Big Ben. Not you. If you leave without crossing paths with actress/activist/potential future princess Meghan Markle—preferably in the company of her boyfriend Prince Harry—were you ever even there?

Though it's important to remember that Meghan is herself a tourist—she shoots Suits in Canada—her royal relationship has required countless trips across the pond. She's also rumored to be officially moving in with Harry. Long story short: She's more than familiar with London, and we're showing you the city through her eyes. X markles the spot, folks. (Sorry/you're welcome.)
The Sands End
Meghan once named "seafood and pasta" as her dream dinner, so we're guessing she went for the crab fettuccine when she and Harry dined here over the 2016 holidays. The Fulham gastropub, which also dishes up British classics like Eton Mess and Scotch Eggs, is owned by Harry's good friend Mark Dyer.
The Gieldgud Theatre
The bad news is that The Curious Incident of the Dog in the Night-Time—the play that Meghan and Harry watched last December—ended its run this summer. The good news is that The Gieldgud Theatre is currently showing Jez Butterworth's critically acclaimed The Ferryman, and as far as we know, the pair have yet to see it. Feel free to lurk there 'til they do.
Kensington Palace
Nottingham Cottage on the Kensington Palace grounds is the place Harry calls home, and it's where Meghan stays when she's in town. Royal-watchers are buzzing that Meghan will be moving into the bachelor pad, where her neighbors will include Will, Kate, and their kiddos over in Apartment 1A.
Nichola Joss' Spa
Meghan was photographed leaving beauty pro Nichola Joss' Covent Garden pop-up spa the day before Pippa Middleton's May wedding. A sculpting facial with Joss—whose A-list clients also include Gwyneth Paltrow and Kate Moss—runs £250, or around $326. But can you really put a price on that glow?
Whole Foods: Kensington
Keep your eyes peeled the next time you're popping in for banana chips (or pizza, let's be real) at the Kensington High Street branch of Whole Foods. Meghan made a grocery run here during her December 2016 visit, as it's conveniently located near Chez Harry at Kensington Palace.
Soho House
Better make friends with a member of this exclusive club, because it's not only where Harry and Meghan reportedly first met, it's also the workplace of her best bud, Soho House consultant Markus Anderson. Cupid—sorry, Markus—is credited with arranging a rendezvous in one of the club's private rooms at Harry's request, and the rest is history.
Battersea Park
If you're feeling festive, bundle up and head to the seasonal Pines and Needles pop-up at Battersea Park, located just over the Thames from Meghan and Harry's Chelsea stomping grounds. The pair bought their 2016 Christmas tree here, because sometimes London life really is straight out of Love Actually.
RELATED STORIES