15 Reasons Winter Vacations Are Better Than Tropical Ones
FWIW: They're just as Instagrammable.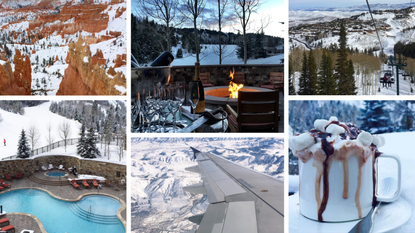 (Image credit: Marie Claire)
Don't get me wrong—I love white sand beaches and margaritas as much as the next Bachelor in Paradise contestant. But as of a few days ago, I have a new kind of wanderlust for powdery ski mountains, sweeping canyons, and homemade hot chocolate. The location? Park City, Utah. The digs? The St. Regis Deer Valley. The scene? Sundance, mountains, and après-ski.
Here, find every reason why you should rethink yet *another* trip to the Caribbean in favor of a wintery escape.
1. Two words: Après-Ski
Whether you've been on the slopes all day or, you know, haven't—there's nothing more magical than après-ski (French for "after skiing"), AKA where the party begins. From the hot and cold booze to the bustling fireside hangs, you'll learn quickly why Slim Aarons was enamored with the glamorous winter set.
2. The Views Will Blow Your Mind
Please see: my plane window as we flew over Park City.
Just as mesmerizing on a resort-side stroll as it is from the top of a chairlift, the mountainous scenery in snow country will make you feel like you're living in a postcard. I swear, you'll discover shades of blue you've never seen before.
3. You Get to Drink Hot Cocoa All Day, Every Day
If your resort is worth its salt, it'll not only have a complimentary après-ski hot chocolate bar with ample marshmallows and fresh whipped cream, but will bring it to your room if you need a proper nightcap.
4. The Clothes Are Chiiiic and Cozy
Wool sweaters, fluffy coats, onesies, statement snow hats, snow boots...the list goes on for chic AF cold weather essentials you can layer on. Editors' Note: My Canada Goose Fur-Trimmed Aviator Hat was the ultimate après-ski style hack/conversation piece whether I was out on the mountain or going to a fancy dinner. Go full-on with your mountain style!
5. You Can Eat Whatever You Want
Gone are the anxieties of traipsing around the beach in a bikini. You've got layers on layers to cover up your dietary sins, which include but are not limited to: turkey chili (the St. Regis' signature recipe will change your life), bison burgers, smoked meats, cheese fondue, brisket sandwiches, and butternut squash stew. And, naturally, you're washing all of these things down with red wine, hot toddys, champagne, or hot buttered rum.
6. Skiing Is Good for Your Health
Another reason you don't have to worry about your indulgences? You earned 'em. Unlike sunbathing on the beach (no shade!), winter activities like skiing, snowboarding, or snowshoeing burn calories like it's nobody's business. In a recent study, The Mayo Clinic found that skiing enhances overall happiness, health, and well-being—yes, even if you only go once a year. I found this much to be true when I got to test-drive a pair of luxe, retro-inspired Foil skis.
7. Adventures Are Yours for the Taking
Snow country is where adventure really thrives and you don't need to be the outdoorsy type to appreciate this. (Take it from someone who knows.) One day I found myself hopping on a small plane to South Utah for a day trip with Elevated Adventure Company, which specializes in jaunts that make you feel like you're in the "middle of nowhere" (these trips are bookable through The St. Regis Deer Valley). My group and I ended up hiking through Bryce Canyon and its cascade of snow-covered red rock "hoodoos." Suffice it to say, the martinis that followed this scenic workout were hard-earned.
8. Fireplaces Are Everywhere and Glorious
Whether you're bringing frost-bitten toes back to life or looking for a nook to sip cocktails, fireplaces are waiting for you at. all. times. The smoky scent of the fire teamed with the smell of winter is truly a sensory experience.
9. Ski Towns Are *So* Charming
When choosing where to lodge, proximity to a charming little ski town is vital. While Park City was abuzz for Sundance when I was there, its laid-back, home-spun charm was still apparent. Your checklist for a sleepy ski town should go something like this: microbreweries, saloons, ma and pa restaurants, no-frills coffee joints, artisanal shops, and an old-fashioned movie theater.
10. Hot Tubs Were Made for Cold Weather
Hot tubs in hot weather? Fiiiine. But you've never truly experienced the ecstasy of a jacuzzi or heated pool unless it's in single-digit-degree weather and you're watching the steam rise in the air around you. Or, if you're really brave, after rolling around the snow in your swimsuit.
11. The Spas Will Bring You Back to Life
At the St. Regis' Remède spa, I got a treatment called The Bear Dance Ritual, which local Native American tribe members would perform at the end of winter to release stress and tension. For two hours, I was literally lulled to sleep with a full-body massage characterized by its indigenous herbal poultices and Ayurvedic principles.
Typically, I'm not a spa person, but after a full day of skiing and another of hiking, I felt like I deserved a good pampering. Plus, getting the works inside the warm and toasty spa amidst the snowy scenery made it feel that much more luxurious.
12. You Will Learn to Saber a Champagne Bottle Like It's NBD
Sabering a champagne bottle is among the most impressive/classiest party tricks in the game and I can now confirm: it's a lot easier than it looks. It only took me three tries and I'd never wielded a knife before. It's an après-ski celebration essential.
13. The Coffee Just Tastes Better
For me, coffee isn't just a lifeline. I love everything about drinking/smelling/holding it and the experience is that much more sacred when you're staring out your balcony, surrounded by snow. Just trust me on this.
14. You Can Go to Bed at 9:30 p.m. and It's All Good
You know, if that's your sort of thing. Think about it like this: If you ski all day and then après-ski right after, you have every right to stay in, order in room service, watch TV, and turn in early. Doing this guilt-free is the dream, no?
15. S'Mores...
...I mean.
Follow Marie Claire on Facebook for the latest celeb news, beauty tips, fascinating reads, livestream video, and more.
Celebrity news, beauty, fashion advice, and fascinating features, delivered straight to your inbox!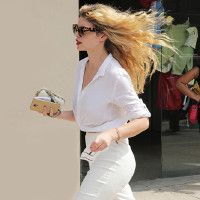 Lauren is the former beauty editor at Marie Claire. She love to while away the hours at coffee shops, hunt for vintage clothes, and bask in the rough-and-tumble beauty of NYC. She firmly believes that solitude can be a luxury if you've got the right soundtrack—that being the Rolling Stones, of course.