Weekend Trip Guide: Where to Stay, Eat, and Drink in the Berkshires
Meet your ideal fall retreat.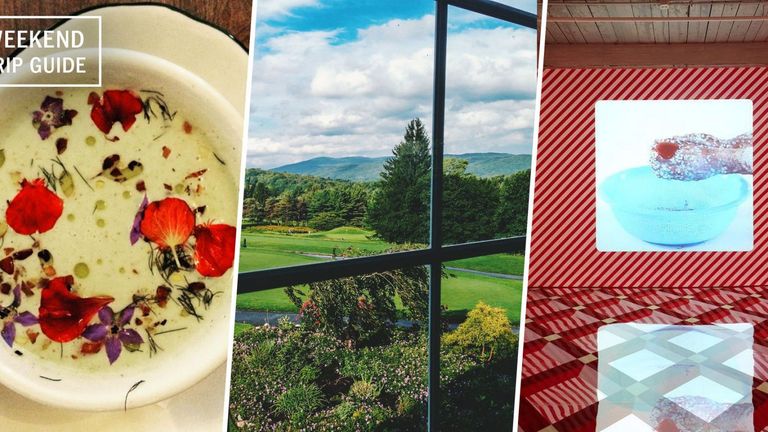 (Image credit: GETTY/INSTAGRAM)
By Lori Keong published
Welcome to MarieClaire.com's new series on weekend travel—a smart girl's guide to making the most of those glorious two days off.
When it starts hitting apple picking season, city dwellers like me begin hanging up their beach daydreams for visions of hills, scenic drives, woodland hikes, and peaceful scenery. A retreat to the mountains and far away from city life is the perfect way to spend a weekend in the fall, and the ideal place to do so is the Berkshires in Western Massachusetts. Below, my recommendations for how to make the most out of your weekend escape there.
For starters, the drive to the Berkshires is 100 percent part of the experience. The area is known for its fall foliage and cruising by hills covered with vibrant trees, all beneath bright blue skies, is the epitome of peaceful. Crack the windows open a little if you want to feel the brisk air, cue up an autumnal road trip playlist (I recommend Fleet Foxes and Bon Iver), and enjoy the ride.
I tested out two new plug-in hybrids on the drive to and from the Berkshires, the 2017 Ford Fusion Energi and the Ford Fusion Sport. I didn't know what to expect from an electric vehicle (I've never maneuvered anything close to Prius territory), but the cars drive like a dream, sync up to phones easily (which is a must-have for all the mapping you'll be doing), and come with safety features that alert you when you're too close to other cars on the road and other objects in parking spots. Anxious drivers 🙋, plan accordingly. The best part? Consider me spoiled, but I never want to drive in a car without heated seats for the winter again after experiencing Ford's *very* cushy bottom warmer.
There are so many housing options in the Berkshires, but I had the pleasure of getting acquainted with two historic hotels in the area. The quaint Red Lion Inn is one of those hotels that's straight out of an old-time movie, which makes sense since it's been around since the 1700s. (!!!) From the beautiful ballroom-style dining room carpeted in red, to the hallway of vintage curtains (Laura Ashley, eat your heart out), to the rooms decorated with antique furniture and wallpaper, staying here will make you feel like you've stepped into a time capsule to a more genteel era.
And if you're not so taken by the historic, consider the modern: The Red Lion Inn conveniently offers access to a pool and jacuzzi that are extra luxurious for a nighttime dip in the cold. 'Tis the season for hot tub evenings, indeed.
For two nights, I shacked up at the nearby Hotel on North, another rustic lodging with an emphasis on design and style (no two rooms are the same). So if you happen to stay in a room outfitted with one of these epic vintage bathtubs, just remember to bring your bath bombs. The hotel service is incredible, the charming decor of vintage knick-knacks and aged wood is a must-see, and you can nosh on great food and drinks at the open bar and lounge area (I highly recommend the cocktails).
What to Do
Where there are orchards, also come apple festivals. I attended a local apple squeeze festival to sample delicious apple donuts and cider, then took a detour to go hunting for antiques. If you're in the mood to shop, the antiquing opportunities are full of surprises, whether you're scouting for an unusual piece of furniture or a nostalgia-inducing vinyl record (I bagged a Simon & Garfunkel album for posterity). Try Berkshires Home & Antiques for starters or browse the shelves at Past & Future Fine Antiques.
Looking for a quieter, more visual escape? Just outside of the city, the modern art museum MASS MoCA is catnip for art and design lovers, and filled with colorful Insta-bait, from Alex DaCorte's wonderful and woozy menagerie of colors and objects (as seen above) and Sol Lewitt's large-scale wall drawings (there, you'll find three stories of his work, in chronological order). When you're done looking at the art, rest your eyes and minds by popping into Bright Ideas Brewing just next door for a beer tasting (uhhh or a massive 32 oz. crowler can of beer for later). You can also get in touch with 19th century American and European art at the nearby Clark Museum or see some of Norman Rockwell's finest at the Norman Rockwell Museum.
Before I made the trek home, I made sure to take a pit-stop at Canyon Ranch, a beautiful resort hotel and spa where celebrities like to retreat for a little R&R. I felt truly zen after checking in for a facial (even after the extractions), but honestly the options here are endless. The sprawling grounds also house a ropes course and maze, fitness centers and pools, massage services and saunas, and if you're really treating yourself, you can even splurge on a stay here for the weekend.
But let's not also forget the great outdoors that the area is known for. There are plenty of hiking trails and expeditions to take for the adventurous types who want to get their feet dirty, like the Monument Mountain Hiking Trail in Great Barrington. More power to you.
For farm-to-table aficionados, the Berkshires is a foodie haven. Surrounded by miles of farmland, you'll find fresh meat and seasonal vegetables served up at plenty of local restaurants. Note: A rotating menu is always a good sign if you're seeking out the best eats! On my first chilly night in the Berkshires, I tucked into the biggest and freshest salad I've ever eaten at local restaurant Mezze Bistro and Bar—and not your standard mixed romaine, mind you—plus fresh fillet of fluke (served with delicious local nuts and vegetables) and wine recommended by their sommeliers on hand.
Another excellent local eatery is tucked a short drive away in Great Barrington. You might recognize restaurateur Mark Firth if you've ever dined at Williamsburg's beloved farm-fresh eatery Marlow & Sons, and he's revived a similar style at Prairie Whale. Helmed by former Marlow chef Stephen Browning, the restaurant's wine and cocktail menu here is divine, but the eatery's equally well-known for its fried chicken and burgers (mmmm).
If you're a meat and dairy fiend like me, you may also want to embark on a cheese or charcuterie trail of the local farms. It's a great chance to see local farm-life—if you're into that kind of thing—and watch the cheesemaking process, nibble some samples,plus get a lay of the land since the drive between farms is all about the scenery. If you're more into exploring the local booze (we hear ya), take a tour at the Berkshire Mountain Distillers, or stop by for a tasting at the Berkshire Brewing Company or The Furnace Brook Winery.
1. While most of everything is accessible by car, note that it takes awhile to get from place to place since everything's pretty spread out here. You may not be able to squeeze too, too many checklist items into one day (for example, the cheese trail would take up the entire day because the farms can be about an hour apart), so trying a little bit of everything like I did, or zeroing in on one or two things that are important to you, will help you make the most of your trip.
2. Once you've gotten used to the lazy afternoon NYC brunch schedule, the idea of waking up *early* for breakfast sounds foreign. However, rolling up to a hotel or restaurant at 11 a.m. only to find out that they've stopped seating for breakfast is one way to get you up to speed real quick. In other words, make sure you wake up early on Sunday to get yourself some delicious bacon and eggs before you hit the road.
3. Ever heard of a tag sale before? Me neither. But the equivalent of a stoop sale or yard sale, depending on your region, is the glorious tag sale in the Berkshires, of which you'll find many, many signs on your drive. If scouring through antiques is your kind of thing, you'll want to pull over for at least one or two to browse through the furniture and home goods.
Follow Marie Claire on Facebook for the latest celeb news, beauty tips, fascinating reads, livestream video, and more.