The Instagram Guide to Basque Country
Incredible food known as pintxo, gorgeous beaches, and lots of art.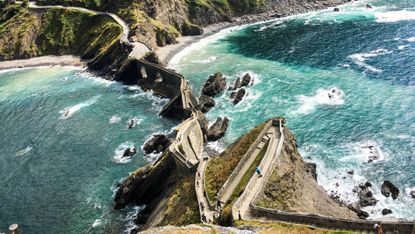 (Image credit: Buvauten)
Marie Claire Newsletter
Celebrity news, beauty, fashion advice, and fascinating features, delivered straight to your inbox!
Thank you for signing up to Marie Claire. You will receive a verification email shortly.
There was a problem. Please refresh the page and try again.
"This is not Spain. This is not France. This is Basque country."
The phrase, written in English, is sprawled across the walls of nearly every city in the Northern region of Spain. It feels like a stern reminder to outsiders. Yes, you might still be within the political boundaries of Spain and on a strip of land squeezed up against France, but you have entered a region with its own language, flag, cuisine, and beliefs. You're somewhere that leans into its sense of otherness. Adjust your expectations accordingly.
Those willing to accept the region as more than just Barcelona- or Madrid-adjacent are in for a special experience. (The rest of Spain is just a short plane ride away, so don't worry—you really can do it all.) And with a climate held in a near-perpetual state of summer thanks to its proximity to the Atlantic Ocean, you'll have all of the sunshine you need to explore it. Take a break in Bilbao, a creative hub where you only need to walk along the river to see pieces from artists you'll recognize. (Sup, Dali?) Stuff your face in San Sebastian's world-class dining scene where you can choose between Michelin-starred restaurants and dive bars with excellent snacks. Or rent a car and escape into a countryside filled with stunning architectural sites and tiny beach towns.
For inspiration to book a flight to Basque, here are a few of the most photo-worthy stops around the region. Consider it your very own Instagram travel guide.
Any trip to Basque Country should start with a visit to Bilbao's Funicular de Artxanda. The three-minute ride on the 106-year-old railroad track will deliver you to the top of Artxanda Mountain, which offers some impressive #cityscape views. From the vantage point, you can trace potential spots to visit later that vary from the modern pedestrian bridge Zubizuri to the architecturally-decadent old town, and even the nearby Bay of Biscay. When you're done admiring the view, grab a drink at a nearby café—because if there's one thing Basque knows, everything's better with wine.
In 1997, the Bilbao Guggenheim opened and transformed the banks of the River Nervión into a world-famous art destination. Because of the building's curvy exterior (design aficionados will recognize it as a trademark of architect Frank Gehry), it's nearly impossible to take a bad photo of the building. Its surreal appearance is embellished by the accompanying art, which includes fire fountains that erupt every night between 9-10 p.m. and an overgrown shrub by artist Jeff Koons called "Puppy."
Located on the far side of the Guggenheim, Maman—a sculpture by Louise Bourgeois—deserves a special mention. Bilbao is one of only seven locations in the world where you can take a selfie with a 30-foot-tall spider (complete with egg-sac) that the artist uses to represent handiwork and maternal protection. For the ultimate photo op, start snapping on the hour when nearby Fog Sculpture #08025 by Fujiko Nakaya fills the area with graceful plumes of mist, giving mommy—er, sorry, Maman, the drama she deserves.
Think of pintxos as a tapas alternative for those of us who aren't totally in love with sharing food. The Basque Country snack can be found cascading across counters at nearly every bar. For a euro or two per plate, you can experience a range of classic Basque tastes, including mini omelettes, slivers of meat and cheese, baby eels (one of the most expensive foods in the world!), and olives and fish on skewers—all usually served with a side of bread. Because of their layered construction, pintxos are hard to identify, so be sure to ask about ingredients and preparation if you have allergies or dietary restrictions. Many will argue that San Sebastian is pintxo ground zero, but the whole area that prides itself on seasonal ingredients, so you'll rarely find a bad example of the classic finger food.
Maybe it's the Jeff Koons effect (West Highland terrier ownership increased after his iconic statue was installed at Guggenheim Bilbao), but Basque Country really is the best place in the world for dog lovers. Four-legged friends are allowed everywhere—many restaurants and shops even offer complimentary water bowls. For the best dog-spotting opportunities, head over to Bilbao's riverside walk or Doña Casilda Park, where owners go to stroll and hang out. Yes, there's a lot of temptation to run straight to the dogs, but be sure to ask the owners before you pet them.
The former wine store is now home to an entertainment complex, filled with movie theaters, restaurants, bold architectural choices (check out those wild, cartoonish pillars!), and gathering spaces. But the real centerpiece is a sundeck, which features a glass-bottomed pool. Snapping heavily-silhouetted shots has become such a local hobby that the complex occasionally puts on special performances where swimmers create elaborate, choreographed shapes for the viewers below.
It's not a stretch to say that the city of San Sebastian has one of the best beaches in the world. It's a happy place for both surfers and sunbathers, although the amount of sand shifts dramatically depending on the tides—so pay attention to where you put your blanket! Take advantage of the "thalassotherapy" at the beachside spa, where locals believe the sea water can cure anything. Or simply stroll to the end of the boardwalk where the twisted red metal Eduardo Chillida sculptures called "Comb the Wind" create dramatic patterns in the ocean spray. When the tide disappears, watch local artists use the sand as a canvas to sketch dramatic (albeit temporary) multi-dimensional designs that only last for a few hours. It's magical.
Located only 16 miles outside of Bilbao, Gaztelugatxe feels like another world. In fact, Game of Thrones used the jagged islet as the location for the Dragonstone castle. For a Khaleesi-worthy experience, climb the 241-step staircase 80 meters above sea level. Once you reach the top, it's tradition to announce your arrival by ringing the bell outside of the church three times. Just be sure to go early—because of erosion due to the influx of tourists paying tribute to the Dragon Queen, only a limited number of people are allowed to make the climb each day.
Basque Country doesn't have many castles—but the ones that exist really double down on the fantasy factor. The five-story Butrón castle is complete with turrets, a dungeon, and wild plant overgrowth that hints at the aftermath of a fairytale gone sideways. Visitors are welcome, but unfortunately the property is privately owned—so snap all of your selfies outside.
If you've fallen in love with Basque, book a trip here.
For more stories like this, including celebrity news, beauty and fashion advice, savvy political commentary, and fascinating features, sign up for the Marie Claire newsletter.
RELATED STORIES
Celebrity news, beauty, fashion advice, and fascinating features, delivered straight to your inbox!