Riding a Motorcycle Through the Desert Was the Coolest Experience of My Life
Never thought you'd see yourself on a bike? It's time to change that.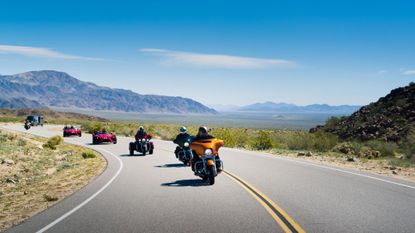 (Image credit: Courtesy EagleRider)
My first bike was a Harley. It was shiny, with classic red and black details that shone in the light. It was a breeze to drive—easy to turn, with the engine roaring every time I gave it some juice. I felt free riding it down the pavement, wind blowing past me.
I was four. My Harley was a Power Wheels toy.
I have to be honest, it was not my first choice of vehicle. I wanted a car (a pink one, preferably Barbie), but my parents were all about practicality. With its relatively cheap price tag and the fact that I would be able to ride it for a couple of years without long legs/growth spurts being an issue, it found itself underneath my Christmas tree and soon became my favorite thing. I would put on my dad's black bowling bomber (the closest thing I had to a leather jacket) and whip around the neighborhood. So, when EagleRider (opens in new tab)—the world's largest motorcycle tourism company—recently invited me on a motorcycle trip through the desert from LA to Las Vegas, I was ready. After all, I knew my way around a bike, right?
Just kidding. I don't have a motorcycle license and was not apt to get one in the few weeks I had prior to going on a 590-mile trip. Instead, I opted to ride as passenger with one of the guides, Jeff Homer, and get the experience as best I could. The company, which just celebrated its 25th year, started out as a rental company for badass bikes. And now, it offers amazing tours that are either tailored for you, guided by EagleRider guides, or custom created for your group. And best believe—more and more people are taking advantage.
"We are seeing a big surge of women riders, specifically more interest by Millennials," says Chris McIntyre, CEO and co-founder of EagleRider, noting that 70 percent of their guided tours are couples. He adds that this is part of a larger trend of young women creating motorcycle communities. "The motorcycle industry now has an event called Babes Ride Out, which is rapidly growing in popularity and is all women participants on bikes traveling to a cool remote destination."
You can technically hire a guide to drive you around, but you'll have to pay an additional guide fee plus room and board—but if you don't have a motorcycle license, you can also join in via a Polaris Slingshot, a Batmobile-like vehicle, or drive in a company-owned Jeep. If you do have your license, you'll get to pick your bike from the closest showroom/starting point ahead of your departure. It's pretty great.
Driving from LA to Palm Springs to Laughlin and finally to Vegas, I realized quickly that riding as a passenger doesn't suck—you have a cushioned seat, you get to have the wind in your face without any of the responsibility—but you do have to trust the person who's driving you. And that, my friends, was easy. EagleRider takes care of all the details for you—how long you'll drive, what you'll see, and where you'll stay, so you can just focus on the road ahead. Quite literally. I immediately wanted to tell all my friends to get ready, because 1) we were getting our motorcycle licenses and 2) we were going to go on riding trips. ARE YOU READING THIS FRIENDS? A customized trip—especially with all your friends—would be an awesome bachelorette alternative or reunion or birthday getaway. Because you have your pick of transpo—bike, Slingshot, or car—you can all hit the open road and have some fun with it. (Bonus—EagleRider will also help you plan some surprises along the way, which is how I found myself on a Papillon Helicopter (opens in new tab) tour overlooking the Grand Canyon. It was unreal.)
There is nothing like riding a bike in the desert, sun shining down on you, with open spaces as far as the eye can see. I often found myself just turning my head from one side to another, trying to take it all in—the vastness is amazing. Taking turns near Oatman, Arizona on Route 66—even if you're not driving—can only be described as pure fun. If you've even entertained the idea of riding a bike—I say do it. Preferably among cacti and mountains. I promise it's worth it.
What You Need to Know to Plan Your Own On-the-Road Adventure:
1. Be Flexible: Sometimes, due to road closures or weather or other such inevitable happenings, your route may be changed or altered. Know that you're going to see amazing things, especially if you went for the customized tour—since EagleRider will basically be coordinating the logistics. That being said, also know that it's YOUR trip—so you can add in things you want to see, experience, and eat (important!) based on your likes/interests.
2. Plan Your Supplies: It's hard to capture the beauty of the great outdoors (especially while, uh, driving), so make sure the snaps you *do* get count. The LG G6 (opens in new tab) phone has a wide-angle camera on the front and the back, which makes for some pretty incredible shots. (Here, one I took while on a boat tour of the Colorado River at the Pirate Cove Resort and Marina (opens in new tab). ARE. YOU. SEEING. THIS?)
3. Pack Wisely: Especially if you're driving, you'll need the correct gear. Helmets are a must, and gloves and long-sleeves are encouraged. (Think of them as layers of protection. What's the first thing you put out to stop yourself? Your hands…) A welcome pack with all this information will be sent to you, so no worries there.
4. Don't Stress: This was one of the most freeing trips—and is a definite bucket list item. If you ever wanted to do it, now's the time (opens in new tab).
We're nominated for a Webby Award—but we need your vote to win! Vote for the Women and Guns project here. (opens in new tab)
Samantha Leal is the Deputy Editor at Well+Good, where she spends most of her day thinking of new ideas across platforms, bringing on new writers, overseeing the day-to-day of the website, and working with the awesome team to produce the best stories and packages. Before W+G, she was the Senior Web Editor for Marie Claire and the Deputy Editor for Latina.com, with bylines all over the internet. Graduating from the Medill School of Journalism at Northwestern University with a minor in African history, she's written everything from travel guides to political op-eds to wine explainers (currently enrolled in the WSET program) to celebrity profiles. Find her online pretty much everywhere @samanthajoleal.