United Turned a Woman's 7-Hour Flight into a 28-Hour Fiasco
The airline accidentally sent her to San Francisco instead of Paris.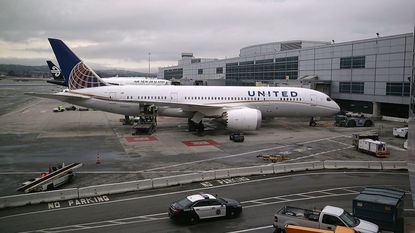 (Image credit: Getty Images)
Looks like United can't catch a break. Over the course of the past month, Simon the Giant Rabbit died on a flight from London to Chicago, a passenger was forcibly removed from his flight, a bride and groom were kicked off a flight to their wedding, and a scorpion stung a passenger on another flight.
Now they have another PR nightmare to handle. Recently, United passenger Lucie Bahetoukilae—who only speaks French—ended up flying 3,000 in the wrong direction after being accidentally allowed onto a flight from Newark to San Francisco, even though she was supposed to fly to Paris.
Bahetoukilae says she didn't realize United made a last-minute gate change for her flight because they didn't make the announcement in French and never notified her via email about the change.
RELATED STORY
Simon the Giant Rabbit Dies Mysteriously on United Flight
"If they would have made the announcement in French, she would she have moved gates," Bahetoukilae's niece, Diane Miantsoko, who translated her conversation with ABC's 7 On Your Side said. "Of course, because she speaks French she would've moved to another gate."
That's where Bahetoukilae's seven hour journey turned into a 28-hour nightmare. Even though Bahetoukilae's boarding pass said "Newark to Charles de Gaulle," a United representative scanned it and let her board the flight to SFO, which was now flying out of her original gate.
When Bahetoukilae got to her seat, 22C, someone was already sitting there. At that point Bahetoukilae says a flight attendant looked at her boarding pass and sat her somewhere else on the plane that took her 3,000 miles in the wrong direction.
Once she arrive in San Francisco, Bahetoukilae had to wait 11 hours for the next flight back to France.
RELATED STORY
You Can Now Pocket $10k for Being Kicked Off a United Flight
While United has settled the incident in a confidential lawsuit, Bahetoukilae's family is more concerned about the major security lapse the airline allowed.
"With everything going on this country people have to be more careful," Miantsoko told 7 On Your Side. "They didn't pay attention. My aunt could have been anyone. She could have been a terrorist and killed people on that flight, and they didn't know they didn't catch it."
United has already admitted fault in the incident, calling it "a horrible failure," according to 7 On Your Side. The airline also refunded Bahetoukilae for her flight and gave her a voucher for another flight to make up for the mishap.
Follow Marie Claire on Facebook for the latest celeb news, beauty tips, fascinating reads, livestream video, and more.
Lyndsey Matthews is the Destination News Editor for AFAR; previously she was a Lifestyle Editor across all of Hearst Digital Media's brands, and a digital editor at Martha Stewart Weddings and Travel + Leisure.