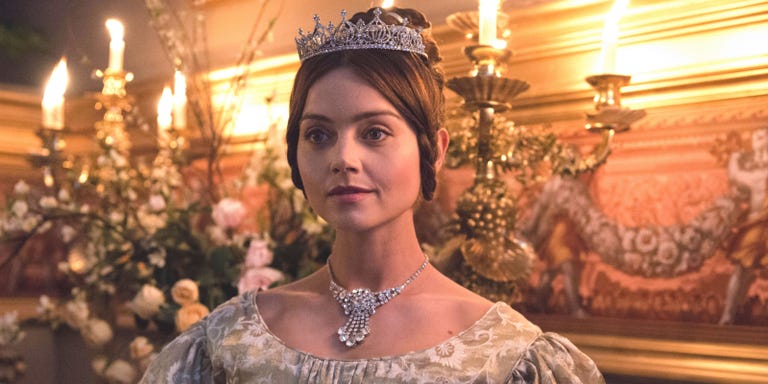 Downton proved the world wrong, but just in case you thought PBS Masterpiece's Victoria would be a snoozy history lesson, you'd have another (and another) think coming. Following the two-hour premiere Sunday, five reasons to get unreasonably excited for the series' breathtaking visuals, from the costumes to the interiors to the manners.
1
The Sartorial Timeliness
All those puff sleeves and lush fabrics would be an eye-swoon whenever, but at this particular moment, it is some weird collision of the past and present, indicating the presence of that weird synergy they're always going on about in metaphysical-type books. For example, pictured left is our heroine; right is Simone Rocha Spring 2017. Similarly, eerily noteworthy: that wicked adapted military jacket (#feminism) and how practically everything is off-the-freaking-shoulder, even in mourning.
The technical term for Queen V's signature hairstyle would be "pendant braids," as her maid put it, but I like "hair loopies." Notice how, in a continuation of that strange old-new crossover thing we discussed earlier, on Instagram Discover, it's all about the ear, whether with piercings or tucking so that it peekaboos from the hair? THIS IS THAT BUT OLD.
We imagine these are replicas of the genuine articles with extremely extravagant names. But all you need to know is that they're sparkly and abundant and that you will want to steal every drop earring that gets a split second of screen time.
You get to see a CGI-ish Buckingham Palace when it was still being referred to as "Buckingham House." You also get Kensington Palace, loads of nice landscaping, and even more scenic carriage rides. And the cake-frosting insides of buildings—delicious.
This goes more toward the taste part of aesthetics, as in the courtly manners (but also telling your mom's creepy boyfriend to back off), being bound by duty to one's country to not act on one's OBVIOUS CHEMISTRY with one's prime minister, and just generally growing into one's preternatural regality when one is a teenage girl who can't hold her Champagne (been there). Today's young people would do well to watch for guidance on having honor and backbone. Or just to see where this Lord Melbourne thing goes.