Makeup How-To: Golden Wing Eyeliner
It's magical, people.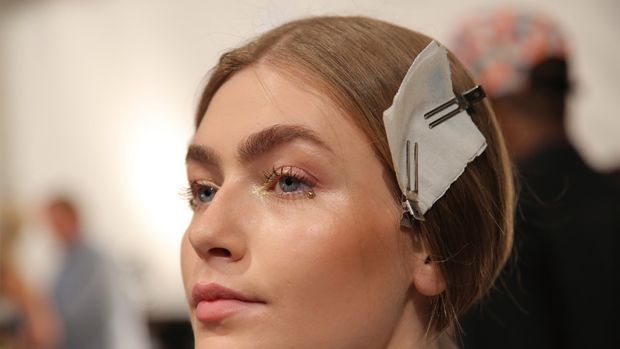 (Image credit: Kathryn Wirsing/Stephanie Stanley)
Inspired by the gold droplets we saw on the eyes of models backstage before the Zimmermann 2015 runway show, we loved the idea of a metallic shadow to make the eyes pop and appear more youthful, no matter the season. What we ended up with was a delightful winged look that is as wearable to the office as it is in the Seven Kingdoms.
Start with your regular concealer and foundation application.
Step 1. Apply a medium brown eyeshadow (we like NYX Matte Warm Brown Shadow in Coquette) all over the lid with a proper eyeshadow brush (we used Bobbi Brown Eyshadow Brush).
Step 2. Use the same shadow underneath the lash line with the same brush.
Step 3. Wet the brush (very important) first to pick up more pigment. We used a Evian spritz bottle (2 sprays) and MAC Amber Lights Eyeshadowon inner corner's and extend to center of lid and under eye using an angled eyeshadow brush.
Step 4 and 5. Starting from center of lid and moving outward, apply a shimmery beige shadow outward on the lid and under the eye.
Step 6. Wet a stiff, angled brush (we used Anastasia Beverly Hills Mini Duo Angled Spooley/7 Brush) and draw a wing with M.A.C. Eyeshadow in Amber Lights in one swoop from outter corner of eye toward the temple.
Step 7. Finally, line your top lash line with black gel eyeliner (we used Bobbi Brown Long-Wear Eyeliner) and a thin eyeliner brush, like M.A.C. #209 Eyeliner Brush.
Step 8. Finish your look with a neutral lip (try Buxom Lip Cream in White Russian) and a coral cheek (try Stila Custom Coral Blush).
More Makeup Tutorials:


How to Create a Perfect Black Winged Eye

Tutorial: Grey, Shimmery Steel Eye Makeup

Create a Nude Smoky Eye Perfect for Work

Fall Favorite: Deep Purple Eyeliner Tutorial
Photos by Kathryn Wirsing/Stephanie Stanley