Exactly How to Treat Melasma, According to Dermatologists
Also known as: How to fade the dark pigmentation on your face once and for all.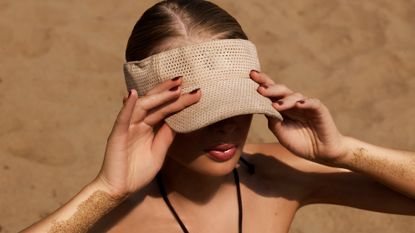 (Image credit: Getty)
Marie Claire Newsletter
Celebrity news, beauty, fashion advice, and fascinating features, delivered straight to your inbox!
Thank you for signing up to Marie Claire. You will receive a verification email shortly.
There was a problem. Please refresh the page and try again.
Skin fluctuates. Sometimes you'll get a zit, occasionally you're going to look a little duller, maybe your under-eye circles will be a hint darker—it's normal. But, if you notice dark spots or stretches of gray-brown pigmentation, which is commonly referred to as melasma, that seem to hang around longer than normal, you don't have to just sit and wait it out. Sure, it may go away on its own, but there are a few products, habits, and preventative measures you can take to bring back a more even skin tone.
"[Melasma] is something that can come and go," says board-certified dermatologist Dr. Marisa Garshick. "But, many people do find that it gets particularly worse during times of increased estrogen exposure, such as pregnancy, or with sun exposure." There's not a hard and fast "cure" to banish melasma altogether, but diligent SPF application (all day, every day), the right topical regimen, and the guidance of a great derm can help your melasma from flaring.
To get the full breakdown on exactly what melasma is, how to identify it, and how to treat melasma, keep reading. Four top dermatologists are breaking down everything you need to know.
What Is Melasma?
Let me be abundantly clear: Melasma is a skin condition—but it is by no means dangerous. "Melasma is a condition where localized pigmentation of the skin occurs, usually seen as gray–brown patches of discoloration," says board-certified dermatologist Dr. Robyn Gmyrek. While there are a few factors that play into predisposition (more on that below) melasma is directly correlated to sunlight exposure and hormones. "Melasma comes after UV radiation hits the skin and causes production of a hormone called melanocyte stimulating hormone and corticotropin, which causes an increase in melanin, or pigment," explains board-certified dermatologist Dr. Morgan Rabach.
What Causes Melasma?
The cause of melasma is unknown, but via years of patient observation, doctors have been able to identify a handful of common denominators.
Hormonal Fluctuations
You'll commonly hear melasma referred to as the "mask of pregnancy" because it's largely triggered by female hormonal fluctuations. "Hormones, specifically estrogen and progesterone, play a significant role," says Dr. Gmyrek. "This is evident from the fact that melasma often occurs or worsens during pregnancy (known as chloasma) or while taking hormone replacement therapy or birth control pills."
Genetics
Family history plays a significant role—so if your mom or sister dealt with melasma, you're more likely to be prone to flares. Race and skin tone also plays a role, as melasma is "more common in individuals with darker skin, including those of Hispanic and Asian descent," according to Dr. Garshick. That in mind, melasma can occur regardless of your skin tone or race.
Sun Exposure
"Unfortunately, as with a lot of dermatologic conditions, the true root cause evades us, but we also know that heat and UV light are the two most common things that exacerbate the condition," explains board-certified dermatologist Dr. Robert Finney. UV exposure, even when using sun protection or inside, can prompt melasma or worsen existing pigmentation.
What Does Melasma Look Like?
"It most often presents symmetrically, on the forehead, cheeks, bridge of nose, upper lip and occasionally on the neck, chest and forearms," says Dr. Gmyrek, noting that it only appears in areas that are exposed to the sun. As for color? It will likely present as a brownish-gray. "Although darker skin tones may camouflage the discoloration better, the appearance is the same across skin types and no less distressing," adds Dr. Finney.
How to Treat Melasma
Here's the deal: We're here to set realistic expectations. "Melasma is treatable but not curable," notes Dr. Finney. "I tell all my patients that no matter how diligent they are with their skincare routine and sun protection, melasma will find a way to flare at times." That doesn't mean you're doing something wrong—flares are just part of the chronic condition. There are a handful of ways to prevent flares, reduce their severity, and in certain cases, reduce the appearance of the pigment. Want to know what they are? Keep scrolling.
Wear Sunscreen—All the Time
The single most important step you can take to prevent melasma is to be *extremely* diligent with sun protection. In the case of melasma, UV is the enemy. Stay out of the sun as much as possible, wear wide-brimmed sun hats, seek shade, and never forget to reapply sunscreen. "Sunlight includes ultraviolet A, ultraviolet B, and visible light such as blue light, which comes from computer screens, iPads, and telephone screens," says Dr. Gmyrek. To assure protection from all three types of light, look for a "broad spectrum" option that has an SPF of 30 or higher and iron oxide as a primary ingredient.
Try Over-the-Counter Skincare
Sunscreen is the MVP when it comes to melasma prevention, but there are a handful of products available over-the-counter that can be beneficial. "Key ingredients used for lightening include retinoids, azelaic acid, tranexamic acid, glycolic acid, kojic acid, cysteamine, and licorice root extract, many of which inhibit tyrosinase, a key enzyme in the production of melanin," explains Dr. Garshick.
Then there's hydroquinone—a well-known, very popular, and highly controversial agent that's available in lower concentrations over the counter. "It suppresses melanin synthesis and has been used in the treatment of melasma for many years, she explains. "While it's an effective treatment it should always be done under the direction and supervision of a board-certified dermatologist." There is an increased risk for ochronosis, which is a blue-black discoloration, or paradoxical darkening.
The trick here is that many of the aforementioned ingredients aren't pregnancy safe—a sizable dilemma considering melasma flares during pregnancy. At certain concentrations, however, glycolic acid and azelaic acid are a-okay. As always, make sure to consult with your board-certified dermatologist and OBGYN.
Avoid Unnecessarily Harsh Ingredients
While some melasma treatments (like glycolic acid) can be harsh on the skin, it's best to avoid unnecessary harsh active ingredients. "If they aren't intended to treat the melasma, they may cause additional irritation and trigger worsening hyperpigmentation," says Dr. Garshick. "It is best to avoid applying too many products, unless under the direction of your dermatologist, given increased sensitivity can lead to worsening pigmentation."
Seek Out Prescription Medications
If you head to your dermatologist for treatment, their first suggestion is *likely* going to be a topical cream, the most popular of which is called TriLuma. "It combines four percent hydroquinone with a retinoid and a steroid cream," explains Dr. Houshmand. "Strong hydroquinone creams should always be used under supervision of a medical professional because if they are used for long periods, they can actually worsen pigmentation on the skin." Most doctors will have a cutoff period of eight to 16 weeks.
There is also an oral version of tranexamic acid (the ingredient can be found over the counter). "Traditionally it's been used for those with increased uterine bleeding to help with clotting," explains Dr. Garshick. However, when used off-label, it's been shown to be helpful in the treatment of melasma. "The dosing is typically less than that used for uterine bleeding and is generally used for a few months at a time." It should, however, be avoided in people with the tendency to clot.
Consider In-Office Treatments
The best treatment will be decided by your doctor, but there are a handful of in-office treatments that might be useful. Microneedling, platelet-rich plasma, and low-strength chemical peels are helpful for some, while lasers can be useful for others. The latter, however, should be exercised with caution. "Patients with melasma need to know that laser light and the heat caused by energy-based treatments can often flare melasma," says Dr. Finney. "Low energy, low density fractionated lasers that target pigment can help address the discoloration in a safe and quick manner, and can be a great way to get rid of pigment quickly." That in mind, make sure you seek out a dermatologist focused on lasers and aesthetics. (Editor's note: Because of the chronic, and often recurring, nature of melasma, the results gained from these treatments are not necessarily permanent.)
Try a Supplement
"Supplements have not been proven to effectively treat melasma," notes Dr. Gmyrek. There are no studies or FDA claims that support their success. However, "certain vitamins and antioxidants can contribute to overall skin health." One commonly used option is called Heliocare. According to Dr. Garshick, "it may offer additional protection from the sun, but it should not be used to replace sunscreen or traditional sunscreen methods."
Meet the Dermatologists
Marisa Garshick, MD, FAAD is a leading board-certified dermatologist serving patients throughout Manhattan, New York at MDCS Dermatology: Medical Dermatology & Cosmetic Surgery, as well as an assistant clinical professor of dermatology at Cornell - New York Presbyterian Medical Center. Dr. Garshick provides a wide variety of cosmetic and medical procedures and services including treatments for acne, eczema, hyperhidrosis, moles, psoriasis, rosacea, signs of aging, skin cancer, skin tags, vitiligo, and wrinkles.
She completed her undergraduate education at Emory University and attended medical school at Tufts University School of Medicine, where she graduated with Research Honors and Alpha Omega Alpha. As a medical student, Dr. Garshick was awarded the prestigious Doris Duke Clinical Research Fellowship at Harvard Medical School, during which she performed dermatology clinical trials and research at Massachusetts General Hospital. She was also awarded the American Medical Women's Association Glasgow-Rubin Academic Achievement Award for graduating in the top of her class and the William Dameshek Award for Research Excellence. Dr. Garshick's post-graduate training in dermatology began with an internship at Memorial Sloan Kettering Cancer Center. She completed her dermatology residency at Cornell's New York Presbyterian Hospital, where she served as Chief Resident in Dermatology.
Dr. Morgan Rabach is a board-certified Dermatologist and media expert with hundreds of opinion articles on skincare and the use of injectable cosmetic procedures. Dr. Morgan is known for her expertise in cutting edge techniques for Botox and Fillers and the savy use of skin products. Additionally, she deeply enjoys helping people eliminate acne scarring. Dr. Morgan is ranked "#1 dermatologist" in NYC by RateMDs, featured as a "Superdoctors" in NYTimes Magazine for the last five years, granted "TopDoctor" designation by Real Self and is an advisor for Gerson Lehrman Group and Guidepoint Global.
In addition to her private practice, she is a Clinical Assistant professor of Dermatology at The Icahn School of Medicine at Mount Sinai Hospital. She graduated from Brown University with Honors in Biology, earned her medical degree from New York University School of Medicine, and completed her medical internship at Yale New Haven Hospital and her dermatology residency at SUNY Downstate Medical Center where she served as chief resident.
Dr. Robyn Gmyrek is a Board Certified dermatologist that has received national recognition for her contributions to cosmetic dermatology, including Castle and Connolly America's Top Doctors, New York Magazine's 2013-2020 Best Doctors, and inclusion in the 2013-2020 lists of Super Doctors. Before joining UnionDerm Dr. Gmyrek was on the faculty of Columbia University Medical Center where she was Division Chief of Cosmetic Dermatology and founded Columbia University's Cosmetic Skin and Laser Center. At Columbia, Dr. Gmyrek also was the Director of the Resident Cosmetic Clinic, instructing the resident physicians in cosmetic procedures, and was in charge of the Fourth Year Medical Student Electives in Dermatology. Dr. Gmyrek received her Bachelor's degree from New York University where she graduated Phi Beta Kappa and Magna Cum Laude. She went on to complete her medical school education at Columbia University, College of Physicians and Surgeons. After graduation, she finished an internal medicine internship at Cornell University – New York Hospital. Dr Gmyrek then returned to Columbia's College of Physicians and Surgeons where she completed her dermatology residency training, served as Chief Resident in Dermatology, and in 2000 joined the full time faculty of the Department of Dermatology. Dr. Gmyrek specializes in cosmetic and general dermatology. She has lectured nationally on techniques including laser surgery, Botox injections, sclerotherapy for leg vein removal and filler injections for correction of wrinkles. Dr. Gmyrek combines her dermatologic medical knowledge and compassionate nature to provide comprehensive treatments to patients. Moreover, she is a frequent contributor to national skin care and beauty media, including: Allure, SELF, The Coveteur, Health, and Oprah.com. Dr. Gmyrek is a Diplomate of the American Board of Dermatology and an active member of the American Academy of Dermatology, the American Society of Dermatologic Surgery, the Women's Dermatologic Society, the New York Dermatologic Society and the American Society for Laser Medicine and Surgery.
Originally from Pittsburgh, PA, Dr. Finney completed his undergraduate and medical degrees at Pennsylvania State University. He completed his internship and dermatology residency at Thomas Jefferson University Hospital in Philadelphia, PA where he served as chief resident during his final year. He also performed a postdoctoral research fellowship in eczema and allergic contact dermatitis at Rockefeller University in addition to an advanced fellowship in aesthetics, hair restoration, and skin surgery with renowned hair surgeon Dr. Marc Avram in New York. Dr. Finney is a clinical assistant professor at New York University Langone and teaches future dermatologists at Bellevue Hospital. Dr. Finney is an expert in medical, surgical, and cosmetic dermatology and is regularly asked to contribute to various media outlets, including Men's Health, Men's Journal, Esquire, and Women's Health. He does not approach aesthetics from a cookie-cutter approach, rather he works closely with each patient to design a customized treatment regimen to achieve his or her desired aesthetic outcomes that appear natural and refreshed, never over-done.
Celebrity news, beauty, fashion advice, and fascinating features, delivered straight to your inbox!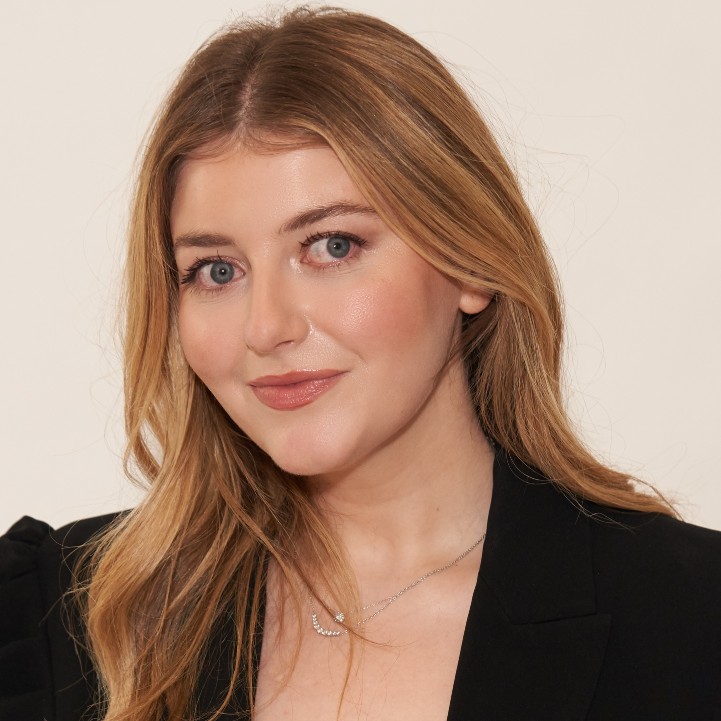 Samantha Holender is the Beauty Editor at Marie Claire, where she reports on the best new launches, dives into the science behind skincare, and keeps up with the latest trends in the beauty space. She has previously written for Us Weekly, Popsugar, Makeup.com, Skincare.com, and Philadelphia Wedding. Follow her on Instagram @samholender.