How to Get the Best Eyebrows for Your Face
A no-fail approach to finding your natural arch.
Though Cara Delevingne is certainly the reigning eyebrow queen du jour, the truth is that her power arches are simply not one-size-fits-all—while it's obviously a natural look for the supermodel, the bold style doesn't work for all faces. Fortunately, the beauty trend of late has been moving away from this indiscriminate thick brows edict in favor of the virgin brow—that is, embracing and playing up the arches we were born with. The problem? Through years of tweezing, waxing, and shaping our eyebrows, it's hard to know what our natural arches actually look like.
This is exactly the problem eyebrow guru Kristie Streicher is known for solving. "I believe everyone looks best with what they are naturally given, whether it's full and thick brows, or smaller brows, which are often associated with fine and delicate facial features," she says. Streicher's signature "feathered" brow—a natural, soft, tapered look meant to mimic our god-given arches—has earned her a cult following of editors, models, and celebrities alike. And to achieve this, she famously puts her clients through brow rehab: A tough-love program of no hair removal whatsoever for at least eight weeks.
But we learned firsthand that the wait is well worth it. We asked Streicher to lay out her secrets to growing out and shaping our ideal arches—using our own newly rehabilitated brows to illustrate.
Jog your memory

The easiest way to recall what your natural brows look like? Look back on your pre-tweezing days. "I will sometimes have clients find a picture of themselves as an adolescent to see what the growth potential can be, and work from there," says Streicher.
Grow, baby, grow
It's time to join brow rehab: Which means NO hair removal whatsoever for at least eight weeks—up to a full year. (Zilch, nothing, nada.) "By the eighth week, I can begin to see the natural eyebrow line," explains Streicher. "But it may take up to 12 months for EVERY hair on the brow area to finally fill in and for brows to reach their potential." Fortunately, growth serums can do wonders to help speed things along, though they sadly can't help everyone.
"Although it does work well on most people, it's difficult to promise the same results for everyone," she says. "Prolonged and repetitive over-tweezing can traumatize the hair follicles, causing them to be dormant and may weaken their ability to regrow." If you opt to try a serum, Streicher advises, choose one with a high concentration of Prostaglandin, the active growth ingredient. Apply serums diligently every night for at least six weeks to see real results.

Kristie recommends: GrandeBROW Growth Serum, $80; grandelashmd.com
Start with a tint to really see what you're working with
Tinting is a game changer, even for those of us who are naturally dark-haired—oftentimes, our brows look sparse, but the hair is actually just a tad lighter in some places. "It's a natural way to enhance what hair you have, as well as richen and define your brows," says Streicher. "Even adding the same level of color can help fill in any sparse areas and give the illusion of a fuller brow." Since your eye area is so sensitive, choose a salon that uses vegetable-based dyes—or pick a natural tint of your own if you're trying this at home.
Tweeze the strays—conservatively
Start plucking hairs that fall outside the natural line of your arch. Streicher's longtime assistant, William Scott, offers a handy way to visualize things: "The best way to look at your brow is as if it's built in horizontal rows," he says. "As you're shaping, don't move up or down a 'row' (whether you're tweezing from the top or bottom of the brow) until you've paused to look at the big picture and how much you've taken away already."
Streicher adds that it's essential to err on the side of cautious. "With each tweezing it's important to maintain a rather large 'buffer' between what you're tweezing and your growing eyebrow shape," she says. "It is also very helpful to fill in your ideal eyebrow shape with pencil or powder first. Be sure to extend ends all the way across the brow bone when filling in—the ends are most important. This will give you a more clear idea of what should be tweezed and what should be left alone."
(And please don't wax. Ever.)
"I only tweeze," says Streicher. "The eyebrow deserves the detail-oriented and precise approach of tweezing. Waxing can create a very clean and distinct hair-to-no hair line of contrast, and in my humble opinion, this can look contrived and quite dated. Tweezing allows the brows to be a bit more feathered looking, leaving a soft line."
And a more natural look is far from the only reason to avoid wax altogether. "In addition, waxing can sometimes break the hair at the skin line instead of pulling it out from the follicle," she continues. "It can be irritating and damaging on the delicate eye skin, and over time, waxing can cause the breakdown of elasticity causing the skin to prematurely sag." It also makes the skin more prone to skin damage. Who knew?
Choose the right pencil or powder
You've made it this far, so be sure not to sabotage your new know-how by selecting the wrong hue for your coloring. (It's a common mistake!) "Powder works best on oily skin and pencil on more mature or drier skin," Streicher advises. "Choose a shade that is the same as your eyebrow hair color, not the hair on your head, as sometimes it is a different shade. If you have red hair, use a warm blonde. If you're blonde, use a taupe or soft, ash brown. Brunettes should use a medium brown and grey or silver foxes should use an ash brown or taupe."

Kristie recommends: Surratt Expressioniste Brow Pencil, $24; barneys.com
Fill in sparse areas with the pencil or powder, paying special attention to the tails
"Using short feather strokes, shade just above and just below the brow line (or where you have spare areas of hair)," instructs Streicher. "Then use a brush to blend, in order to create a fuller and thicker looking brow." Really focus on thickening up the ends—the key to a virgin brow, since the tails are usually where we remove too much hair throughout the years.
Set everything with a gel.
"Think of it as the mascara of the eyebrow," says Streicher. "Gel not only adds color, but also thickness and fullness to the brow hair. I also like the hold that brow gel offers, so be sure you brush this product into the brow correctly: Start with brushing the hairs upwards at the start of the brow, closest to the nose. Then brush them to the side in the middle portion of the brow, as this covers any holes or sparse areas—think of it as a brow comb-over. Finally, brush the ends up and out. I like to use the tinted brow gel with a spoolie type brush. It offers a more even distribution and coverage and allows for better hair shaping."

Kristie recommends: Blinc Eyebrow Mousse, $24; blincinc.com
Visit Kristie Streicher at her brand new beauty destination Striiike, in Los Angeles, or her longstanding pop-up space at Warren-Tricomi in NYC.
You should also check out:
25 Stunning Photos of Cara Delevingne
Arch de Triomphe: Eyebrow Therapy
Marie Claire email subscribers get intel on fashion and beauty trends, hot-off-the-press celebrity news, and more. Sign up here.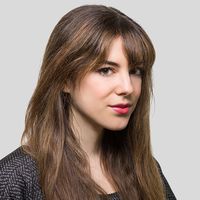 Victoria Hoff is the associate editor at ELLE.com, covering everything from fashion to beauty to wellness. She first joined the team as the editorial assistant in 2013. When she isn't working, she spends her days in Brooklyn eating (vegan) tacos, yoga-ing, and curating her collections of healing crystals and mom jeans.