Meet the Winners of Our 2018 Image Makers Awards
AKA the stars (behind the stars) of the red carpet.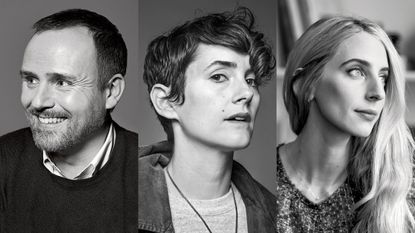 (Image credit: Courtesy)
Celebrities may be front and center when major fashion moments happen, but if you want to know who's responsible for those trendsetting looks, go behind the scenes. That's where you'll find the real influencers: makeup artists, hair gurus, and stylists. Pay attention all year long (or allow us—because it's our job), and you'll notice the same people again and again. These are Marie Claire's Image Makers. Learn their names, follow their careers, and copy their handiwork—if you haven't already.
Philips' Career spans decades and includes collaborations with fashion royalty like Raf Simons and Steven Klein. As creative and image director of Christian Dior Makeup, the Belgian makeup artist develops products you'll find in the red-carpet evening clutches of Hollywood's biggest stars (Dior Addict Lacquer Stick, anyone?) and creates statement-making looks for the house's beauty muse, Bella Hadid.
CAREER BEGINNINGS: "At first,I wanted to be a designer. After studying at the Royal Academy of Fine Arts Antwerp, I discovered all the moving parts of fashion showsin the late '80s: the music, the catwalk, the models, and the beauty. Seeing the hair and makeup teams work backstage, I realized I wanted to be a makeup artist and helpshape a creative vision apart from the clothing. My whole inner circle was composed of talented young designers I graduated with, so we collaborated with one another. In Belgium, we did things underground with no budget. I was doing hair, makeup, nails, the whole thing. It was very low-key back then."
ICONIC MOMENT: "Painting Mickey Mouse on a male model's face in the mid-'90s really put my nameon the map. Makeup on men wasn't done at that time, and men's fashion was in the process of a transformation. The photo was used for issue zero ofV Magazine, and it created major buzz around my work."
CREATIVE DIRECTION: "It's important to listen and act like a sponge when developing products. When I'm creating cosmetics, I'm reacting to the wants of women everywhere. Social media comes with the job today, and I use it to observe and receive feedback. My eyes and ears stay open in order to interpret and translate my vision so that these products really perform."
WISE WORDS: "These days, everyone wants to get there really fast, but talent is something that you develop. What we do is a craft, and we must learn from our own mistakes. If you rush, you'll become a one-trick- pony kind of artist. For long-term success, you must put your ambitions on a shelf and take the time to ripen and let your abilities evolve."
Normant is no stranger to molding the signature looks of the A-list. His updos and soft waves can be seen on the likes of loyal clients including Sarah Jessica Parker, Julia Roberts, Julianne Moore, and Blake Lively. Today, he can be found at the Serge Normant at John Frieda salons in NYC. His first cut, however, took place at home in France under less stylish circumstances.
EARLY START: "I grew up in the '60s and early '70s, when women's hair was a little more 'done,' and I was fascinated by the artistry. My mother courageously allowed me to do my very first cut on her when I was 13, with scissors she used for trimming clothes; I modeled it after Grace Coddington's round shape, a look made popular by Vidal Sassoon. It was the worst thing I've ever done, but a beautiful memory."
BIG BREAK: "In the fashion world, it was when I was booked with photographer Steven Meisel for Italian Vogue and a Dolce & Gabbana campaign. People took notice—when your name is on the same page as someone as huge as Steven, everyone becomes interested."
MAJOR MOVES: "I cut Sarah Jessica Parker's hair short for season five of Sex and the City, and I've given Julia Roberts very contemporary, short chops that were ahead of their time for certain films. When you're leaving your mark, the client has to be comfortable enough to trust you with that big of a transformation."
SECRET WEAPONS: "On shoots, I always have my security blankets. One is a 'wind machine,' which is actually a leaf blower. Many hairstylists carry them; it creates waves without a huge device. Aside from that, I carry extensions and wigs. Always be prepared for the unexpected."
WORDS OF WISDOM: "I've been given a lot of advice; some has worked, some has not. But my only suggestions? Be reliable, and be humble. You'll always hear, 'Pay your dues.' And 10 years later, you'll still wonder, Have my dues been paid yet? Patience and learning from others are what matter."
Goodwin knows the importance of creating timeless looks. After all, some of last year's most memorable red-carpet moments were her handiwork: Think Emma Stone's Old Hollywood glam for her Best Actress Oscar win or Millie Bobby Brown's subtle smoky eye at the MTV Video Music Awards. Presently the Nars director of pro artistry and red carpet for North America, the makeup guru has come a long way from her quirky first gigs.
BEAUTY BEGINNINGS: "There weren't prevalent beauty schools in the Bay Area growing up, but I took courses with the head of the San Francisco Opera's makeup department and fell in love with the art of stage makeup. I made fake cadavers for an independent movie as my first job, and I did late-night fashion shows at drag and S&M clubs. I found my happy place in the glitter pot."
CAREER EVOLUTION: "To build my book, I freelanced and did edgy editorial-style photo shoots at friends' apartments on my lunch breaks. In New York, I was one of five artists chosen to open the professionals-only MAC Cosmetics store on Fifth Avenue. Luminaries I admired immensely, like Kevyn Aucoin, would come in and connect with each other, talk about their favorite products, and even collaborate with us—once, we created custom colors and textures for one of Pat McGrath's shows with Versace."
SECRET WEAPONS: "Nars concealer, Chanel mascara, and RMS luminizer are my everyday obses- sions. And I can't live without tinted lip balm—I've used Burt's Bees
in Red Dahlia on my clients and myself for years."
ON THE JOB: "My joy is connecting clients to their strength, power, and playfulness through beauty. Working one creative woman to another, we're able to find a common thread to create this vision of who she is and what she's setting out to do with her look that day."
WISE WORDS: "Laura Mercier once told me, 'Don't forget to create a life.' It's easy to get caught up in the current of success when you're in demand. But one day, the current will drop you off somewhere, and you'll want to have a rich existence outside your career when it does."
Roszak is known for her signature cool-girl styles that skew both edgy and effortless, as exhibited by actresses Brie Larson, Cara Delevingne, and Lily Collins. As the owner of Mare salon in her hometown of Los Angeles, the hairstylist practices a craft she took up at just 15: "It was the first time I'd ever felt connected to something in my life," she says.
ARTISTIC INFLUENCE: "My mom was a sculptor, so I was surrounded by art and creativity in an open environment, and when I started experimenting with hair as a teenager, she became my champion for doing what I loved. I was the youngest student in my class in beauty school, and that's when it dawned on me that I could make a career and a life for myself by doing hair."
CAREER BEGINNINGS: "Right after graduation, a family friend asked if I could give Sarah Michelle Gellar a blowout...I didn't even have a driver's license. I worked with Sarah for many years after that. I was lucky enough to meet Halle Berry, and she became a strong voice for me in the industry. She demanded that I, this unknown, be allowed to come do shoots with her. I didn't even have a book at the time! Assisting at Chris McMillan's salon made me realize it was possible to work both freelance and in the salon."
[pullquote align='center']"True grace under pressure coupled with adaptability and raw natural talent is why Mara is so successful." —Emma Stone[/pullquote]
SECRET WEAPONS: "I absolutely love my Dyson dryer, and this dollar-store gel called Gorilla Snot. It's awesome for tackling flyaways and stubborn hairs that won't behave. Texture spray and Leonor Greyl's Eclat Naturel Styling Cream are staples in my kit, too."
WISE WORDS: "Be true to who you are as an artist. I've always come from a place
of inclusivity, and while this business can feel competitive, it doesn't have to be. If you're dedicated to your own art, it's easier to avoid getting caught up in everything else."
Never underestimate the power of fashion. A season of statement-making, perfectly accessorized (not to mention widely photographed) ensembles can transform an up-and-coming talent into a major star. Just ask Tracee Ellis Ross, Olivia Wilde, Ruth Negga, and Karlie Kloss, who all work with L.A.-based stylist Welch. Lucky for them, she remains as eager and excited about her job as the day she arrived in Hollywood: "I don't know that I've ever had the thought I've made it. I'm going to keep 'making it' until the day I die."
ARTISTIC INFLUENCE: "I was a maître d' at a restaurant, and my manager pushed me to demand excellence of myself and develop a thick skin. Then I married a photographer and started collaborating with him on music-industry shoots. All my major influences are iconic people who have touched my life in a personal way."
ON SET: "On one of my first shoots with Olivia Wilde, I put her in a cute little Band of Outsiders suit, and she was sitting on an apple crate on the beach. It was beautiful. Since then, we've had a wonderfully long relationship. I love the shorthand communication and intuitive freedom that comes with dressing someone over a long period of time—I could send her a dress at any given moment, and 9.5 times out of 10, it'd be the perfect choice."
SECRET WEAPON: "Perspective. If a total crisis happens at an event, you just have to take a deep breath. If there's a major outfit problem, our team can surround someone and get her off-carpet without anyone seeing. I've driven faster than I've even driven in my life to deliver a backup dress to a client, and we did a quick change in the bathroom. Always, always have a backup."
WISE WORDS: "I'm old-school: Assist someone, learn from them, and take the reputation that you built being part of their team onward. You're there to serve your employer, and I mean that in an artful way. Some young people think they can assist someone for six months, then go out and do it on their own, but they miss out on the learning experience. And maybe they'll do fine, but are they going to have longevity? Probably not."
Image credits: PHILIPS, Clockwise from left: COURTESY OF PETER PHILIPS, JUN SATO/WIREIMAGE, COURTESY OF PETER PHILIPS, JASON LLOYD/EVANS, RICHARD BURBRIDGE. NORMANT, Clockwise from left: JIM SPELLMAN/WIREIMAGE, COURTESY OF SERGE NORMANT (4). Goodwin, Clockwise from left: KATE JONES, COURTESY OF RACHEL GOODWIN (2), FRAZER HARRISON/GETTY IMAGES, AXELLE/BAUER/GRIFFIN/FILMMAGIC, COURTESY OF RACHEL GOODWIN. Roszak, Clockwise from left: COURTESY OF STARWORKS ARTISTS, COURTESY OF MARA ROSZAK, AXELLE/BAUER/GRIFFIN/FILMMAGIC, COURTESY OF MARA ROSZAK, BRIAN TO/REX/SHUTTERSTOCK. WELCH, Clockwise from left: STEVE GRANITZ/WIREIMAGE, ANDREW H. WALKER/VARIETY/REX/SHUTTERSTOCK, STEVE GRANITZ/WIREIMAGE, MICHAEL TRAN/FILMMAGIC, GREGG DEGUIREGETTY IMAGES, COURTESY OF KARLA WELCH (2), MATTHEW WELCH
Marie Claire email subscribers get intel on fashion and beauty trends, hot-off-the-press celebrity news, and more. Sign up here.
Taylore Glynn is the Beauty and Health Editor at Marie Claire, covering skincare, makeup, fragrance, wellness, and more. If you need her, she's probably roasting a chicken, flying solo at the movies, or drinking a bad Negroni at JFK.