This Woman Accidentally Melted Her Beautyblender After Trying a Viral Beauty Hack
"I'm deleting Twitter. I'm pissed. Wtf."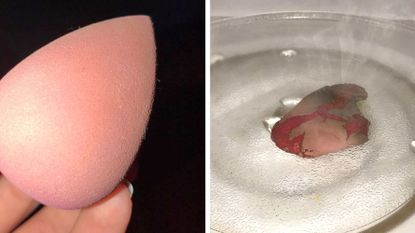 (Image credit: Twitter)
Every few months, the same OMG-worthy revelation surfaces on social media: You can clean your Beautyblender in the microwave. This viral epiphany is as constant as the sun in the sky, or rain on the day you straightened your hair—someone discovers the hack and posts about it, the internet gets excited, someone fucks it up (opens in new tab), the internet gets even more excited, and the cycle begins again (opens in new tab) six months later.
And it looks like we're officially at that six-month mark again, because Twitter was a-frenzy this morning after user @Jaycoko_ tweeted a video of herself cleaning her Beautyblender, with the caption, "LADIES I PUT MY BEAUTY BLENDERS IN THE MICROWAVE FOR 1 MINUTE AND LOOK WHAT HAPPENED."
LADIES I PUT MY BEAUTY BLENDERS IN THE MIRCOWAVE FOR 1 MINUTE AND LOOK WHAT HAPPENED 😭😭😭😭♥️♥️♥️ pic.twitter.com/iT0448MctqMarch 27, 2018
See more
The video, which has been re-Tweeted 28,000 times since yesterday, shows @Jaycoko_ microwaving her dirty Beautyblenders in a cup of soapy water for one minute, then showing off their clean, brand-new state afterward. "I actually cannot believe this," she says in the video.
Naturally, the Twitter world freaked out. "Just tried it; it works…thank youu," wrote one user, while other users showed photographic evidence of their successes, writing "Oh my god," and "Honestly, I'm shook."
Just tried it; it works.. thank youu 😭✨✨✨ https://t.co/lXQQoz0FDOMarch 27, 2018
See more
Honestly I'm shook 🧡✨💜 it works! pic.twitter.com/dRqei90gQlMarch 28, 2018
See more
But with every great triumph comes great disappointment. And unfortunately for user @VTT_toril, that disappointment came in the form of a melted Beautyblender.
"I'm deleting Twitter. I'm pissed. Wtf" reads her comment, right above a photo of her sponge steaming, cracked, and melted in the microwave. "OMG ur supposed to put it in soap [sic] water," wrote the original poster. Which, clearly, she didn't do.
I'm deleting Twitter. I'm pissed. Wtf pic.twitter.com/0kzf6ic8MlMarch 28, 2018
See more
Thankfully, the sponge didn't catch on fire or melt the inside of her microwave, but, hey, that's the risk you take when following random beauty hacks on the internet.
I will say, however, that I have personally tried this trick and it does work—when followed correctly. Just submerge your dirty Beautyblender in a bowl of soapy water, microwave it for 60 seconds, then rinse them off. It shouldn't be that easy, and yet, it is. Try it for yourself at home—but promise you won't do anything you're not supposed to do (like use a metal bowl, and, I don't know, some lighter fluid).
RELATED STORY
Chloe Metzger is the deputy beauty director at Cosmopolitan, overseeing the editorial content and growth strategy of the hair, makeup, and skin space on digital, while also obsessively writing about the best hair products for every hair type (curly girl here; whattup), and the skincare routines that really, truly work (follow her on Instagram to see behind-the-scenes pics of that magazine life). She brings nearly a decade of writing and editing expertise, and her work has appeared in Allure, Health, Fitness, Marie Claire, StyleCaster, and Parents. She also has an unhealthy adoration for Tom Hanks and would like to please meet him one day, if you could arrange that. Thanks.