Nina Dobrev Got a Major Haircut and Doesn't Look Like Nina Dobrev Anymore
Her choppy cut is the only thing I want now.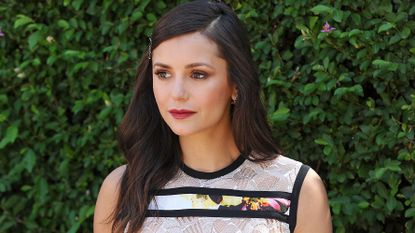 (Image credit: Getty Images)
Most people recognize the CFDA Awards for its slew of perfect gowns and skin-tight jumpsuits (hi, Gigi), but I see it as one of the very few nights a year where celebs actually take risks with their beauty looks. Case in point: Nina Dobrev, a major hair chameleon, just got the coolest, asymmetrical chop in honor of the evening. And I'm in love.
Last night, Dobrev showed up to the CFDA Awards looking almost unrecognizable, thanks to hairstylist Chris McMillan. McMillan, who also gave Emma Roberts her latest chop, appears to have cut, layered, and side-parted Dobrev's hair, with the longest layer just barely skimming the top of her cheekbones.
Considering Dobrev was last seen with a wavy, shoulder-length lob, I'll go ahead and deem McMillan's work drastic (and really, freaking cool). Whether Dobrev wears her new haircut into the summer season or throws on extensions tomorrow is unclear—but here's hoping this one sticks.
Ruby was the beauty editor at Cosmopolitan, where she covered beauty across print and digital. Her work has appeared on The Zoe Report, Fashionista, and StyleCaster. Follow her on Instagram.