Azelaic Acid for Acne: How to Use This Underrated Ingredient
Consider your redness, inflammation, and blackheads dealt with.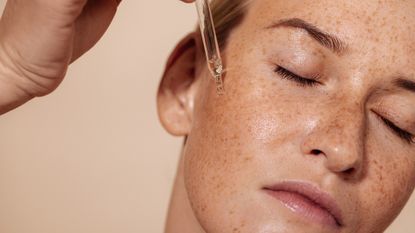 (Image credit: Artem Varnitsin/Getty)
The reality is that most acne-fighting products and spot treatments, while amazing, can be dry and irritating if you err on the drier side or have rosacea. But because the big, wide world of skincare has something for everyone, all hope is not lost. There's an anti-inflammatory ingredient called azelaic acid that's an underrated superhero for treating breakouts (and hyperpigmentation) gently. "It's a mild exfoliating acid," explains double board-certified adult and pediatric dermatologist and fellowship-trained cosmetic dermatologist Dr. Karan Lal. "It's normally produced by the yeast on our skin, but in skincare it's often made in the lab."
Unlike other ingredients (think: salicylic acid, retinoids) that can make the skin more irritated, azelaic acid is actually going to reduce redness, rosacea, and irritation, while also breaking up blackheads and fighting discoloration. To sweeten the deal, it plays nicely with other ingredients, can be used day or night (or both!), and provides results in just about a week. To get more information on how azelaic acid can treat acne and shop the best azelaic acid skincare products, keep scrolling.
What to Look For
Medium
Because azelaic acid is a pretty buzzy ingredient, you're going to have options. It's featured in just about every product you could imagine, from serums to lotions and cleansers. The best option for you largely depends on just how sensitive your skin is. "Gels and foams can sting, whereas creams may be better suited for those with sensitive skin," says Dr. Lal.
Concentration
The majority of your over-the-counter products are going to be at a 10 percent concentration. "It's fine to start with and use one to two times a day," explains Dr. Lal. Then, you can work up to prescription-strength concentrations, which range from around 15 to 20 percent.
Other Ingredients
While azelaic acid is a star ingredient, it's going to be one of many on an INCI list. If you run on the drier side, you may want to seek out a product with allantoin, which has soothing properties. "It also works very well with vitamin C to help brighten skin, so if you are treating hyperpigmentation find a product with both," advises Dr. Lal.
Just a quick word of warning for those with *extra* sensitive skin: "Make sure the acid isn't combined with other actives," says Dr. Lal. It'll make your skin more irritated than necessary.
The Best Azelaic Acid Products
The Best Azelaic Acid Product for Redness
Peach Slices Redness Relief Azelaic Acid Serum
"This serum is great for newbies," says Dr. Lal. It's designed with sensitive and sensitized skin in mind, so the ingredient profile is all about hydration and skin barrier restoration—the acne fighting benefits are almost like an added benefit. As Dr. Lal points out, allantoin and panthenol help soothe and heal the skin, while broccoli extract keeps texture feeling nice and soft. Chances are, you'll also experience a little extra glow as a result of the gentle exfoliation.
Pros: Dermatologist-approved; Redness reducing; Good for sensitized skin
Cons: Some report stinging upon application
The Best Azelaic Acid Product for Easily Irritated Skin
The INKEY List SuperSolutions 10% Azelaic Serum Redness Relief Solution
I'm a big fan of The Inkey List for no-fuss, straight-to-the-point formulations that deliver on their promises. This azelaic acid serum is no exception. It has a unique gel texture that somehow sideswipes tackiness. The most notable feature though is the green texture—think of it like a two-fold approach to redness. The micro-fine pigments are going to cancel out visible redness in the skin, while the azelaic acid combats your rosy flush (rosacea included) in the long-term.
Pros: Dermatologist-approved; Great for redness; Color correcting
Cons: The squeeze tube makes it difficult to control product amount
The Best Azelaic Acid Product for Oily Skin
Typology Mattifying Serum
Run on the oily side? Allow me to intro this Typology Mattifying Serum. Sebum control is the name of the game here, and there's a trio of ingredients hyper-focused on shine control. In addition to the obvious inclusion of azelaic acid, the luxurious formula also features bamboo extract and zinc, both of which absorb extra oil. A word from the wise: This typically sells out fast, so scoop it up while it's still in stock.
Pros: Dermatologist-approved; Mattifying
Cons: Might pill with certain sunscreens
The Best Azelaic Acid Product for Hyperpigmentation
Naturium Azelaic Topical Acid 10%
Niacinamide is right up there with azelaic acid on my list of underrated acne-fighters. "It's a hyperpigmentation power product," says Dr. Lal. That duo, along with coffee seed extract and vitamin C, make this one of the most brightening products on the market. One of my favorite hacks is to apply a thin layer on my under eye (just don't get too close) to brighten annoyingly persistent dark circles. Just note that this does not have as many hydrating ingredients as other options, so you'll want to use a more heavy duty moisturizer.
Pros: Derm-approved; Brightening; Good for under eyes
Cons: Not super hydrating
The Best Azelaic Acid Cream
The Ordinary Azelaic Acid 10% Suspension Brightening Cream
Per Dr. Lal, a cream is better suited for people who fall on the drier side, especially in the winter. This particular option has a silky smooth feel thanks to a slew of ingredients, including dimethicone. As a result it's going to help even out rough and bumpy textures and create an even canvas for makeup. Even though it's going to have a thicker texture than some other options on the list, it shouldn't cause any breakouts. It's formulated without any oils or fragrances.
Pros: Affordable, Hydrating; Better for dry skin
Cons: Small container
The Best Azelaic Acid Face Mask
Drunk Elephant Bouncy Brightfacial Brightening Mask With 10% Azelaic Acid + 1% Salicylic Acid
This is what I like to call the big guns. Sensitive skin should probably stear clear, but I highly, highly, highly recommend anyone with a little more tolerant skin type gives this a shot. In addition to a high concentration of azelaic acid, it features the creme de la creme of acne-fighting ingredients: Salicylic acid. The result? Smaller looking pores, less acne, more even tone, and a brighter texture. Just use this morning or night and call it a day—there's no need to wash it off.
Pros: Powerful; Great for pores
Cons: Not ideal for sensitive skin
The Best Azelaic Acid Product for Body Acne
Megababe Le Tush Clarifying Butt Mask
Butt acne, aka buttne, is very much a thing, so you bet your bottom dollar we're going to talk about it. Get rid of bumps on your booty with this exfoliating mask. Now in addition to azelaic acid, this contains malic and glycolic acid. The good news: Your body skin is tougher than your face, so you should be able to tolerate the scrub sans irritation. You don't need to limit application to just your tush either—it can be used on arms and legs too.
Pros: Formulated for the body; Good for KP
Cons: Strong smell
The Best Azelaic Acid Toner
Tracie Martyn Absolute Purity Toner
Oil and acne don't stand a chance against this purifying toner. It's fairly intense, featuring ingredients like willow bark extract, which is a natural astringent, as well as organic olive leaf, which also purifies the skin. On the gentler end of the spectrum is good ole azelaic acid, as well as organic white tea, which has amazing anti-aging and antioxidant benefits. So even if acne isn't a concern, this product can still find a place in your daily skincare routine.
Pros: Anti-aging benefits; Antioxidant protection
Cons: Expensive
Meet the Dermatologist
Originally from New York City, he grew up in Queens and attended Hunter Science High School in Manhattan. He graduated summa cum laude from the New York Institute of Technology, where he completed a rigorous seven-year accelerated combined medical program. He was selected to be an academic medical scholar, during which he received a Master of Science in neuroscience and a scholarship for three years of medical school and graduate training. He was elected to the Sigma Sigma Phi and Psi Sigma Alpha medical honor societies. He completed his internal medicine internship at the University of Connecticut Medical Center where he was elected intern of the year. He completed a three-year dermatology residency at the University of Massachusetts, where he was elected chief resident. He continued at the University of Massachusetts to complete a pediatric dermatology fellowship, where he gained an interest in vascular anomalies, pediatric laser, and dermatologic surgery of pediatric patients. Dr. Lal specializes in pediatric and adult dermatology, laser surgery, soft tissue filler augmentation, body sculpting, melanocyte keratinocyte transplant surgery for vitiligo and hypopigmentation, pigmentary abnormalities of the skin and enjoys treating patients from birth onwards. He is an expert in atopic dermatitis, vitiligo, melasma, psoriasis, and hidradenitis and has worked in specialty clinics among experts. He is the only board-certified pediatric and fellowship-trained cosmetic dermatologist in the country.
Celebrity news, beauty, fashion advice, and fascinating features, delivered straight to your inbox!