This Woman Treated Her Acne with 3 Products and the Before-and-After Pics Are Insane
I need all of these ASAP.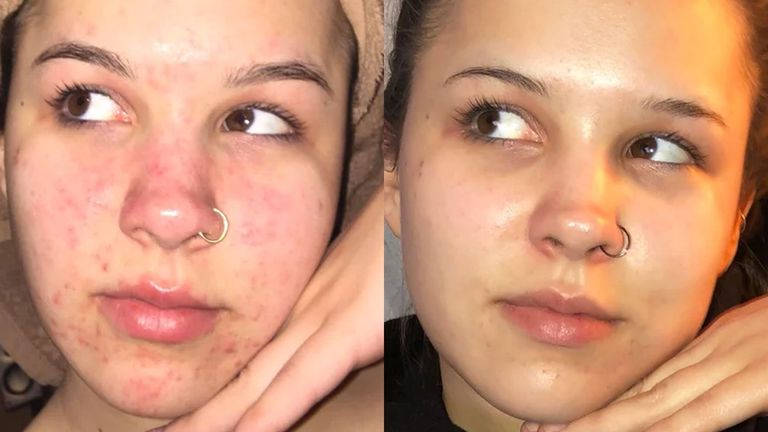 (Image credit: Reddit/@Iiwinterii)
If you've ever dealt with acne, you know how absolutely sanity-destroying, unpredictable, and finnicky it can be. Which is probably why the internet rallies so hard around skin success stories—we've all been there, and we all know how much breakouts can suck. So when one woman by the username r/Iiwinterii posted her shocking before-and-after acne treatment photos to Reddit this morning, it's no surprise that the skincare community launched into full support to make her routine go viral.
The Details
"I noticed my acne going down probably a couple months in [to my new routine]," Iiwinterii tells MarieClaire.com, who first spotted her photos. "I only really had little red spots on my face, but not so many whiteheads that I could pop." In the post, Iiwinterii shares a photo of what she describes: an irritated, red, and broken-out face next to a photo of her skin looking completely clear and even.
The only difference between the two photos? Two years of using just three products from First Aid Beauty. "I use the Facial Radiance Pads, Ultra Repair Cream, and the Pure Skin Face Cleanser," she adds. "Sometimes, I would use coconut oil in place of the moisturizer, and it's worked good so far for me!"
Iiwinterii says she hasn't used anything else since she first bought the three products, because, quite simply, the line "works like a dream." As for how she applies them, she notes that she uses "all three products before my makeup routine and then after I take my makeup off at night."
The Science
So what's so special about First Aid Beauty? Technically, nothing; it's just another skincare line with a bunch of products that may or may not work for you, as is true of every skincare line. But the reason it has a cult following is because most of its products have relatively simple formulas that are filled with gentle, yet effective, ingredients, making it a good starting point for anyone new to skincare.
Her Skin-Clearing Routine
But the three products Iiwinterii uses are some of the line's best-sellers, and for good reason: The Pure Skin Face Cleanser is creamy, gentle, and fragrance-free, the Ultra Repair Cream is incredibly rich and nourishing, without clogging pores or feeling greasy, and The Facial Radiance pads use a mix of lactic and glycolic acid to clear pores, smooth skin, and brighten dark marks and scars. And, if you're battling acne, the best thing you can do for your skin is coddle it, hydrate it, and apply some acids—which is exactly what Iiwinterii did.
RELATED STORIES
Of course, as with any product, your results may completely differ from Iiwinterii's, so don't expect to see magical results overnight. Rather than ditching your entire routine in favor of a brand-new one, make sure to incorporate just one new product into your routine every two weeks to avoid a skin freak out (trust me—you will thank me for this), and, if you're new to acids, make sure to use them every other day to prevent irritation. And then…be patient. It takes at least six weeks to know if a product is working for you, and up to three months before you start seeing major results.
But, hey, for the possibility of ultra-clear skin? That should definitely be worth waiting for.
RELATED STORY