5 Ways to Supercharge Your Skincare Products
You'll never wash your face the same way again.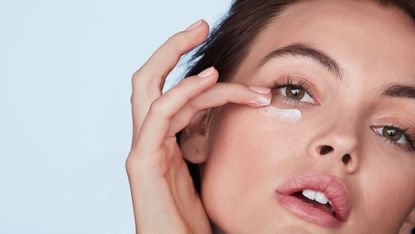 (Image credit: Nyra Lang)
Experts say that even the slightest tweaks to your cleansing and moisturizing techniques, as well as how—and even when—you layer certain textures and ingredients can impact how well your products work, the reaction they have on your skin (like, amazing to zero), and more.

That's why we asked them to share their top tricks, guaranteed to make the products you reach for—and the ingredients in them—work better than ever. Read on for your ultimate skincare cheat sheet.
Clean Skin = Healthy, Glowy Skin
You may think of cleansing as a super basic step that doesn't do much for how your skin looks, but that's not accurate at all, says Olay Principal Scientist Dr. Frauke Neuser. Cleansing isn't only a crucial step in your skincare routine, it also plays a major role in how your skin looks and feels.
First off, what you cleanse with as well as how well you do it can be a game changer. Look for formulas that contain replenishing ingredients like glycerin so they cleanse and hydrate simultaneously.
Think about it: Use a harsh face wash that dries out your skin from the start and suddenly your moisturizer is already set up for failure trying to get it back to its baseline. As for technique, take the time to do it right. If you don't cleanse thoroughly, the tiny traces of makeup or even the super thin film left behind from your face wash means that the amazing (and $$$) treatment you're about to apply can't penetrate properly.
"We've run studies to show that Olay Daily Facials 5-in-1 Cleansing Cloths actually increase absorption of skincare ingredients into your skin, compared to if you just rinsed with water or you didn't use a cleanser at all," says Dr. Neuser.
Olay Daily Facials 5-in-1 Cleansing Cloths SHOP
Another big mistake: not washing altogether (or simply splashing your face with water) because you don't have makeup on, like when you first wake up in the morning. Not only does your skin likely have leftover p.m. skincare still on it, but it's also covered with whatever debris from your pillowcase was being pushed into your pores all night.
As for how you cleanse, be sure to get skin completely clean. Use the same 2-minute rule you use for brushing your teeth—lather up for 60 seconds, rinse just as long, then pat skin dry.
Next, have your products ready to go, because you should start applying them while your skin is still a little damp. (Got sidetracked? Don't worry. Simply spray skin with a hydrating essence to re-wet it.) "The moisture on your skin can help to pull the moisturizer or treatment you're putting on next into your skin," notes Dr. Neuser.
Always Apply Eye Cream First
Yes, you read that correctly—eye cream should come before your other face products. It prevents everything you apply next from migrating into this super delicate area, acting like a barrier from the orbital bone to the rest of your face.

Just like with your cleanser, you also want to focus on how you apply it. Not only is skin here thinner than the rest of your face, but it's also the most delicate. Pros recommend using your ring finger to dab eye cream on. "It's the one you're most likely to use the least amount of pressure with and not pull on skin," says Sejal Shah, MD, a dermatologist in New York City.
For the best results, place multiple tiny dots in a complete circle around your upper lid (your eyelids need love, too!) and all the way under your eyes. Continue using a light patting motion until the gel or cream has disappeared into skin.
"In the lab, we spend a lot of time working on the texture and the formulation of Olay Eyes Deep Hydrating Eye Gel and Olay Eyes Brightening Eye Cream, but also what the absorption profile is like, because it's very important," explains Dr. Neuser. "If it just sits on your skin, it can have the best ingredients, but it's not going to go where it needs to go."
Moisturize Like a Pro
Olay research found that dry skin is one of the biggest factors when it comes to having a complexion that appears older than your real age. So while slathering on a well-formulated moisturizer is 100 percent better than not using one at all, it also means a mega moisturizer such as Olay Regenerist Whip Fragrance-Free may be the secret weapon your skincare routine's been missing.
Olay Regenerist Whip Fragrance-Free SHOP
Apply small dots all over (don't just take one glob onto your fingertips), then rub them in completely using small circular motions, working from the inside of your face outward. This makes sure every part of your skin gets equal hydration and that the product fully absorbs. (Shah even suggests continuing until you can't feel any trace of it on your skin before applying another product on top.)
If your skin tends to feel and look dry by midday, simply infuse its surface with a light essence laced with glycerin and natural botanicals such as Olay Mist Ultimate Hydration Essence with Vitamin C and Bergamot. If your skin is always super dry, pros recommend using this as a base hydration layer every time your moisturize. (Simply spray your skin post-cleanse and then applying moisturizer on top while your skin is still damp.)
"Especially if you have dry skin or are looking for extra radiance, humectants like hyaluronic acid and glycerin act like a sponge to pull—and keep— hydration within skin," says Joshua Zeichner, MD, Director of Cosmetic and Clinical Research in the Department of Dermatology at Mount Sinai Hospital in New York City.
Olay Mist Ultimate Hydration Essence with Vitamin C and Bergamot SHOP
He also recommends applying face cream with damp fingertips or to a damp face for optimal benefits. Why is this simple step so essential? "Skin is designed to not let stuff in," notes Dr. Frauke, so anything that's going to boost absorption is going to increase the efficacy of all of your skincare.
Layer Products By Texture and Ingredients
The basic rule is to always apply products lightest to thickest. "This will minimize the chances that the first product blocks the penetration of the second," explains Zeichner. For example, use an essence, then a serum or gel, followed by a cream (regardless of the consistency, like even if it's a super light texture like an Olay Whip) and your SPF last (if it's not already in your moisturizer).

"Layering your skincare products in the right way can help you address more than one skin issue at the same time and give you a more effective treatment," confirms Zeichner. "But you also want to be sure that ingredients play nicely together so that one product does not counteract the other."
What should be combined, he says, is hyaluronic acid or glycerin with peptides. "Layering a humectant under your peptide-based cream will improve the results overall—one plumps while the other strengthens skin," Zeichner explains.

Another combo he's a fan of is a niacinamide-based treatment under a peptide cream while you sleep (Olay Regenerist Whip Fragrance-Free has both). "Niacinamide also helps address dark spots, while peptides rev up collagen production," he notes.
According to Dr. Neuser, studies found that using Olay Regenerist Miracle Boost Concentrate or Olay Luminous Miracle Boost Concentrate underneath a moisturizer, "provides better penetration of key ingredients like glycerin and niacinamide and other anti-aging ingredients."
Supercharge Your Daily SPF
Applying SPF strategically—if you're heading to the office or a lounge chair poolside—is going to greatly affect how it protects your skin.
Regardless of whether or not you choose a mineral sunscreen that creates a barrier or a chemical formulation that absorbs and deflects UV light, "sunscreen needs to be the last layer because it forms a film on your skin," says Dr. Neuser. "It's very important that you don't put another moisturizer or another product on top."
For best results, experts say to spot-apply—dab a cream with SPF in tiny amounts allover. And make sure you don't forget the outlying areas of your face (think along the hairline, on your ears, down your neck, and even your upper lip).
Pros recommend pairing an antioxidant and skin brightener (like the vitamin B3 derivative niacinamide) with your sunscreen. Or even better, try a formula that has both, like Olay Total Effects Whip Fragrance-Free SPF 25.
"Antioxidants are like fire extinguishers that put out free radical damage and can help better protect the skin from UV light exposure," explains Zeichner. They help bolster the power of your sunscreen so skin faces less assaults, while melanin inhibitors help prevent skin cells from over-producing pigment from the get-go. "If dark spots are a concern for you, an ingredient like niacinamide coupled with your sunscreen will brighten and even out your skin tone," he says.
Celebrity news, beauty, fashion advice, and fascinating features, delivered straight to your inbox!
Nicole Catanese is a beauty and wellness editor.