How One Diet Change Completely Cured This Woman's Acne
The before-and-after photos look almost too good to be true.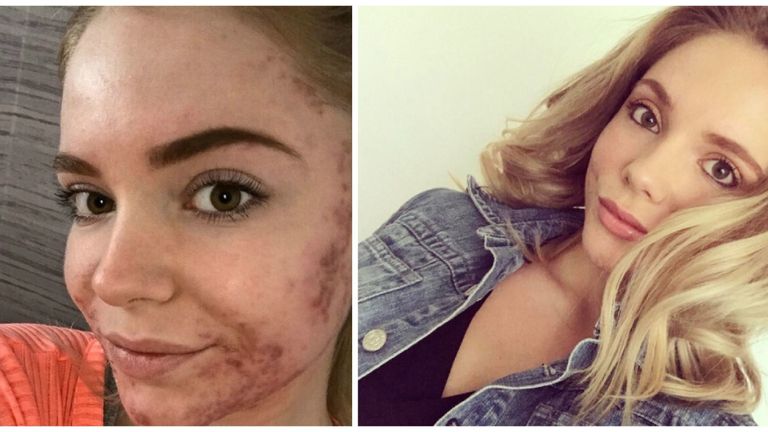 (Image credit: Courtesy of Rachel Crawley)
Let's be real: Acne can be devastating. As a teenage acne sufferer myself (and two-time Accutane alumna), I still cringe when I remember my embarrassment at school dances with my bare shoulders revealing pimples on my back. I needed the type of inspiration 22-year-old Rachel Crawley is giving young sufferers today. The Brit is a contestant in the U.K.'s Miss Preston beauty pageant and is using her new platform to follow her path to clear skin.
Crawley was bullied growing up and never wanted to be seen without makeup. When the pageant first approached her to participate at age 18, Crawley turned down the opportunity, too insecure about her breakouts and scars. Now, she's documenting her skincare woes on her Instagram, with dramatic before-and-afters as her skin begins to clear up. The big change Crawley made? Overhauling her diet.
By experimenting with taking certain foods out of her diet, Crawley discovered that sugar was the main culprit for her pimples. Carbs, too—even the "good kinds" like brown rice and oats. On one Instagram post Crawley writes, "Only for about 3 days I have stopped eating these foods and upped my fat intake (healthy fats) and guess what? No new breakouts!"
Now the beauty contestant is finding a vegan diet may be best for her skin. Beyond lots (and lots) of vegetables, she still finds ways to treat herself, like with these raw cacao and peanut butter bites. "Once you cut out the sugar," she says, "your tastebuds will change and your cravings will stop." Amen, sista.
Follow Marie Claire on Facebook for the latest celeb news, beauty tips, fascinating reads, livestream video, and more.
Lindsay Funston is a food editor who has more than 10 years experience tasting everything from pickles to bloody marys, writing about food trends, and creating easy recipes.