The Secret to Jennifer Garner's Glowy, Ageless Skin
The actress on her biggest skincare challenge to date.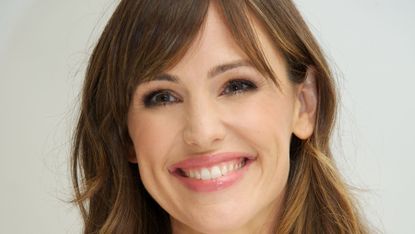 (Image credit: Getty Images)
Marie Claire Newsletter
Celebrity news, beauty, fashion advice, and fascinating features, delivered straight to your inbox!
Thank you for signing up to Marie Claire. You will receive a verification email shortly.
There was a problem. Please refresh the page and try again.
Whether she's on the big screen, attending red carpet events, or at home with her family, Jennifer Garner always looks stunning. I can verify that there's no production trickery going on under those bright TV lights—yes, Garner's 46-year-old skin really is that good. Which is even more impressive when you consider that the mom of three is always on the go.
So, what's her secret? I asked Garner herself. (You're welcome.)
"First off, I wash my face every single night, no matter what," says Garner. "I honestly wear no makeup unless there's a reason to, but if I happen to have eye makeup on that day I'll remove all of it."
She adds: "I also hate that feeling when your skin looks sallow and you can see it in the texture. I swear by the hyaluronic acid in Neutrogena's Hydroboost for that because it gives you a plump, bouncy, and dewy effect. And of course, sunscreen. The Ultra Sheer 100 SPF goes on well under makeup and just makes everything look better."
But SPF and hyaluronic acid isn't all Garner swears by. "My biggest skincare struggle was definitely figuring out retinol," Garner shares. "Being in my mid-40s, retinol really is the most important product for anti-aging. But I have sensitive skin, so everything people gave me kept turning my face red, itchy, and blotchy. The Neutrogena Rapid Wrinkle Repair was a lifesaver for me. It's combined with an oil so it's a little more gentle than other retinols and doesn't irritate my skin."

It's a tricky ingredient. Retinoids, which are derivatives of vitamin A, are able to exfoliate the top layer of skin cells at lightning speed. This encourages collagen production and minimizes the appearance of wrinkles. But because skin cells are forced to turn over at a faster rate, it can also lead to peeling and dryness—and the more sensitive your skin, the worse these effects can be.
If you're having trouble with retinol, dermatologist Howard Sobel advises starting with a low-dose concentration: "Typically, one percent concentration is a safe dose to use. Use it primarily at night, as retinol can increase sun sensitivity and be sure to protect yourself with broad-spectrum SPF during the day."

He adds: "To help counteract any flareups, find one that's blended with ingredients that complement its performance, like Vitamin B3, Vitamin C, or other calming botanicals. The Neutrogena one is great because it has a low dose of retinol and contains hyaluronic acid and protective SPF."
The Best SPF For Your Face
EltaMD UV Replenish Broad-Spectrum SPF 44 (2 oz.)
Go slow and steady, advises dermatologist Shari Sperling. "Retinol is awesome for acne and anti-aging if you use it the right way with the right amount. Start by using a small portion—the size of a green pea is good for your entire face," she says. "You can expect to be red and flaky for a few weeks, but that's normal. It's important to start slowly and gently to build tolerance. If you keep at it, the results will be far worth it in the end."
And there you have it—from the experts themselves. Just remember that practice (and patience) makes perfect.
For more stories like this, including celebrity news, beauty and fashion advice, savvy political commentary, and fascinating features, sign up for the Marie Claire newsletter.
RELATED STORIES
Celebrity news, beauty, fashion advice, and fascinating features, delivered straight to your inbox!
Hana Hong is the beauty assistant at Marie Claire, where she covers skincare, makeup, and haircare, and is identifiable by her signature cateye.