The 10 Best Hair Straighteners for Smooth, Shiny Hair
Your new secret weapon for sleek hair is on this list.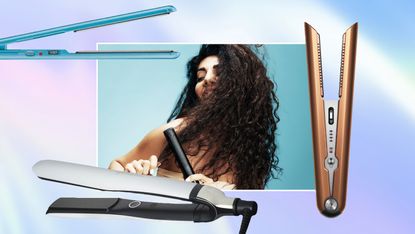 (Image credit: Future; Britany Holloway-Brown)
When it comes to the definitive list of essential hair tools, there is none more versatile than the best-ever hair straightener. They can do it all including making your hair look stick-straight (duh), add curls and add body to a days-old blowout. Whether you're a newbie to the world of styling your hair with hot tools or if your beloved flat iron finally kicked the bucket, it's time to find you a brand new, best-in-class flat iron to fall in love with. And while a great heat protectant product is a non-negotiable, finding a great hair straightener will no-doubt lead to quicker, better hair days.
As hair care technology improves, the best hair straighteners have moved away from total hair-scorchers to sleek, efficient tools that are suited to all hair types and cause far less damage that ones in years past. That's right: There are flat irons and hair straightening brushes that won't burn your hair off or weaken it to an utterly limp state—you simply need to find the right one, and we're here to help. Odds are, you already have a high-performance blow dryer—and maybe even a fancy curling iron or blow dryer brush—that you love, so why not upgrade your hair straightener, too?
The more versatile and technologically advanced your flat iron, the less time you'll spend hassling with hair products to boost luminance and body. Plus, a great flat iron is also the secret to the best waves, and Marie Claire already has a guide on how to achieve flat iron beachy waves for yourself.
How We Chose The Best Flat Irons:
Before we get to the products themselves, here's how our team of editors—including me, Marie Claire's E-Commerce Editor—chose the best options to include.
Type of Plate: If you see the words ceramic or titanium on the label for your hair straightener, you should know that brands are talking about the types of plates a specific model is made with. The difference between them comes down to how the iron heats up, and how long it takes. Ceramic irons heat up the hair from the inside-out, while titanium irons heat up the surface of the hair. If it takes longer for your ceramic straightener to heat up, it's probably a good thing: the even distribution of heat can cause less damage to the hair as you use it.
Temperature and Heat Settings: While being able to adjust your heat settings on your iron might seem like a good thing—especially if those temperature ranges top out around the 400 degree mark—it might actually be causing more damage to your hair. "If you use a tool set to too high of a temperature this can result in damage to the internal structure of the hair strand," says Meredith Kirkland, the National Education Manager at ghd. "Using too little heat can result in inconsistent results and styles that don't last, and you may damage the external portion of the hair strand as you'll be tempted to pass over the hair multiple times." When using a flatiron, it's important to keep the temperature at 365 degrees fahrenheit. Some irons—like the one from ghd that our editors have previously reviewed—are pre-set to 365 degrees so you don't have to worry about adjust it yourself. " Think of 365°F as the sweet spot, you can style confidently knowing your results will last and your hair will stay its healthiest," Kirkland tells me.
Plate Size: Different plate sizes actually give you different results. Smaller irons that measure around one or two inches, for instance, are great for creating sleek, straighter styles and curlier looks alike. Plates larger than two inches are great for only creating straight looks, and won't provide you with that same curling power—it ultimately just comes down to what you're looking for. "As a pro tip, hold your styler horizontally & pull out and away from the head for a bigger, bouncy curl," says Kirkland. "For a looser, more elongated curl hold the styler vertically and glide down the strand."
Keep scrolling to shop the best flat irons on the market, from brands like Dyson, Conair, and more.
Shop Deals on the Best Hair Straighteners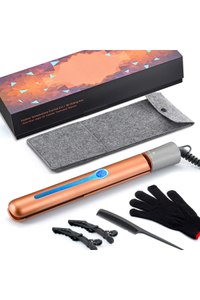 NITION Pro Hair Straightener, $77 $60 at Amazon
This cult-favorite styling tool is on sale for just $60 at Amazon right now. The plates have rounded edges that make curling a breeze and won't leave your hair with unsightly bumps as you style. Plus, it automatically turns off after an hour.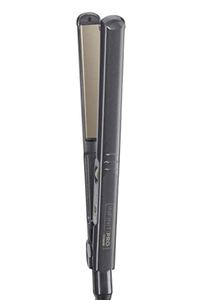 INFINITIPRO BY CONAIR Tourmaline Ceramic Flat Iron, 1-inch, $50 $31 at Amazon
This affordable flat iron is even more inexpensive right now. Shop it for $31 on Amazon for a limited time. It comes with a whopping 30 heat settings, heats up in just 15 seconds, and ensures even heat across the entire extra-long plates for the best results in less time.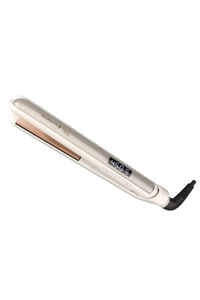 REMINGTON SHINE THERAPY Argan Oil & Keratin Infused 1 Inch Hair Straightener/Flat Iron, $30 $25 at Walmart
This under-$50 iron is on sale for even less right now at Walmart, where it's going for just $25. The plates are infused with argan oil and protein-rich keratin for added shine and smoothness as you go, and reviewers claim that their hair looked noticeably less frizzy after using the hot tool.
Shop The Best Hair Straighteners
ghd Platinum+ Styler - 1" Flat Iron
"Am I good at doing my own hair? No. Does this iron from ghd make it look like I am? Yes. It's small enough that I can use it to adjust my curtain bangs if they dry funny, and also is great as to give my ends a little curl if I'm too bored to reach for my curling iron. Plus, it turns off automatically after 30 minutes of non-use, so it soothes my panic that I've left it plugged in every time I leave the house—which I have yet to do, but the peace of mind is key." — Julia Marzovilla, E-Commerce Editor
Pros: Editor-approved; Comes in two colors; Monitors heat 250 times a second; Boosts shine; Pre-set to 365 degrees fahrenheit.
Cons: Some reviewers say it wasn't right for their curly hair.
Customer Review: "I have this in white and let me tell you how easy it makes my job… It does not burn my hair, second it can be used for straightening and curling. It gives the perfect wavy curls for my long hair. It is light weight and they also have a cordless version if u really want something without wires. Love GHD!" — Sephora
Best Investment Hair Straightener
Dyson Corrale Hair Straightener
If you're dealing with damage but are unable to step away from using a bevy of hot tools, Dyson's pricey-but-worth-it flat iron will be your new best friend, I promise. It doesn't crank the heat up as high as other straighteners (which is a good thing!) to achieve super-sleek and straight strands without all of the bad breakage. Another innovation to fall in love with? The cordless design makes for easier use, especially when on the go or during travel
Pros: Cordless design; Top-rated; Editor-approved; Doesn't get as hot as other stylers.
Cons: Some reviewers say it comes with a learning curve.
Customer Review: "I saw the Dyson straightener and I was in love, but it's quite expensive so I read everything I could and decided it seemed worth it, it is!! I never realized how much easier it is to fix your without a cord!! Love the heat settings too. It is gentle on my hair and my hair looks better then ever!" — Dyson
Best Titanium Hair Straightener
BabylissPro Nano Titanium Ultra-Thin Straightening Iron
"This hair straightener has been in my arsenal for a long time. Like, a decade-and-a-half long. As such, I can speak to this tool's star qualities through many evolutions of my own personal look, from the frizz-shamed tween seeking the straightest hair in school to the overtired college student fixated on ~easy beach waves~ (IYKYK). The reason I've never replaced my BaByliss (and yes, it still works perfectly) is because you can basically do anything with it, whether you want your hair pin straight, to give it just a little natural wave, or to tame the flyaways without creating dents or imprints." — Lucia Tonelli, Social Media Editor
Pros: Editor-approved; Top-rated;
Cons: Reviewers say the device gets too hot as you use it.
Customer Review: "I have difficult hair and this is the best flat Iron I have ever used hands down! It is thin so you can get close to your scalp to flatten better at the root. My hair is shiny and silky and really straight and smooth. I was able to get lots of my hair straight in one pass. The one fault and it's probably because the iron is so thin...it does get hot so you do need to learn not to get your hands near the heat plates but that is just a learning process."
Best Hair Straightener for Travel
Chi Original 1'' Ceramic Hairstyling Iron
This under-$100 ceramic hair straightener from CHI is made with negative ions that increase shine. The temperature is pre-set to 392 degrees fahrenheit and isn't adjustable, and it heats up in a flash. Great for curling or straightening your hair thanks to the one-inch plate size, it's made with a swivel chord so that you won't have to worry about the chord getting tangled as you style those tricker sections of your hair. Plus, the voltage is convertible for both European and American adapters.
Pros: Good for travel; Adds shine; Has a swivel chord; Good for thick hair; Long-lasting in your collection.
Cons: Pre-set temperature is higher than 365 degrees.
Customer Review: "I've only purchased one flat iron in my adult life. It was 2005 and I was 19. Now I'm 36, and today that original CHI gave out. There was no slide in performance. It worked perfectly till the end. I purchased a new one and I couldn't be happier. If I get just a few years out of this, I'll be thrilled. Highly recommend" — Ulta
Best All-in-one Hair Straightener
Nition Professional Hair Straightener
This cult-favorite hair straightener has over 10,500 glowing five-star reviews on Amazon, and for good reason. It retails for less than $80, for one, has a ceramic heated plate, and has a 4-inch-long plate that can fit more hair in a single pass when compared to other options on this list. The plates also have rounded edges that make curling a breeze and won't leave your hair with unsightly bumps as you style. Plus, it automatically turns off after an hour.
Pros: Top-rated; Has longer plates for longer hair; Good for thicker hair; Has curved edges for curling; Has auto shut-off after an hour; Comes with a travel case.
Cons: Some reviewers say the tip gets too hot.
Customer Review: "I love everything about this straightener. I have VERY long & thick hair (to my butt) and have a hard time with straighteners because they usually don't straighten my hair very well or it takes forever.. but this one works so good! I was able to finish my hair within a half hour and only had to go over each piece twice, some only once. Plus it stayed straight all day and doesn't make your hair smell burnt. It also curls great!" — Amazon
Best Hair Straightener for Coarse Hair
T3 Lucea 1 ½" Professional Straightening and Styling Iron
For a slightly larger option, consider this tool from T3 which measures in at an inch and a half. It has nine heat settings designed to help handle all hair densities and types including thicker or coarser hair. The slightly larger plates also make sure that you can style larger sections of hair at one time, which will cut styling time as you go. Plus, the Ceragloss ceramic plates promise a boost of shine after you're done styling your hair.
Pros: Good for thick hair; Good for coarse hair; Boosts shine; Cuts styling time
Cons: Some reviewers said their curls didn't hold.
Customer Review: "This is my first time trying out a T3 product. For your reference I have short straight fine hair. My hair length is up to my chin. Sometimes the ends curl out which I don't like. I have been using the flatting iron a couple of way, first is to straighten and next is to curl the ends inward so it's not sticking out. Quite easy to use, there are multiple setting but I've only used the lower one so far. It heats up quick so no waiting time. When I use it as a straighter it leaves my hair straights and shiny and so easy to use as a soft wavy curls." — T3
Best Affordable Hair Straightener
REMINGTON SHINE THERAPY Argan Oil & Keratin Infused 1 Inch Hair Straightener
If you're looking for an under-$30 ceramic straightener, this one from Remington is for you. The plates are infused with argan oil and protein-rich keratin for added shine and smoothness as you go, and reviewers claim that their hair looked noticeably less frizzy after using the hot tool. Reviewers also say that it heats up in a matter of seconds, so it's great if you're in a hurry. Plus, it has an auto shut-off option for your piece of mind.
Pros: Has auto shut-off; Infused with argan oil; Infused with keratin; Heats up quickly.
Cons: Reviewers say it gets hot in their hands as they use it.
Customer Review: "Best straightener ever. Heats in 10 seconds. Keeps hair smooth and shiny. Can straighten my hair in half the time!!" — Walmart