Luxury Perfumes That Fit Your Budget
Perfumers are finding new ways to reinvent themselves — and offer up a true luxury you can afford right now.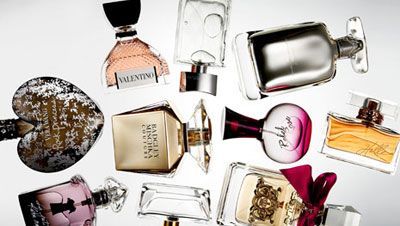 (Image credit: Jeffrey Westbrook)
ESCAPE CLAUSE When it comes to payoff, there's nothing like investing in perfume. Like a mental makeover, a new scent can invigorate and change your outlook — creating, essentially, a brand-new you. And if you're in the mood to try something different, there's a lot to choose from. Despite the rocky economy, an astounding 170 women's fragrances were launched just last year, according to market-research firm the NPD Group. To grab your attention, beauty companies are reinventing themselves with edgier packaging, more provocative names, better ingredients, and a positive outlook. "It's sad enough out there — people need to step away from reality," says creative director Fabien Baron, whose fragrance campaigns for Giorgio Armani, Burberry, Calvin Klein, and Prada promise harmless escapism in a bottle.
NEW YOU Even established brands are revamping their image to avoid seeming stodgy or, worse yet, predictable. This spring, Vera Wang explores her rebellious side with Rock Princess perfume, while Celine Dion tones it down to just plain Chic for her latest launch. With these new fragrances, every spritz is an opportunity to try on a different identity (bolder? sexier?). You may have to button up at work, but scent gives you a safe opportunity to make a statement and be memorable — without alienating your entire office. "Fragrance is very intimate. Everyone can see the clothes or makeup you're wearing, but only a few will get to smell the scent on your neck," says Baron.
PERFUME PICKS: See our list of this season's favorite scents
INTO THE WOODS You'll notice the new round smells different, too. Perfumers are predicting that a distinctive woody undertone will replace previous years' sweet and fruity blends. "Politics drives fragrance like it does fashion," explains Miller Harris perfumer Lyn Harris. "People are looking for more substance and meaning right now, and woods are naturally earthy and grounding. After 9/11, the clients I blend custom perfume for started asking for more woody notes, and they're doing it again. The same trend happened in the 1950s, when Estée Lauder launched Youth-Dew, a woody oriental."
As celebrity hype fades — and tabloid-friendly reality-star brands give way to ones with true staying power — a perfume's smell gets more attention. Even big-chain retailers like Bath & Body Works and Victoria's Secret, previously known for candylike scents steeped in fantasy, are now focusing on the artistry and craftsmanship of perfumery.
For Parfums Intimes, the new line from Victoria's Secret Beauty, Mark Knitowski, vice president for product innovation, spent six months perfecting each individual note. That's three months longer than he devoted to his last hit, Dream Angels Heavenly (the current best-selling fragrance in the U.S.). "This time, we wanted to create unique signature scents with the best-quality ingredients. The flowers that we're using are specially picked and processed for us.
SUSTAINABLE SCENTS While natural skincare and makeup companies are cropping up left and right, fragrance is the last frontier in beauty to go green, due to the limited availability of organic flowers. Beauty companies must sponsor farms during the three-year conversion from conventional to organic to ensure they don't lose revenue. Organic fields also yield smaller crops, which is why their essential oils are so expensive.
However, if you're committed to finding a fragrance that fits into your hybrid-and-Whole-Foods lifestyle, there are now a handful of almost-100 percent organic perfumes from companies like Aveda and Red Flower. "My original formula for Ancient Attar was all organic, but the formula contained so much Bulgarian rose oil that the supplier couldn't produce enough. So we had to substitute a little bit of natural rose oil," says Ko-Ichi Shiozawa, Aveda's chief perfumer. "The roses come from the same farm — in a different field, of course — and pesticides don't affect scent. The odor is virtually the same, but there's still a feel-good factor in knowing that you're making a responsible choice." Because the true power of perfume is the way it makes you feel.
Check out our new Fragrance Finder tool for more perfumes and to find your signature scent.
Celebrity news, beauty, fashion advice, and fascinating features, delivered straight to your inbox!